When the University of Cape Town's (UCT) Faculty of Health Sciences deputy dean for social accountability and health systems, Associate Professor Tracey Naledi, walked across stage to receive her PhD qualification in July, she held her fist aloft to gesture the universally known symbol of power.
In that moment, it was a feeling of relief.
"It had been a long five-year journey. After the relief had sunk in, I was incredibly proud of myself and was grateful for the journey of the last five years that had moulded me and forced me to see that, as the poem by Busani Ngcaweni says, 'I am resilience; I am Shero'. I got my PhD the same year I turned 50. I am super proud," said Associate Professor Naledi.
Her thesis is titled "A novel cash-plus intervention to safeguard sexual reproductive health and HIV vulnerabilities in young women in Cape Town, South Africa" and unpacks the effects of the Women of Worth empowerment programme, which was a cash incentive plus – an HIV prevention programme – among young, urban, low-income, out-of-school women in Cape Town.
"This PhD belongs to my very extensive village of friends, colleagues, family, and mentors – it is not mine alone. I am a product of my village. I am eternally grateful for the opportunities that I have been blessed to have," she said.
Born in Hammanskraal and bred in Duduza in Gauteng, she has been named Sowetan's 2023 Woman of the Year in Health for her extensive work in various areas of healthcare.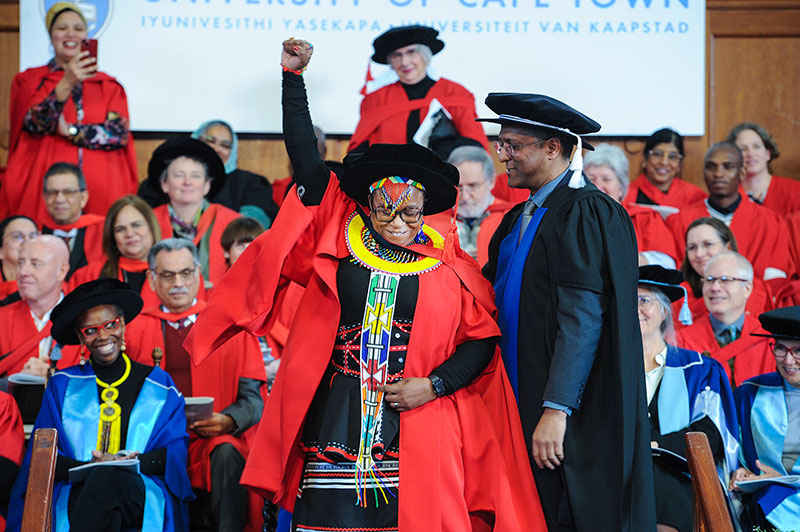 Kamva Somdyala (KS): How did you juggle being deputy dean and studying?
Tracey Naledi (TN): When I started this journey in 2018, I was very lucky to be a beneficiary of two scholarships from the Discovery Foundation and the Desmond and Leah Tutu Legacy Foundation that … allowed me to study full time without working and have a one-year Takemi Fellowship at Harvard University. However, I had a once-in-a-lifetime opportunity in May 2020 to join the Faculty of Health Sciences' new dean leadership team of my alma mater. In my time, going up the spiral stairs to the dean's office meant you were in trouble.
So, I gave up the rest of my scholarship that I had not used and the Harvard Fellowship and started working full time in May 2020.
KS: Given your extensive background in public health, was choosing the topic for your thesis something that came naturally to you?
TN: For me it worked the other way round. A PhD opportunity arose because the student who was doing the work had to leave the province suddenly and the protocol of the main study had already gone in for Ethics Review. When I started, I had to write a protocol of how I would do my PhD research on an already existing large research project. I think being a public health specialist also meant that research methodology was something I was very familiar with, so it did not take me too long to write the PhD protocol. However, I had to do additional courses to build my capacity to do the research.
"We also need to create more opportunities of sharing and learning between policy makers and researchers".
KS: Women, in particular vulnerable women, are a key focus of your PhD. Is this an area of study you have always wanted to focus on?
TN: As a black woman myself I know that the face of poverty in South Africa is black and female and yet also the source of resilience, strength and support for families and children.
We need to have targeted interventions to address the socio-economic, health and gender disparities that limit women from their full potential. My PhD was researching young women aged 19–24. From a public health perspective, it is the very last opportunity we have to intervene to ensure we support safe transitioning of this group into adulthood with reduced HIV vulnerability.
KS: What more should be done to ensure that evidence presented by work such as your thesis is translated into policy, as it relates to women?
TN: As researchers we need to think about that upfront and plan for it at the beginning of the research and implement it as we go through the research process. We also need to create more opportunities of sharing and learning between policymakers and researchers. There are some already, but we can work on these being more intentional and institutionalised in our work.
KS: What is the bigger picture you feel your study is trying to address?
TN: The HIV epidemic in adolescent girls and young women is driven by socio-economic issues and gender disparities. We know that interventions that increase education, employment, improved gender norms and removing barriers to healthcare access in young women can reduce HIV vulnerability.
My research evaluated a cash-plus intervention, which was cash plus an HIV prevention programme and access to youth-friendly health services. We wanted to see if it would improve sexual reproductive outcomes. We were very surprised to find that the most meaningful change was increase in employment.
KS: What did you find most interesting about the work during your research?
TN: It was not all about the money! Money was necessary to deal with essential things like food. Giving information was also not enough. Respectful, and empathetic engagement, reflection, increasing opportunities to access health services and work opportunities, gaining mastery, self-reflection and self-responsibility and a community of peers were also essential in ensuring improved health outcomes.
KS: Where to from here?
TN: I am very pleased that together with my colleagues we were successful in being part of the African Higher Education Health Collaborative of 10 mostly African institutions (of which UCT is one) funded by Mastercard Foundation over eight years.
This collaboration broadly aims to contribute to reduced youth unemployment and improved primary healthcare access and outcomes in three sub-districts in the Western Cape. What I am most excited about is that one of these sub-districts is Klipfontein sub-district where I did my research. I feel like the journey is continuing.
---
This work is licensed under a Creative Commons Attribution-NoDerivatives 4.0 International License.
Please view the republishing articles page for more information.
---