In June 2022, the Centre for Innovation in Learning and Teaching (CILT), a department within the Centre for Higher Education Development (CHED) at the University of Cape Town (UCT), officially launched its One Button Studios (OBS). The OBS has two fully automated recording studios and a third podcast and audio booth that are available for both standard use and customisable recording needs. These studios are available to enable the teaching and learning environment at UCT by providing opportunities to integrate into teaching practices.
Originally located in the PD Hahn building on upper campus, the new studios were moved to a larger space in the Steve Biko building, in part due to ventilation requirements as a result of COVID-19. The newly built studio facilities feature recording capability that allow lecturers to record their content and create narrated PowerPoint presentations at the touch of one button. These recordings can be directly uploaded to Vula and Brightspace. The OBS also has a multi-camera set-up, which allows for panel discussions and interviews where each participant has a dedicated camera, as well as teleprompters. In addition to recording facilities, the studio is equipped with livestreaming and podcasting functionality.
"The One Button Studios' and the wrap-around service they provide will help maintain UCT's standing as a globally competitive university, while helping both students and academics to build African-based knowledge that is relevant to South Africa's multicultural heritage," said Vice-Chancellor Professor Mamokgethi Phakeng.
"The OBS support our goals of keeping teaching and learning at the cutting edge of disciplines and professions and providing opportunities for social engagement within curriculums."
Adding value to teaching and learning
The One Button Studios will also provide students with opportunities to gain digital presentation skills that will open new opportunities for them in the world of work. This is directly linked to UCT's Vision 2030: to unleash the human potential of students through education within every programme of study.
"We want to ensure that students can engage with their learning," said Nawaal Deane, the head of the Digital Media Unit at CILT. The idea is not to enable students to start their own social media empires, but for them to use the studios to respond to their context through sharing content for peer-to-peer learning.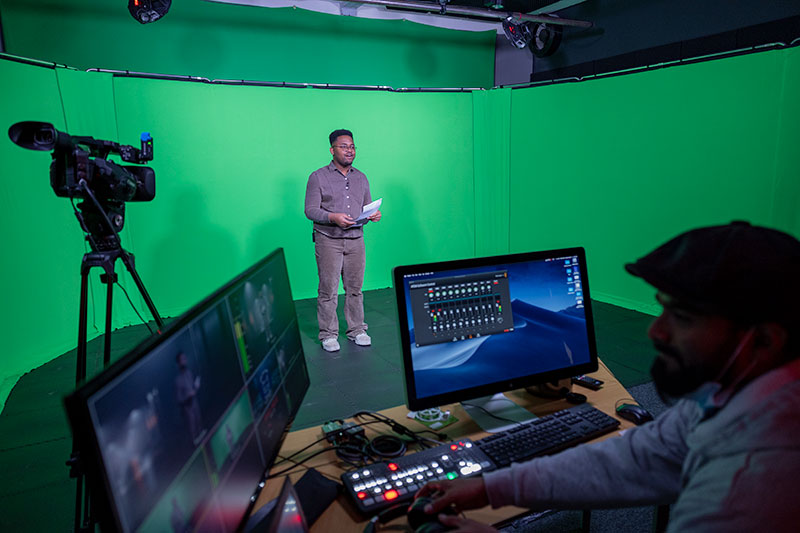 "For example, if you are a second- or third-year economics student and your mother tongue is not English, perhaps you could translate first-year economics concepts for other students who speak the same home language," she explained.
"The ethos is not just providing students with access to studios to make TikTok videos, but the booking system will be linked to their course sites, so we want to encourage them to utilise [it] to complement their teaching and learning experience. We are focusing on what it means to be part of a digital age where they get access to creating content that is relevant for the learning experience, but the process also enables them to build on their social capital by preparing themselves for the world of work."
Humanising course work
The new facilities, Deane pointed out, has been built with inclusive pedagogies in mind to increase student engagement and think about how students can contribute to their course work. But we need course convenors to be open to students using the studios as part of their course work or assessments, she said. "For example, instead of a student writing down an autobiographical text, they can record their story or a podcast of their lives. We also have adaptable and multi-camera recording facility for teaching and learning against a green screen where we can record a lecturer against a full-screen green screen and slot in their background in the live recording without the need for complex keying out in post-production."
"Digital media can enable in-person teaching by utilising it to flip the classroom where students can watch the lectures beforehand and have deep discussions in the classroom."
"We're looking at how we can enhance teaching and learning by moving away from videos where lecturers are simply passively standing by a PowerPoint or reading from the teleprompter. It's about giving them the opportunity to annotate on an iPad or write on a lightboard where the lecturer can talk directly to camera and explain while they are writing on the board.
"UCT is a residential campus, and students and lecturers may be going back full-time to in-person teaching but this does not mean that recording of lectures or creating media will become less important. The digital media can enable in-person teaching by utilising it to flip the classroom where students can watch the lectures beforehand and have deep discussions in the classroom."
Lecturers are encouraged to book their slots on the CILT website and use these studios to make new media content on the new digital learning platform, which the studios are currently being integrated into.
---
This work is licensed under a Creative Commons Attribution-NoDerivatives 4.0 International License.
Please view the republishing articles page for more information.
---