A solar blanket for container ships, a robot that can write, and a cost-effective prosthetic arm. These were just some of the ingenious projects designed and built by school pupils that were on display at the University of Cape Town (UCT) during the recent Eskom Expo for Young Scientists.
More than 650 pupils from 45 schools throughout the Peninsula participated in the regional finals of the expo, held at the UCT Sports Centre over the weekend. Girls accounted for more than half of the pupils who entered the regional finals, while more than a quarter of the entrants were from primary schools.
The Eskom Expo for Young Scientists is considered one of the most prestigious science competitions in South Africa. Students enter in 24 categories ranging from chemistry, engineering and food science, to energy, astronomy and sustainable development.
"Held annually since 1982, this is one of the many regional events held around the country in which pupils from grade 6 to 12 showcase their science skills and all the amazing projects they have designed and built," said Professor Susan Bourne, acting dean of the Faculty of Science.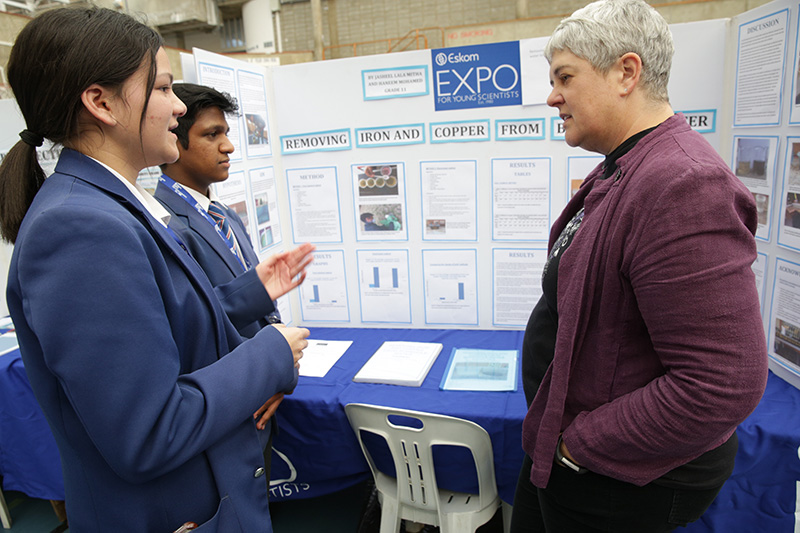 The future of science
"The goal of the expo is to inspire young scientists. It serves as a vehicle to showcase the work, ideas and abilities of the future science leaders throughout South Africa. As a country and continent we face a critical skills shortage in maths, science and technology, so events like this are hugely important," she explained, telling the youngsters she hoped many of them would choose UCT to further their studies
"The Faculty of Science at UCT attracts some of the very best school leavers in the country and we offer a range of subjects from astronomy to oceanography – or, as I sometimes put it, from the stars to the sea and absolutely everything in between."
Many of the judges of the Cape Town leg were postgraduate students and staff members from UCT, who volunteered their time. They were, in turn, encouraged and inspired by the range of talent and ideas.
Professor Nicola Illing, deputy dean of the science faculty, said UCT interfaces at multiple levels for the expo.
"We pull in a lot of our undergraduate students, postgraduates and postdocs. Academic staff also contribute to the judging. Other UCT staff also help during the expo weekend, including our cleaning services, traffic services, security and classroom support."
UCT also helps the teachers from the various schools to mentor the young scientists. The teachers were credited for helping and inspiring the learners to develop their science interests and talent.
"We want to show how technology can build, can do brilliant things and can do good in the world."
Sustainability at sea
One of the projects that caught the attention of the judges was by Ngabelwa Nikwe and Nerissa Sucram, of Simon's Town School. They researched, designed and produced a solar blanket that can be used to cover containers on ships.
The two learners, who study maritime economics and nautical science, came up with two prototypes before settling on their final version.
"We focused on containers, as they are the highest consumers of energy on board a vessel. We looked at flexible and lightweight solar panels that are made of silicon and can be folded, rolled and stacked away. It's basically canvas with the solar panels stuck and mounted on top. This can be fitted on all containers and tied on with ropes," explained Sucram.
The two young scientists also looked into how to keep each container at a certain temperature, depending on the freight – from frozen food to appliances.
"We set out too to remove the impression that technology is here to destroy the environment. We want to show how technology can build, can do brilliant things and can do good in the world. We are trying to go green on board," said Nikwe.
Tokoloho Rampai, a lecturer in the Department of Chemical Engineering, stopped by their stand and was fascinated with the project, seeing them as ahead of their time.
"We are worried about sustainability on land, but they are already thinking about it at sea. They are thinking of problems we will be facing in future. There is not a lot of maritime research on sustainability, so this is good news," she said. She also encouraged them to consider studying at UCT.
Formula into function
Michael Hooper and Theon Smith, from Rondebosch Boys' High School, developed a robotic scribe that can be used when school learners and students are unable to write tests or exams due to arm or hand injuries.
"We thought it would be much more efficient if you could have a robot that could do that for you."
"Normally what happens is that you hire a human scribe. But this has its problems. We thought it would be much more efficient if you could have a robot that could do that for you. You could tell it what to write and it eliminates the possibility of cheating as well," said Hooper, a grade 11 learner.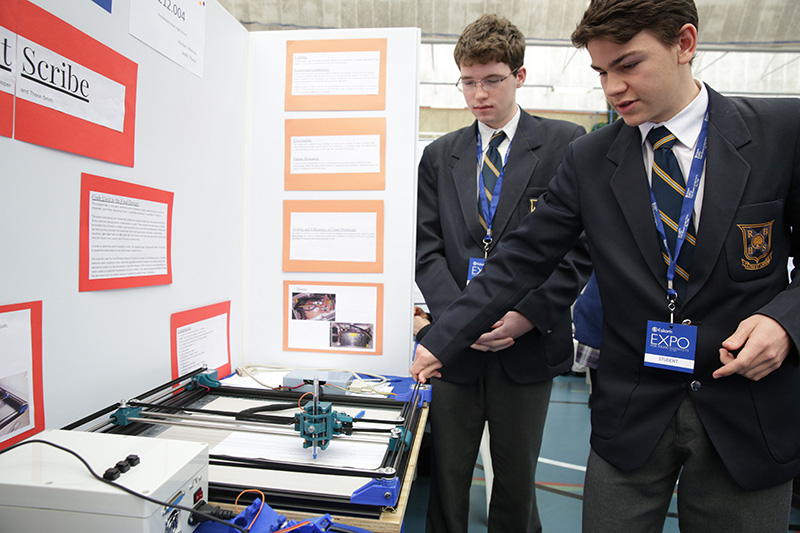 Smith said working on the robotic scribe had been very stimulating and was in line with his interests in mathematics and science.
"I really like maths. It's fun for me because you can solve major problems. You can turn a formula into a function. It's very satisfying. I like science in general because it explains the world and I can do cool stuff," he said.
Bursaries and prizes
Winning students from the 35 expo regions in South Africa get the opportunity to compete against each other. Some of them will also get the chance to participate at the Young Scientists International Science Fair, where they compete to win local and international bursaries, cash and other prizes.
While not everyone would emerge as winners, Bourne said, everyone should be very proud of what they had achieved.
"I want to congratulate every single one of you who has entered a project. Whether you win or not, you've done an amazing job."
---
This work is licensed under a Creative Commons Attribution-NoDerivatives 4.0 International License.
Please view the republishing articles page for more information.
---