Students from the University of Cape Town's (UCT) six faculties walked across the stage in red robes to warm applause as they were conferred their PhD qualifications at a ceremony held at Sarah Baartman Hall on Friday, 21 July.
Family members raised power fists, rose to their feet in song and ululation, and shed tears as their loved ones were capped.
When it was Lena Nyahodza's (Faculty of Humanities) turn, she stood on stage and gave an impromptu monologue: "I am a product of UCT transformation. I am a product of a department led by ubuntu."
The university also conferred honorary doctorate degrees to Josette Cole (Doctor of Social Science), Tete Mbambisa (Doctor of Music), Dr Colette Solomon (Doctor of Social Science) and Veronica Williams (Doctor of Music, awarded posthumously).
There was also a moment of solemn celebration when Zayd Minty's PhD qualification was awarded posthumously and received by Dr Laura Nkula-Wenz, a lecturer at UCT's African Centre for Cities.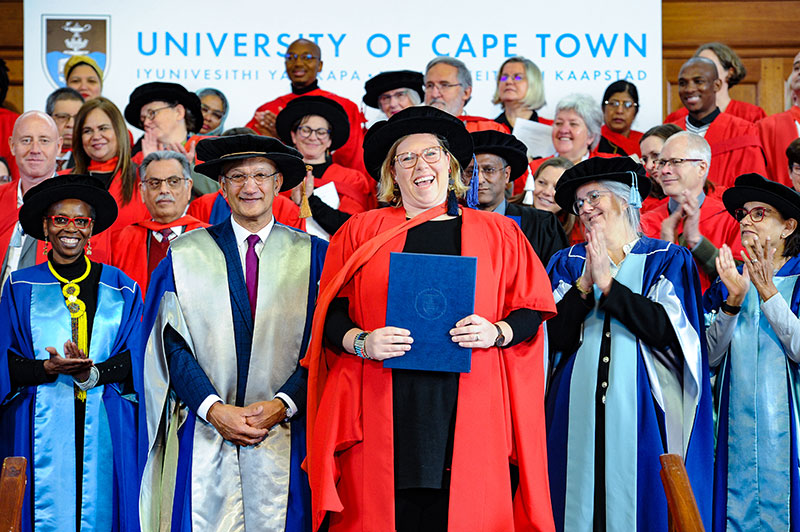 Beaming with joy, Dr Kimberley Williams described the delight of the occasion as something she would celebrate with friends and family. "It's something I've been wanting to accomplish for many years."
"It's still sinking in a little bit. The best is still to come," said Dr Williams on the day. Williams began full-time study towards her PhD with the Faculty of Health Sciences (FHS) in 2019, coming from the University of the Western Cape (UWC) where she completed her BSc, BSc (Hons) and MSc qualifications.
Williams' thesis reports key differences in brain electrical activity on electroencephalography (EEG) between schizophrenia (SCZ) and methamphetamine-induced psychotic disorder (MPD).
"Funding was a big challenge, and I am so grateful to the National Research Foundation (NRF) and the FHS who supplied me with funding to complete my PhD."
Among the graduates was Stephanus Francois du Toit, whose MSc registration was upgraded to a PhD in 2020. Their thesis, titled "Dry and back again: characterisation of desiccation-associated differentiation of leaf tissues in Craterostigma pumilum Hochst", was aimed at providing a detailed characterisation of the desiccation-associated differentiation of leaf tissues in the resurrection plant Craterostigma pumilum. A portion of their doctoral studies was completed at the Weizmann Institute of Science in Israel, with the Reich Research Group.
"The idea is to tackle global food security in a changing climate. It is as official as it can be that I am an academic doctor," they proudly said.
"The highlight is that I confronted one of the most sensitive topics in our country that has to do with B-BBEE compliance."
Also capped was Tendani Mulanga Chimboza was looking forward to the euphoria of her home village following her latest academic accomplishment.
"This has been a five-year-long journey. I'm celebrating with my family (on the day), and this is the first part of the grand celebration; the other will be in my village where everyone is waiting for me."
Chimboza's thesis focused on ICT organisations' limited compliance with the Broad-Based Black Economic Empowerment (B-BBEE) ICT Sector Code. She investigated how contextual factors affect low levels of compliance with the B-BBEE ICT Sector Code.
"The highlight is that I confronted one of the most sensitive topics in our country that has to do with B-BBEE compliance … it's about putting black people in the ICT sector and most people did not want to talk about that, so that was challenging. But I triumphed in the end, using the resources of the university," she said.
Academic community
Ahead of the ceremony, graduates were hosted at a dinner on Thursday, 20 July, to celebrate their achievements.
Speaking on the night, vice-chancellor interim, Emeritus Professor Daya Reddy, said: "Earning a PhD degree is quite an accomplishment. To borrow from the rules that guide PhD thesis examiners, they state very simply that the thesis must constitute a substantial original contribution to research.
"Let me thank your loved ones and supervisors who have supported you through this journey because without their commitment to you and the support of others in the academic community and in your own communities, I'm sure you will agree that your accomplishments would not be possible without them."
---
This work is licensed under a Creative Commons Attribution-NoDerivatives 4.0 International License.
Please view the republishing articles page for more information.
---