Two new Fellows were inducted into the University of Cape Town's (UCT) prestigious College of Fellows at the annual fellows dinner held at Smuts Hall this week. In addition, six College of Fellows Young Researcher Awards were made.
UCT Fellowships recognise original, distinguished academic work that merits special acknowledgement and the 2019 awards went to:
Professor Genevieve Langdon, Mechanical Engineering Department, Blast Impact and Survivability Research Unit, Faculty of Engineering & the Built Environment
Professor Peter Zilla, Chris Barnard Division of Cardiothoracic Surgery, Faculty of Health Sciences.
Genevieve Langdon
Langdon is the director of the Blast Impact and Survivability Research Unit in the Department of Mechanical Engineering, and the secretary of the International Society of Impact Engineering. She is one of very few researchers in the world with expertise in both blast experimentation and lightweight structures. Langdon's work seeks to make the world a safer place through better understanding of the responses of structures and materials under explosion loading. She was one of the founding partners of the first African blast injury network.
Given the massive landmine legacy across the world, and particularly in Africa, the impact of her work is significant in reducing civilian injuries and loss of life. Her work has been published in the top journals in her field and she is an editorial board member for two international Elsevier journals.
Peter Zilla
Zilla is part of the Chris Barnard Division of Cardiothoracic Surgery. His contributions to international research and cardiovascular-device development, along with his commitment to making these innovations accessible to developing nations, reflect his commitment to Africa. His collaborations with prestigious Western research facilities have always been with the intention of serving the developing world.
Perhaps his most significant accomplishment has been uniting all the major heart organisations in the world under a single interest group known as the Cardiac Surgery Intersociety Alliance. This alliance promotes access to cardiac surgery throughout the developing world. Zilla also co-founded a UCT start-up company, Strait Access Technologies, which produces homegrown transcatheter heart-valve devices that can be inserted without open heart surgery.
Young Researcher Awards
The evening also saw the presentation of the annual Young Researcher Awards, which honour the significant contributions that UCT's young researchers have made to scholarship in their fields. This year's recipients were:
Dr Charlotte Schutz, Wellcome Centre for Infectious Diseases Research in Africa, Institute of Infectious Disease and Molecular Medicine
Dr Dyllon Randall, Department of Civil Engineering, Faculty of Engineering & the Built Environment
Associate Professor Adam Mendelsohn, Kaplan Centre for Jewish Studies, Faculty of Humanities
Dr Vinayak Singh, H3D TB Biology, Drug Discovery and Development Centre, Faculty of Science
Dr Alastair Sloan, Department of Geological Sciences, Faculty of Science
Dr Sharief Hendricks, Division of Exercise Science and Sports Medicine, Faculty of Health Sciences.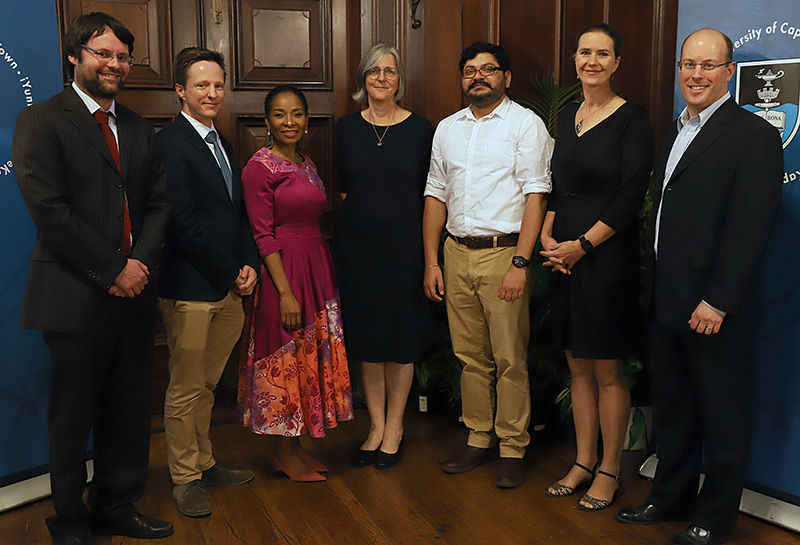 Eldership builds community
Each of the recipients delivered a short talk about their work. After awarding the certificates, Vice-Chancellor Professor Mamokgethi Phakeng delivered an address on the power of eldership in building community. UCT Fellows play an important role among the elders of the UCT community, she said.
UCT is not a factory producing graduates, researchers and academics, but a community of human beings who support one another and grow together with a common vision for research, teaching and learning, and social responsiveness.
"Within that wide vision we have shared experiences that have helped to shape us as individuals but also as a community."
"The community holds us together, despite our differences. And you Fellows give this community continuity. Your experiences and wisdom feed our culture."
Phakeng continued: "As individuals we represent different age groups, different nationalities, races, religions, sexualities, languages, outlooks, loves, passions and dislikes. The community holds us together, despite our differences. And you Fellows give this community continuity. Your experiences and wisdom feed our culture."
Citing a Senegalese proverb, "The things that grandmothers see while sitting on the ground, younger people cannot see even if they climb to the top of the tree", Phakeng said the Fellows' academic work is only part of what they contribute as elders.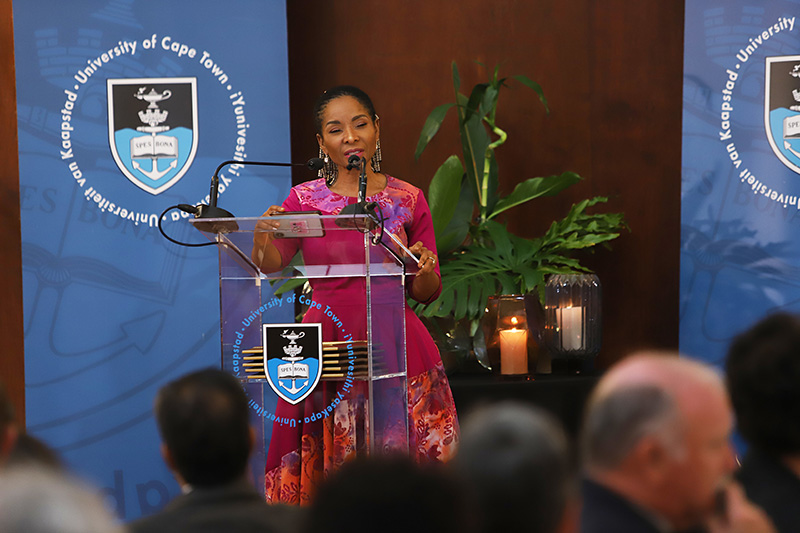 "The best part of your wisdom is still locked inside you; in your souls, your ways of being, the way you treat people and how you interact with your students and colleagues, things that cannot be measured or reflected on a balance sheet or asset register. You are not just what UCT is, but you are who UCT is."
Elders as role models
Phakeng added: "Younger colleagues learn from your example, your discipline, your passion, your rigorous investigation and collaboration… While the content of what you teach is certainly important, you are also teaching other qualities that you may not be aware of: how you build excellence into your daily routine, how to practice discipline in your research, how to pursue an academic career when young people are watching."
Their role as elders was especially important in providing the space for young researchers to explore ideas – and disagree with colleagues while still respecting one another.
"As community leaders and community elders you can set the tone for harmony and respect..."
"Especially in a time when society is so sensitive to differences in sexuality, gender, race, class... At this time when xenophobia is such a temptation, they need to learn how to appreciate those differences, how to assert themselves and give others [space] to do the same. As community leaders and community elders you can set the tone for harmony and respect, by showing those qualities to colleagues and students."
UCT Fellows also set examples for the Young Researcher awardees, she added.
"All of us who are fellows have broken boundaries to get to where we are today. Those boundaries may have been within us, they may have involved knowledge that we did not have, or they may have been based on perceptions of who we are, our race, our gender, our language and culture.
"We are sitting here alongside the recipients of the Young Researcher Awards and they have already started to stretch and cross their own boundaries. All of us may have new boundaries that we plan to challenge, no matter how 'elderly' we may seem to ourselves and others."
Message from Japan
The evening ended with a message from Young Researcher awardee Dr Sharief Hendricks, who was unable to attend the dinner.
"I would like to thank the committee for this prestigious award. I apologise for not being present this evening. I've been invited to present at the World Rugby Science and Medical Conference, which is currently being held in Fukuoka, Japan, to coincide with the Rugby World Cup.
"I'll be presenting on the science of the tackle – how to prevent injury and optimise performance. This is and has been my main research focus over the last 10 years. To end, I'd like to thank the senior members within our division and department for all their support, guidance and encouragement. Have a great evening further!"
---
This work is licensed under a Creative Commons Attribution-NoDerivatives 4.0 International License.
Please view the republishing articles page for more information.
---