"Our brains are the seat of our memory, of our past, our present and our future. They enable us to communicate with and understand the world, and to live life as sentient beings."
That was the message for the pupils of Capricorn Primary School from Dr Ursula Rohlwink, Neuroscience Fellow and lecturer in the University of Cape Town's Neuroscience Institute and Division of Neurosurgery, when she invited them to a session to learn everything there is to know about the human brain.
The event, to mark international Brain Awareness Week, saw 83 grade 7 learners from the school in Vrygrond, near Muizenberg, treated to a jam-packed programme that had them transfixed. This was presented in collaboration with the Cortex Club, an educational forum devoted to cutting-edge topics and challenging issues in neuroscience.
Brain Awareness Week kicked off on 11 March and ended yesterday. The global campaign seeks to increase public awareness of the value, progress and benefits of brain research, which Rohlwink said cuts across cultures, religions and ethnic groups.
The presentations at the Faculty of Health Sciences included an hour-long session on the brain, a visit to the university's Anatomy Museum, and much more.
"We really hope it offered the children some exposure to neuroscience, and possibly inspired the neuroscientists, neurologists and neurosurgeons of the future."
"This is the first year UCT [has] hosted an event of this kind. We really hope it offered the children some exposure to neuroscience, and possibly inspired the neuroscientists, neurologists and neurosurgeons of the future," Rohlwink said.
Intricacies of the brain
First, Rohlwink unpacked the intricacies of the brain and its functions during an hour-long interactive presentation.
The frontal lobe and prefrontal cortex and its functionality were under the spotlight, as were the motor cortex and sensory cortex, which Rohlwink explained are what control movement and the ability to touch and feel things respectively.
"When we place our hands on our chest and feel our hearts beating, or put our hand on the stove and it burns, those sensations are controlled by the sensory cortex and so are many other things you would not even think about," she said.
The visual cortex, she added, is mostly responsible for what people can see, how the eyes send messages to the brain, how the brain registers those message and how the body consequently reacts.
Memory in relation to the brain was also discussed. Rohlwink divided memory into two categories, procedural and episodic memory, and stressed that both are equally important.
"Episodic memory refers to events that have happened in your life, while procedural memory refers to remembering how to do things like playing Scrabble or playing a sport," she said.
"Memory is attached to many things. It helps us to combine things and creates a very full, wholesome experience. That experience is very important to us as people."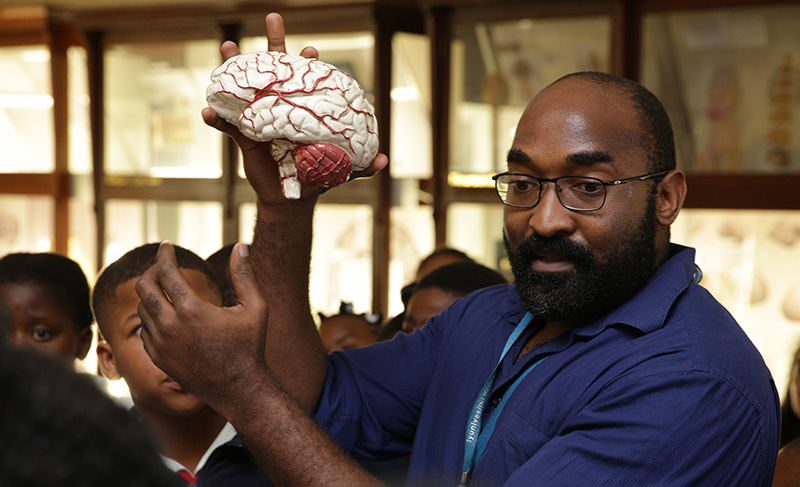 A trip to UCT's Anatomy Museum was eagerly anticipated, with real-life examples offering an excellent opportunity for the learners to understand complex topics.
There, neurosurgeon Dr Ncedile Mankahla presented a half-hour discussion on the brain, using plastic examples of the organ. He also used a preserved head, donated to UCT, with an open skull and a clear picture of the brain to explain its function in detail.
"The interesting thing about your brain is that it controls everything in your body, but it's stuck inside your head. And how it gets to control your body is through the extension called the spinal cord," Mankahla said.
Together, the brain and spinal cord form the central nervous system, which is part of everything the human body does. It also controls what the body chooses to do, like when to lift an arm, walk, and even talk.
He showed the group dissections of a real brain; slivers of tissue, which he said helps medical professionals see exactly what it looks like on the inside during research.
Mankahla and Rohlwink then ushered the learners around the museum for a show-and-tell session of the body's most vital organ.
A "great" biology lesson
Kasonga Tshibombu (12), who attended the event with his classmates and teachers, said he "loved everything" about the educational lesson on the brain.
"I learned so much. I learned that the brain helps us to do everything – move, talk see and hear."
"I learned so much. I learned that the brain helps us to do everything – move, talk, see and hear. I think the brain is amazing. Only God could make it as amazing as it is, it's perfect."
Kasonga, who would like to study medicine after matric, said the human body fascinates him and that he is excited to learn more about it in school and later at university.
Other presentations on the day included a demonstration of the brain's electrical activity, which was conducted on a cockroach, along with a neurodevelopment demonstration on a chick embryo and a discussion on the importance of sleep.
---
This work is licensed under a Creative Commons Attribution-NoDerivatives 4.0 International License.
Please view the republishing articles page for more information.
---