The ingenuity, brilliance and out-of-the-box project ideas pioneered by hundreds of young science enthusiasts from schools around the Mother City were showcased during the annual Cape Town Eskom Expo for Young Scientists at the University of Cape Town (UCT) this week.
Hosted at UCT's Sports Centre, the expo attracted 603 primary and high school learners from 47 schools in Cape Town for a week of learning and educational fun in the fields of science.
The expo is considered one of the most prestigious competitions of its kind in South Africa. Students enter their projects in several categories, ranging from chemistry, engineering and food science to astronomy and sustainable development. Learners are required to design and develop projects that address some of the world's most pressing challenges using innovative and forward-thinking ideas.
UCT's Dr Dorit Hockman of the Division of Cell Biology in the Department of Human Biology in the Faculty of Science said she was blown away by learners' designed and built projects.
"What I've seen here ... is on university level, and the kind of ideas we're expecting our UCT students and graduates to come up with."
"Their projects have really wowed me. They're so diverse and it's been wonderful to walk around and to see what's on display, and to engage with the kids on their ideas and where it all stems from.
"What I can also say is that what I've seen here this week is on university level, and the kind of ideas we're expecting our UCT students and graduates to come up with," Hockman said.
Science as a career
The event is one way of getting learners to consider a career in science and think about becoming scientists from a young age, she added.
This expo is also an opportunity for learners to start realising that innovative ideas are not only born and carried out at university. It can all start before that in the classroom, she said.
"We want to send a message to the kids that they don't have to wait until they're in university to start coming up with ideas. They can start doing it while at school.
South Africa and Africa continue to face skills shortages in critical areas like maths, science and technology, yet Hockman said there's little awareness at school level that science can become a rewarding career.
It's for this reason that expos like this are important, she added. It piques pupils' interest and effectively communicates that a career in science is possible – and fun.
"Judging by what I've seen on the floor – the ideas the kids are coming up with and how resourceful they've been – I think we've managed to tick that box successfully. I think they're discovering that science is in fact something they can do themselves and not something they need fancy equipment for," Hockman said.
Kelp will help
For Shreya Singh, a grade 10 learner at Parklands College, paper straws are not an effective, carefully considered alternative to plastic straws.
"They [paper straws] become soggy so quickly, and drinking from them is unpleasant after the first few sips," Singh said.
That was more than enough for Singh to start thinking of a cost-effective, biodegradable and sustainable alternative. And after an afternoon beach stroll, her idea was born.
As she walked the shore, Singh noticed kelp almost everywhere and suddenly realised that, if used correctly, kelp could be the answer she was searching for.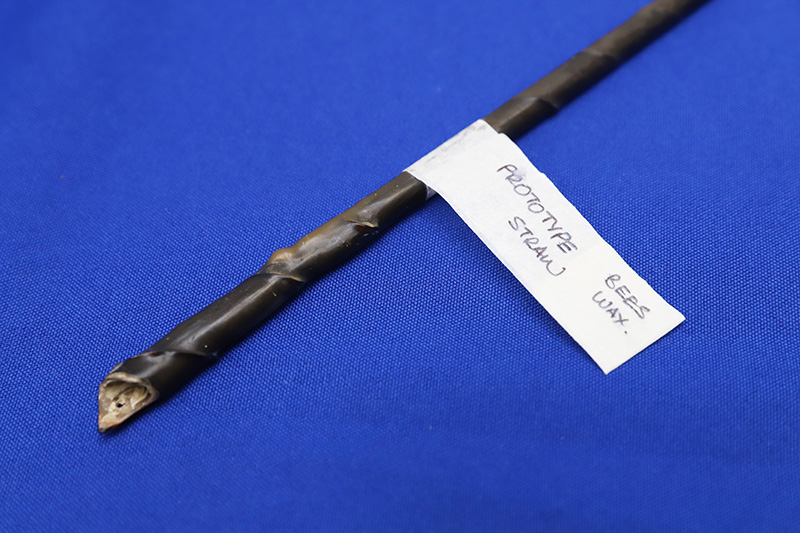 Her investigation began in earnest. Her research process revealed that humans have been consuming kelp with no harmful side effects for years, and in ice-cream no less. The testing process was far from complex – she boiled the kelp to get rid of bacteria and thereafter soaked it in water. She then cut through each piece finely and wrapped enough around a stick to create a straw-like shape e.
"It was fascinating to see. It really does the job well and ticks all the right boxes."
After covering the straw in bees wax to eliminate the sea salt taste, and allowing it to set, she tested it a few days later in three different liquids. And after 40 minutes the kelp straw still wasn't soggy.
"It was fascinating to see. It really does the job well and ticks all the right boxes," she said.
Putting the environment first
Reducing poverty has always been top of mind for 13-year old Asipe Sibozi from Masivuke Primary School in Philippi. With staggering unemployment levels in South Africa, Sibozi believes that recycling can be a means to lift communities, like hers out of poverty. And it works, she added.
"It's a way of providing for your family without breaking the law while also putting the environment first," she said.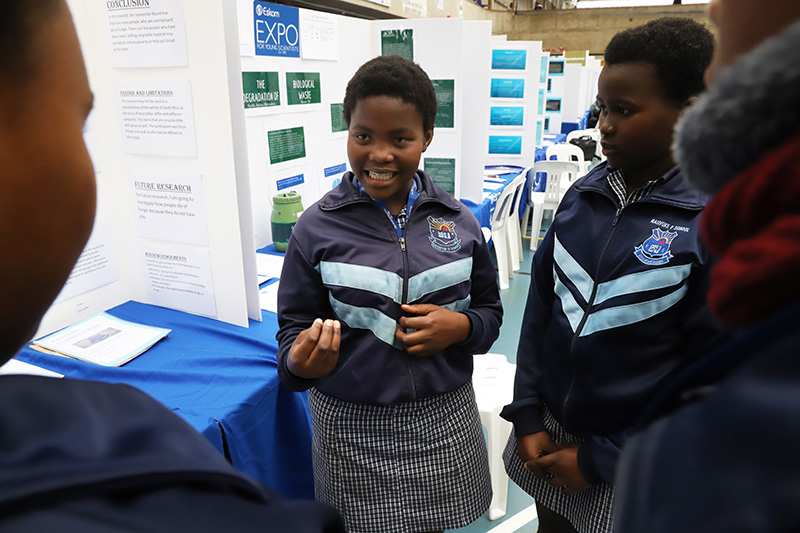 Her project investigates and evaluates the value of collecting scrap metals, bottles, cans and other recyclable material, taking them to a recycling centre and receiving a stipend. This helps community members put food on the table in areas where unemployment has reached alarming levels.
"Starting a small bin-washing business is also a way of recycling and making money. I've seen people do it and I know it works. During my research I also asked the questions."
"Recycling can help you make money and feed your family," Sibozi said.
Winning learners from the expo's multiple regions in South Africa will have an opportunity to compete against one another, and some of those learners will have an opportunity to participate in the Young Scientists International Science Fair in Johannesburg next month.
---
This work is licensed under a Creative Commons Attribution-NoDerivatives 4.0 International License.
Please view the republishing articles page for more information.
---