On Saturday, 28 September, visitors to the V&A Waterfront passing through the Pier Head square were treated to a truly intriguing sight: a diverse array of dynamic women in white lab coats sharing their scientific research with passers-by.
The very first event of its kind in South Africa, Soapbox Science does exactly what its name suggests ­­– it offers scientific researchers a platform to connect with and educate the general public about their work.
Inspired by the historical Speakers' Corner in Hyde Park, the movement first started in 2011 with a single London event and has since grown to include chapters all over the world. What makes Soapbox Science even more noteworthy is the fact that it focuses specifically on the work of women in science.
The Cape Town event had a rotating line-up of nine speakers divided into three groups. Each group had an hour to step up onto their soapboxes, present their research and engage with the passing crowds.
The University of Cape Town (UCT) was well represented, with no less than five speakers. They were Dr Edina Amponsah-Dacosta from the Vaccines for Africa Initiative, Dr Kerryn Ashleigh Warren from the Department of Archaeology, Mieke du Plessis from the Hatter Institute for Cardiovascular Research in Africa, Associate Professor Liesl Zühlke from the Red Cross War Memorial Children's Hospital and Dr Natasha Karenyi from the Department of Biological Sciences.
Other institutions present included the University of the Western Cape (UWC), North-West University (NWU) and the University of the Witwatersrand.
Fun and informal approach to science
The mix of speakers resulted in a truly fascinating array of topics – from excavating the Rising Star Caves, where Homo naledi was found, to combatting heart disease in children and the complexities of marine biodiversity.
Employing the use of interesting props, colourful posters and a healthy dose of enthusiasm and passion, each of the speakers made a concerted effort to engage the public and draw interest.
"One of the gaps in my line of work is communicating our research and findings with the general public."
While passers-by were initially loath to break their stride and stop off for an educational experience, curiosity eventually won out and a lingering crowd formed.
"Events like these are incredibly important," said Amponsah-Dacosta, whose talk titled "Vaccines Are Us!" explained the importance of vaccinology in healthcare.
"One of the gaps in my line of work is communicating our research and findings with the general public."
She added that, for her, the idea is never to simply develop interventions for the public, but rather to include them in the process.
"Events like Soapbox Science help create a sense of transparency and understanding between scientists and the public," she said.
During her presentation titled "There and back again: Excavating at Rising Star Caves", Warren captured imaginations with her tales of being one of the "underground astronauts" who helped excavate Homo naledi.
"I have wanted to be an archaeologist since I was five years old. Sometimes you stop dreaming about these things, but I just kind of continued," she said.
"As girls, in general, one of the things that we're constantly told by society is that [science] isn't for you. But if you're interested enough in something, why not just give it a go?"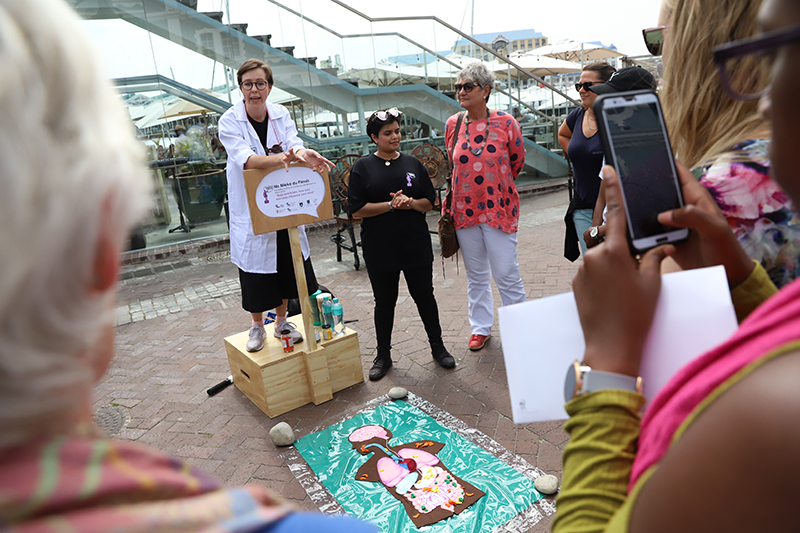 Warren added that this even counts for women who have left school and followed other career paths but remain interested in science. She believes that there is always an opportunity to learn more and pursue your passion in one way or another.
Global network
The inaugural South African edition of Soapbox Science was spearheaded by Dr Lucia Marchetti, a joint National Research Foundation/SKA South Africa South African Research Chairs Initiative postdoctoral fellow working in the Department of Astronomy at UCT, as well as in the Department of Physics and Astronomy at UWC. She was supported by a local organising team of enthusiastic women scientists from UCT, UWC, iThemba LABS and the South African Astronomical Observatory (SAAO).
Marchetti was first introduced to Soapbox Science in 2015 when she participated as a speaker at a London edition of the event.
At the time, institutions in the United Kingdom were noticing a steady decline in the number of women entering scientific fields and she felt inspired to be part of a movement that countered that through informal public participation and debate.
"Even in some schools they were giving the wrong message out, by being more encouraging towards boys becoming scientists than for girls," Marchetti said.
"What I say is science is a thing. It's not for boys or for girls – it's just something you might want to pursue if you're curious about the way the world works."
"Even in some schools they were giving the wrong message out, by being more encouraging towards boys becoming scientists than for girls."
When she came to South Africa in 2017, Marchetti wanted to launch a leg of Soapbox Science locally, and slowly but surely her plan came together.
"It's all about choosing the right partners. And we've managed to gather a really great team," she said.
Marchetti added that getting funding from the Department of Science and Innovation, iThemba Labs, the Centre for Radio Cosmology in the University of the Western Cape's Department of Physics and Astronomy, and administrative support from SAAO, were real game changers in getting the event off the ground.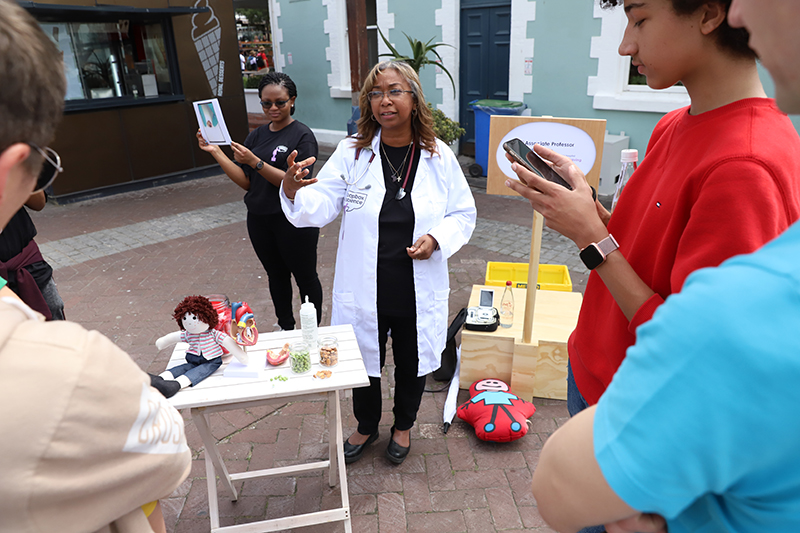 Of course, forming part of the larger community, the South African chapter of Soapbox Science had enjoyed loads of guidance and input from afar as well. But while the general designs were provided, the beautiful soapboxes were made by iThemba Labs staff as part of their contribution, and the posters, leaflets, banners and stickers were redesigned and printed locally.
Future plans
When the original call for speaker applications went out earlier this year, Marchetti and her team were overwhelmed by the interest from local women scientists.
"We received a total of 50 applications from all over South Africa, which is really impressive – even in comparison to some places where the event had been running for some time," she said.
These numbers bode well for the future and may even lead to the launch of new chapters in other South African cities.
While events like these may be instrumental in spreading awareness of the amazing work being done by women in science, Marchetti believes that it goes even deeper than this: even though institutions are becoming more accommodating and supportive of women scientists who juggle their work with raising families, etc, we still have a long way to go.
"These days, for example, women who have had children may be given extra time to apply for funding for a project," Marchetti explained, "but without movements like these, that won't happen. That's why they're so important."
Organising committee member Professor Renee Kraan-Korteweg, UCT's Chair of Astronomy, stressed that the breaking of stereotypes is critical.
"Scientists are males, old, grey-haired, nerds, introvert, often not approachable. Why are there so few women in science - it gives a wrong impression to youngsters (and not only youngsters). Are women not as good, not as capable? If they are a good scientist they must be boring, unattractive.
"That all is so untrue, and the Soapbox Science event proved it. The speakers were all so fantastic, stimulating, engaging and fun. It made me feel very proud," she said.
---
This work is licensed under a Creative Commons Attribution-NoDerivatives 4.0 International License.
Please view the republishing articles page for more information.
---