At the University of Cape Town (UCT), social responsiveness is an umbrella concept referring to "all forms of engagement with external non-academic constituencies". This engagement takes place through the core work of the university: research, teaching and service to society.
Research is one of the most visible forms of social responsiveness, but there are also many UCT academics practising engaged teaching and learning. However, their work is often misunderstood and lacks support and visibility.
Part of the university's response to this has been the awarding of socially responsive course development grants, the funding for which comes from the Vice-Chancellor's Strategic Fund. In 2019, four recipients were awarded grants: Dr June Bam-Hutchison, Dr Kathryn Ewing, Emeritus Associate Professor Una Kyriacos and Associate Professor Zarina Patel.
"It seems to be that we do teaching, research and service, and then we do social responsiveness, when, actually, teaching is a form of doing social responsiveness."
These recipients presented their work at a recent panel discussion during UCT's Teaching and Learning Conference 2020, which took place virtually for the first time. The conference ran from 18 to 23 September and was organised by UCT's Centre for Innovation in Learning and Teaching (CILT).
"It seems to be that we do teaching, research and service, and then we do social responsiveness, when, actually, teaching is a form of doing social responsiveness," said Associate Professor Janice McMillan, who works directly in social responsiveness through the Social Responsiveness Hub with Deputy Vice-Chancellor for Transformation Professor Loretta Feris.
Associate Professor McMillan chaired the panel discussion, which focused on teaching as a form of social responsiveness and showcased the four grantees' work, which serves as best practice for engaging a broader social context through teaching and learning.
Mutual learning process
Dr Bam-Hutchison's socially responsive teaching project is based in the Centre for African Studies' African Political Economy course, which began in 2017. It is one of the few UCT courses that foregrounds the study on Africa, and it's the first to work with the Khoi and San Aboriginal/Xarra (A/Xarra) Restorative Justice Forum in bringing indigenous ways of knowing into the classroom. It also brings together Paulo Freire's and Archie Mafeje's methodologies of dialogue and working with authentic interlocutors.
The objectives of the course include encouraging students to advance and engage with African philosophies and, in so doing, problematise knowledge from an African philosophy. Students are also challenged to think about and enact what decolonisation in practice means to them. Bam-Hutchison's students grapple with how they can impact what happens in their communities, as well as identifying and tackling pertinent issues.
But students do not do this on their own. They work alongside and are taught by members of the A/Xarra Restorative Justice Forum, who are partners in the recently launched UCT Khoi and San Centre. Part of the motivation for including the forum is to bridge the gap between the university and the community as sites of knowledge production.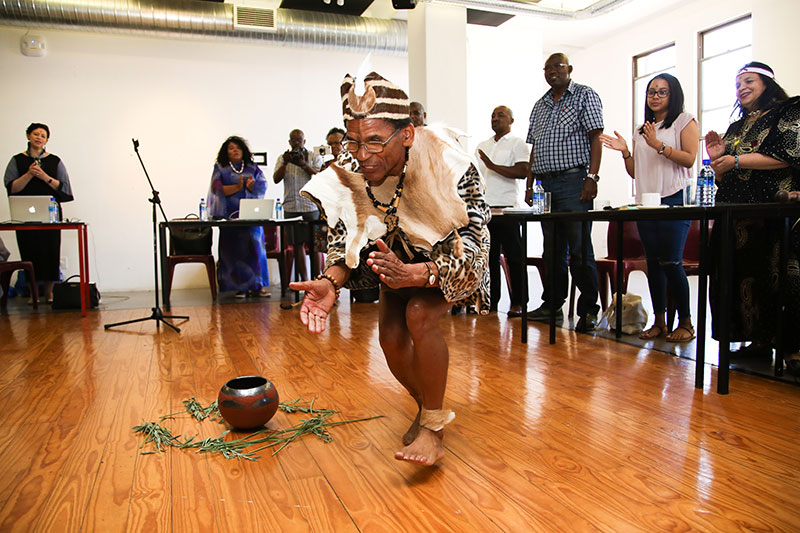 While the pandemic and subsequent lockdown has affected the course work and teaching project, the participants responded to the unfolding events by establishing the A/Xarra Covid-19 research commission, which looked into issues such as those surrounding the now-disbanded Strandfontein camp for homeless people.
Speaking on the work so far, Bam-Hutchison said that "the students felt that their identities had shifted in becoming co-producers of knowledge with the community, [and] the community felt that they were also catalytic in identifying gaps in students' knowledge, like historicisation of concepts, oral tradition and indigenous knowledge systems. So, this was a mutual kind of learning process".
Visible engaged scholarship
Dr Ewing convenes the urbanStudio called Gugulethu HOPE, which forms part of the Master of Urban Design in the Faculty of Engineering & the Built Environment. It is grounded in the lived experience and everyday reality of public space and gives an evidence-based understanding of how cities work, develop and change over time. The studio design course is interdisciplinary, participatory and intends to make engaged scholarship visible.
Urban design students spend time working with planning, landscape and architecture students; neighbourhood youth; and community leaders. They question methods and procedures and work towards scenario-oriented design.
The course is grounded in site work, and students engage in co-design workshops and focus groups. The co-design process is crucial to co-learning and the transfer of knowledge between students and community members.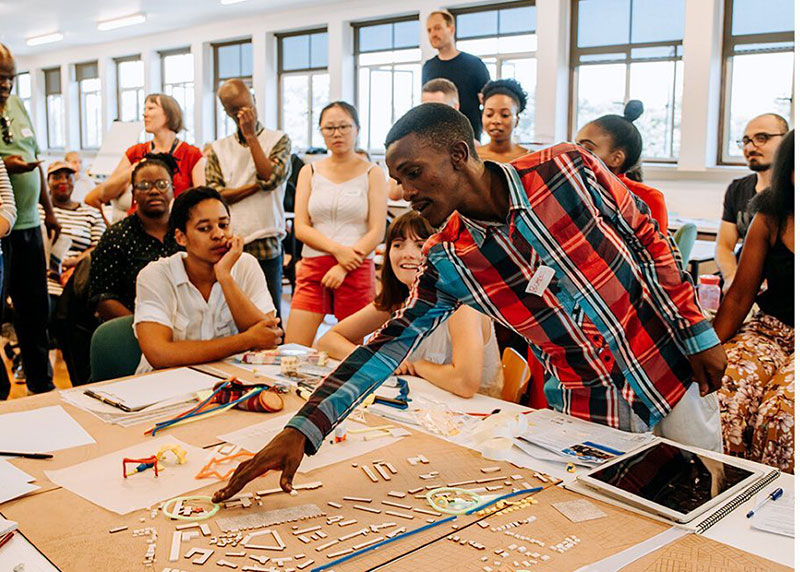 Earlier this year, five groups facilitated by five urban design students worked with youths from Gugulethu to reimagine spaces within their neighbourhood. Further community engagement includes embedding the work in a live project led by two community leaders known as the Gugulethu Wall of Hope, a 20-square metre wall that provides a space for young people to express themselves through art and messages of hope.
Challenges for the project included complicated internal financial systems which are disassociated with the reality of engaged scholarship, combined with the complex realities of working on the ground and managing expectations from all sides.
The COVID-19 pandemic has had an impact on this year's work, including the postponement of a creative works exhibition in Gugulethu. However, the pandemic has also shown the strength of the project in creating foundations in the community and the understanding of learning beyond the academy.
"Building partnerships was crucial in this time of crisis, and we're definitely challenging the new normal," said Ewing. "We're acknowledging practice in different ways; we're exchanging knowledge, and we have moved from individual work to collective review."
Moral imperative
As a nurse for 50 years, and a specialist ophthalmic nurse for 16 years, Emeritus Associate Professor Kyriacos is focused on preventing blindness, particularly among older people and rural communities. She believes that the high incidence of diabetes mellitus, which causes retinopathy and cataracts; ageing; lifestyle and population growth, with more children requiring eye screening; will lead to an upsurge in eye problems.
With this came the realisation of her responsibility: to train the trainer.
This training took place in rural areas across the Western Cape, where Kyriacos would often find nurses working without basic equipment, such as eye charts or ophthalmoscopes, and severely limited WiFi access and connectivity.
"It's a moral imperative for us as academics to be engaged."
Kyriacos pushed ahead, providing the nurses with training, which included lectures on the anatomy and physiology of the eye and basic optics. She also provided them with opportunities to practise using equipment from her own kitchen for completing eye examinations. Previously, her students were also treated to a Skype session with the late Janet Marsden, editor of An Evidence Base for Ophthalmic Nursing Practice.
"This is what I wanted to bring to these community health nurses: the need for evidence-based practice to be safe and [to] prevent blindness," said Kyriacos.
Reflecting on the work and the importance of social responsiveness, she said that "it's a moral imperative for us as academics to be engaged".
Relationships matter
The final presentation was made by Associate Professor Patel, from the Department of Environmental and Geographical Science in the Faculty of Science, who discussed her postgraduate course on environmental policy and practice. The course speaks to Patel's extensive research into the gap between policy and practice and how to build just and sustainable cities in ways that meet the needs of all in society, while still living within ecological and resource limits.
"So, you can't have good policy with poor execution; this, to me, is a wicked problem," she said.
To bridge this gap, Patel believes in looking at multiple ways and knowledges of tackling urban challenges. This means moving beyond the academy to embrace knowledges that exist in cities and communities and from policymakers and decision makers.
Patel has taken this approach in her course, which ran in the first semester. The socially responsive course development grant catalysed a shift in course outcomes, which for 2020 included grounding theory and practice through students' work on real-time projects; diversifying knowledge for academic inquiry, policy development and implementation; and providing teaching collaborators from the City of Cape Town (CoCT) insights from students on alternate approaches.
"You can't have good policy with poor execution; this, to me, is a wicked problem."
Patel convened a series of meetings with the CoCT, which resulted in a mutual decision to focus on aligning the Dunoon investment framework with the City's environmental strategy. A field briefing from the CoCT, a site visit and a related assignment were in the pipeline, but then the pandemic hit the country in March, and Patel quickly changed gears.
Instead, she organised a range of virtual guest lectures by CoCT officials from different departments, linking theory to practice. And while plans had to change, course evaluation feedback was positive: "I enjoyed the balance between theoretical work and the guest lecturers brining real-world context into the class."
Patel said that being able to draw on her existing partnerships and relationships with the CoCT was crucial to the course's success.
"Long-standing relationships matter. It's really hard to do this kind of thing without [them] … but what I learned in the process of repurposing this course as a joint teaching and learning venture with the City, is that those relationships can be reimagined and used in different ways," she said.
---
This work is licensed under a Creative Commons Attribution-NoDerivatives 4.0 International License.
Please view the republishing articles page for more information.
---