The University of Cape Town's (UCT) Dr Robert Morrell has been awarded a Rhodes University 2020 Distinguished Alumni Award. Dr Morrell is the director of UCT's New Generation of Academics Programme (nGAP) and the Next Generation Professoriate (NGP) initiative in the Office of the Vice-Chancellor, both major transformation projects to nurture new cohorts of young and mid-career black and female researchers.
The award recognises Old Rhodians whose actions and achievements have enhanced the institution's reputation. Morrell studied journalism at Rhodes from 1976 to 1978 and completed an honours degree in history there in 1979.
The decision by the selection committee to award the honour to Morrell was unanimous. He recently received the award virtually from Rhodes University's vice-chancellor, Dr Sizwe Mabizela.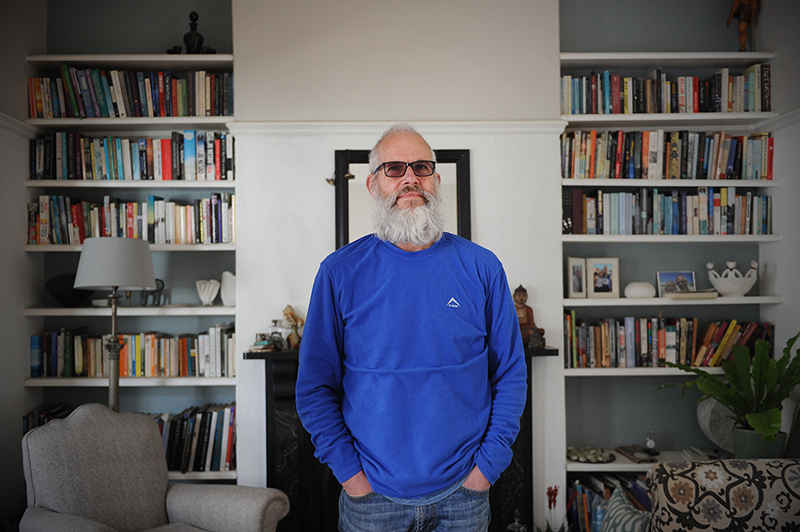 A social scientist and leading author and scholar in gender and masculinity studies, Morrell is B1-rated by the South African National Research Foundation. His research straddles the "unusual ground", or third space, between UCT's academic and non-academic sectors. It's a growing area in a global context where academics are exhorted to be more productive and yet where systems are more demanding and publishing and grant-raising more competitive.
Early politicisation
Born in Cape Town and growing up in Eswatini, Morrell's student career at Rhodes, the only South African university that taught journalism at the time, included stints as deputy president of the Students' Representative Council and membership of the Remember and Give (RAG) committee. He became a senior student at the Thomas Pringle residence.
"I played a lot of sport, worked and played hard," he said.
"That was my awakening. And it shaped me – not just intellectually, but politically in a very profound way."
But it was also a time of politicisation and conscientisation, which would guide his later career and research. 1976 was a stand-out year. Morrell remembers his journalism lecturer, Graham Watts, walking down the passage and crying on 16 June. News of the unfolding mayhem in Soweto had come in around midday.
"So, being journalism students, this was all big stuff. And then the following year Steve Biko was killed. These were very, very big events in Grahamstown."
As a young student he became interested in political economy and Marxism. He participated "at a low level" in whatever activist activities were happening at the time. As the political climate darkened, students and staff were being detained. Morrell remembers activists Jack Lewis and Pete Richer being marched out of Rhodes' main library in 1978 and being detained.
"That was my awakening. And it shaped me – not just intellectually, but politically in a very profound way."
Servant leader, nurturer, scholar
The news of the Rhodes award, a lifetime achievement award, came as a welcome surprise, said Morrell. It was diminished only by the fact that two of his nominees, Shaun Johnson and Bill Freund, who supervised Morrell's doctoral thesis, have since died. Johnson and another nominator, Andy Gray, are both former recipients of the award.
"As a scholar [Morrell] has been at the forefront of masculinity studies in South Africa."
In his nomination, alumnus Emeritus Professor Paul Maylam, Rhodes' former long-serving head of history and Morrell's former colleague and friend, highlighted two areas.
"As a scholar [Morrell] has been at the forefront of masculinity studies in South Africa, adopting a truly interdisciplinary approach to the topic, publishing widely and earning an international reputation for his work. Second, he merits the award for his work as an educationist – for the work that he did in the Education faculty at UKZN [the University of KwaZulu-Natal], enhancing the skills of teachers working in marginalised communities and, more recently, offering support and guidance to researchers, especially young researchers, at UCT."
Professor Rachel Jewkes of the South African Medical Research Council and a renowned scholar on gender and health has collaborated with Morrell for the past decade. Jewkes wrote: "Rob Morrell is the undeniable leader in the field of gender and masculinity studies in South Africa and holds a globally acknowledged position, sitting alongside the world's great leaders, such as Jeff Hearn and Raewyn Connell."
Gray, from the Discipline of Pharmaceutical Sciences at UKZN, attended Rhodes with Morrell and kept contact, albeit at a distance.
"Throughout, Rob has presented a singular persona: that of a deeply principled and humble servant leader, nurturing and encouraging, but always providing strong leadership," he wrote. "I would unreservedly consider Rob a most distinguished alumnus and richly deserving of this award."
UCT's Emeritus Professor Alan Rycroft (commercial law), a colleague and friend of over 30 years, said that Morrell's courage in taking a stand of matters central to the academic project stood out.
"He is one of the most engaged academics that I know, with a rare ability to link sociological, historical and legal writing."
"First at Umtata, then at the University of Durban-Westville, then at the University of KwaZulu-Natal and now at UCT, Rob has been unafraid to 'speak truth to power', usually with career-limiting consequences … He is one of the most engaged academics that I know, with a rare ability to link sociological, historical and legal writing," he said.
"He is, of course, the leading South African writer on masculinity, and I have been impressed by how this theme has led to Rob's engagement on related issues, such as HIV, violence, sexual orientation and so on …
"More recently Rob's engagement with UCT's main effort to change the demographics of the professoriate and senior leadership has been inspirational. He has invested deeply in empowering others to become leaders."
In his nomination, Tamsanqa Mashasha, who is currently an MPhil student supervised by Morrell, described his excellent supervision, constant encouragement and emotional support, all of which underpinned his perseverance.
"His willingness to undertake the time-consuming and strenuous task of supervision illustrates not only his charity as an academic but also his spirit of ubuntu, humanity towards others. This is further illustrated by the frequent presentations of papers in various national and international institutions and the organising of supportive writing retreats for young scholars."
Tribute to colleagues
Morrell last visited his alma mater to deliver a paper at the history department's 100th anniversary conference. But his loyalty remains for the institution that moulded his early thinking and that plays such a valuable role in higher education in a province battling with maladministration, corruption and drought.
"I had a great education there. I hope that excellent staff and students continue to go there."
Morrell said that being honoured "was not an achievement in a vacuum".
"I'm very thankful to the people who have been in my life, who helped me … There are people who hold your hand and support and carry you when you're stumbling and mop up your tears when you've had another disappointment.
"And that's an important thing for me."
After retirement next year, Morrell the writer, scholar, activist and mensch plans to get down to writing a historical book on the Durban anti-apartheid community of the 1980s and 1990s.
It's been patiently waiting in the wings.
---
This work is licensed under a Creative Commons Attribution-NoDerivatives 4.0 International License.
Please view the republishing articles page for more information.
---