Four University of Cape Town (UCT) students walked away with R50 000 at the Financial Innovation Hub (FinHub) Hack Series I, after successfully pitching a blockchain voting solution to thwart the problem of fraudulent results arising from elections.
The students – Muhaimin Khan, Praise Jaravani, Anson Vattakunnel and Alé Pouroullis (who could not attend) – named their app "Thunderdome". In addition to the prize money, a bursary to the value of R75 000 was also announced for each of the quartet.
Blockchain is defined as "a structure used for a distributed or shared database consisting of discrete blocks of data, with each new block secured and connected to earlier ones by cryptography".
"The problem that we are dealing with today is the issue of fraudulent African elections; and our solution is to create a secure and transparent blockchain-based voting system. Many of us are aware of how serious election fraud allegations are," said Jaravani.
"Our method of addressing it is to create a voting system that takes out the third-party element that can be influenced by corruption."
Established in 2021, the FinHub leverages the region's thriving technology ecosystem and collaborates with UCT in its focus on academic research, education, thought leadership and innovation. As such, the aim is to bridge the gap between academia, startups and policymakers.
It was created to respond to the growing demand for blockchain technology in the financial sector.
The FinHub Hack Series I was themed "Blockchain for Sustainability: Hacking Solutions for the United Nations Sustainable Development Goals (SDGs)".
"It became my entire day, for a couple of days."
A Dragons' Den-themed presentation in which groups showcased their projects took place during the closing ceremony at the end of July, after which they fielded questions from the judges and audience members.
Anda Ngcaba, the co-director at the FinHub, said after the event: "Witnessing the dedication and determination of the teams as they developed innovative blockchain solutions for the United Nations SDGs was inspiring. The event truly demonstrated the boundless possibilities that blockchain technology offers in addressing global challenges and advancing sustainable development."
For the winners – represented by three of the four group members – it came as a surprise. As Khan put it, the days leading up to the presentation were "crunch".
Dream
"I'd be awake until 06:00, take a nap, wake up and carry on with the project," he said.
"I worked so much – to the point that towards the last few days, I had a dream for a feature for us to implement [in our project], and it went in the pitch deck! To me, that gives an idea of how much this has been on my mind. It became my entire day, for a couple of days."
Vattakunnel also weighed in on the frenzy that visited them as they wrapped up their work, recalling how "at some point we tried to establish smart contracts [executable code]; but when we tried to set it up on our personal computers, it wasn't working. Then, on the last day, all our machines started crashing. First Muhaimin, then Praise. Then I mistakenly erased my entire system!"
But it was a case of all's well that ends well for the team. "The fulfilment has been in working with the people in this group," Jaravani noted.
Another bespoke idea that came out of the group presentations was a South African Police Service support app to discourage corruption, with a blockchain-based docket management system to preserve docket integrity and prevent docket tampering.
The audience also heard about a financial self-help app targeting average users, a peer-to-peer energy-trading marketplace, and a real-time online procurement-process bidding site.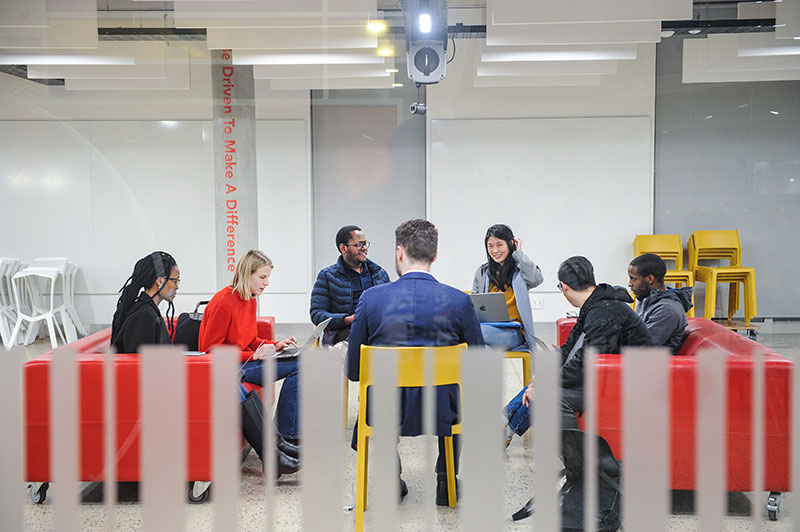 Ngcaba added: "At the FinHub, we aim to foster a culture of financial innovation that positively impacts society. The FinHub Hack Series I played a significant role in achieving this, by providing a platform for talented individuals to collaborate and create ground-breaking solutions."
The winners already have their sights set on testing their work during the Students' Representative Council elections. Jaravani explained that they want to be in a position to go to Information and Communication Technology Services (ICTS) and the innovation department, and present it as an application programming interface (API). This would allow ICTS to implement it, make the API calls, and watch it return results. These results will then be tallied and stored securely.
"It's also easy to verify results to see that no one has tampered with [them]. Everyone can verify that their vote matters. This project has potential, and I'm excited to see where it goes," added Vattakunnel.
What FinHub offers:
Research: Addressing funding gaps and fostering transformative innovation.
Education/Teaching: Developing a skilled workforce through an MPhil in financial technology, online courses, and tailored training.
Thought leadership: Facilitating discussions between academia, policymakers and industry experts.
Innovation: Commercialising research findings, supporting student-led startups, driving entrepreneurship and job creation.
Impact to date:
Over 60 master's students trained in Africa's first master's in financial technology programme.
Over 51% female and over 54% black African students.
Over R14.5 million dispensed in bursaries to postdoctoral research fellows, PhD candidates, and master's students since 2021.
---
This work is licensed under a Creative Commons Attribution-NoDerivatives 4.0 International License.
Please view the republishing articles page for more information.
---