It was vac work with a difference for 19 chemical engineering students from the University of Cape Town (UCT), as they gained both experience and an appreciation of critical career opportunities in the public sector, this time in the beleaguered water category.
The students spent their winter vacation holed up in the Faculty of Engineering & the Built Environment's (EBE) Snape Building, gathering, sifting and digitally capturing critical water and sanitation infrastructure data for the water-stressed Amathole District Municipality in the Eastern Cape.
This will help the municipality, a Water Services Authority (WSA), improve its water and sanitation asset management practices and service delivery to residents, and comply with national legislation.
They've called the project #DATA4WASI, short for Data for Water & Sanitation Infrastructure. The project drivers are civil engineering alumnus Lubabalo Luyaba and Wiebke Toussaint, mechanical engineering alumnus and PhD candidate at Delft University of Technology in the Netherlands, whose technical career experience provided the vision and coordination capacities needed.
"For the past three months Lubabalo and myself have been developing a project concept for improving decision support in the water and sanitation sector, while simultaneously introducing student engineers to technical work in the public sector – the ultimate community development work," said Toussaint.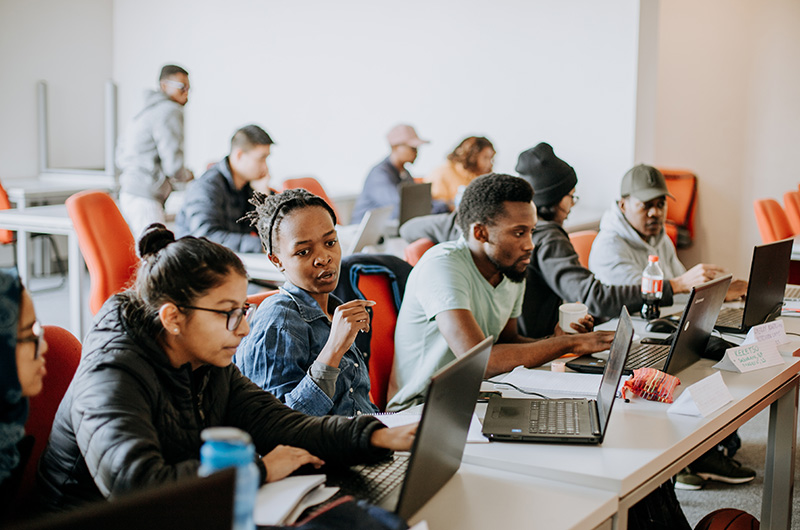 Poor asset management
The Amathole District Municipality provides water to 914 842 people living in 228 700 mostly rural households. The district's 2 879 water-related assets are valued at nearly R1 billion. The numbers give a sense of the impact and potential of this work.
The municipality is also one of 27 priority district municipalities that have been identified as needing urgent assistance. Though there is a strong correlation between good asset management and reliable service delivery, for various reasons many municipalities have not prioritised asset management, said Luyaba.
"This is evidenced by the number of Auditor-General findings related to poor asset management. Some obvious hindrances for municipalities are the complexity of asset management, the cost of asset management systems and the human capital requirements of the undertaking. These three challenges need to be simultaneously addressed."
A key component of engineering education is equipping students with the tools to work in teams to solve complex engineering problems.
The pilot did just that, starting with the students collecting and sorting data from various sources, uploading those onto a decision support platform, and then exercising their engineering judgement on how to best optimise the useful life and performance of the water and sanitation infrastructure.
The data captured are critical for infrastructure planning and operations for municipalities, the Municipal Infrastructure Support Agent (MISA) and the relevant national department, said Toussaint. During its four-week duration, the pilot successfully demonstrated an increased use of the Municipal Infrastructure Performance Management Information System (MIPMIS) for the MISA.
The students were also given opportunities to develop their problem-solving and decision-making skills by handling scenarios in which they had to prioritise tasks, manage risks, project manage and decide on a course of action – all with limited information and resources.
To provide additional guidance and input, Toussaint said, they worked in consultation with their UCT colleagues and their extended network in the space, and with Pieter Levesque from UCT's Department of Chemical Engineering.
"Given the continuing crisis in the water and sanitation sector, this project has critical strategic relevance for municipalities."
"Given the continuing crisis in the water and sanitation sector, this project has critical strategic relevance for municipalities, while simultaneously providing students with a unique insight into public sector engineering," she said.
Taking it forward
#DATA4WASI's bigger aim is to build on this pilot to develop a programme that can be rolled out in distressed municipalities throughout the country. Twenty-six other priority districts remain in critical condition and many more municipalities have poor asset management, and can benefit from this, said Toussaint.
As the project is in the pilot stage, the group is now testing how best to take it forward. They're loosely affiliated with the African Leadership Initiative which is investing resources into supporting pilot projects to help turn around the water and sanitation sector.
More good news is that the project has secured a Shuttleworth Foundation flash grant of $5 000 to support its development and make it a reality.
"This is incredibly exciting," said Toussaint.
"The grant will enable us to move beyond our initial mini pilot and plan a second, larger-scale pilot for the December holidays. We are hoping to have 60 students from all EBE departments, to make the experience truly multidisciplinary. Finally, engineering vacation work with a purpose!"
While the December intake will cater for new students, Toussaint and Luyaba also hope to recruit the previous cohort to return and use their recently gained experience for more complex work.
"The larger water and sanitation context is national crisis."
As Luyaba confirms, the larger water and sanitation context is national crisis.
Constitutionally, the responsibility for water and sanitation services provision lies with 144 municipalities that are WSAs, he explained.
"At least one-third of these are regarded as dysfunctional and more than 50% have very limited technical ability to fulfil their legislated function."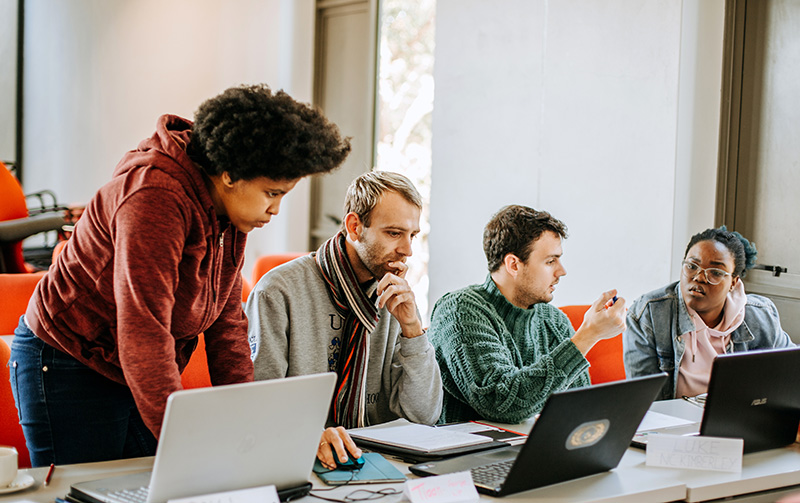 Affected communities have risen in protest. In 2018 alone, there were 237 service delivery protests across the country. Protests have tripled over the past seven years and have become increasingly violent.
"The delivery of water and sanitation services has been declining. According to the Statistics South Africa General Household Survey only 64% of households have access to reliable water supply service. Future supply is severely threatened by the lack of capacity in the municipal sector and requires urgent intervention."
Figures from 2011 show that approximately 56% municipal wastewater treatment works and 44% of water treatment works in the country are in a poor or critical condition, and urgently need rehabilitation.
Eleven percent were completely dysfunctional (this number has increased in all probability, said Luyaba), making it impossible to provide safe drinking water, while undermining environmental preservation efforts by discharging raw sewage into our precious water courses.
The reasons for this parlous state are complex and include a shortage of skilled technical professionals such as engineers and project managers, poor procurement planning and execution,, and a stretched funding model, he added.
Stemming the tide
"But in all that doom and gloom you get municipalities like Amathole that are trying to stem the tide and are making every effort to deliver reliable services to their district," said Luyaba.
"The [pilot] proposal speaks to the national plan's key objective of effective infrastructure planning, operation and maintenance.
"In particular, the project aims to indirectly support the delivery of the National Water and Sanitation Master Plan by contributing towards the creation of an enabling environment through managing data and information, while laying a foundation for building capacity for action and financial sustainability.
"In all that doom and gloom you get municipalities like Amathole that are trying to stem the tide and are making every effort to deliver reliable services to their district."
"At local level, skills are scarce and rural municipalities are particularly vulnerable as they struggle to attract skilled professionals."
But while the South African engineering curriculum prepares students to make a meaningful impact wherever they choose to work, very few choose careers in the public sector. This must change, said Luyaba.
"The project has exposed a new generation of young UCT engineers to the many opportunities for interesting, complex, innovative, disruptive, meaningful and fulfilling work within the public sector – and the requirements for delivering service excellence within the municipal sector."
As one of the UCT students reported, working on #DATA4WASI had changed her mind.
"[It]helped me get new perspective on local government and the career options available within the sector. Through the problems and issues with local government, while doing the programme I gained an interest in the sector and see it as one of my career options."
Luyaba added: "While a seemingly small intervention, this project has the potential of triggering a set of systemic interventions that are required to activate the 'new normal' in South Africa's water sector."
---
This work is licensed under a Creative Commons Attribution-NoDerivatives 4.0 International License.
Please view the republishing articles page for more information.
---