Opening access to the University of Cape Town's (UCT's) substantial body of research will foster development and empowerment, and not only personal advancement for individual researchers. But there are watchpoints, participants heard at the opening of UCT Libraries' Open Data Day 2019 on 2 March.
These include securing sensitive information and including research partners in access agreements as necessary.
Opening the event, Vice-Chancellor Professor Mamokgethi Phakeng said that UCT's Open Access Policy ensures the full participation of its academy in global knowledge. Open access also develops research communities and research capacity within the institution and region.
This is especially important in solving the global problems of poverty and inequality, human rights and other world-changing advancements.
Open access also boosts the validation of research and reduces duplication, creating more efficient research practice, Phakeng added.
"It builds credibility in our current and future research endeavours. This is particularly important in a period of austerity for higher education institutions."
Open scholarship culture
However, "openness" rests on research outputs being easily discoverable, either in journals, or on websites or other repositories, with appropriate identifiers and metadata.
"If possible, we should ensure that all supporting code, data and other relevant information are available alongside any paper published. This is a new practice for us as researchers because we are used to just publishing our papers, and not making available all other resources that led to our findings," she said.
Phakeng stressed that open access also needs efficient data management, guided by frameworks such as the UCT Research Data Management Policy, issued in March 2018.
"Our funders expect us to have this data management policy [in place]. The policy emphasises the importance of enabling research data to be discoverable and effectively reused by others."
Students should understand this before writing their proposals – and before collecting their data, she noted.
"We need to help our researchers understand this too because it's a new practice for academics."
Ethics in data management
Niklas Zimmer, manager of digital services at UCT Libraries, said that ethical management of data is key. Several of the lightning presentations made at the event underscored this.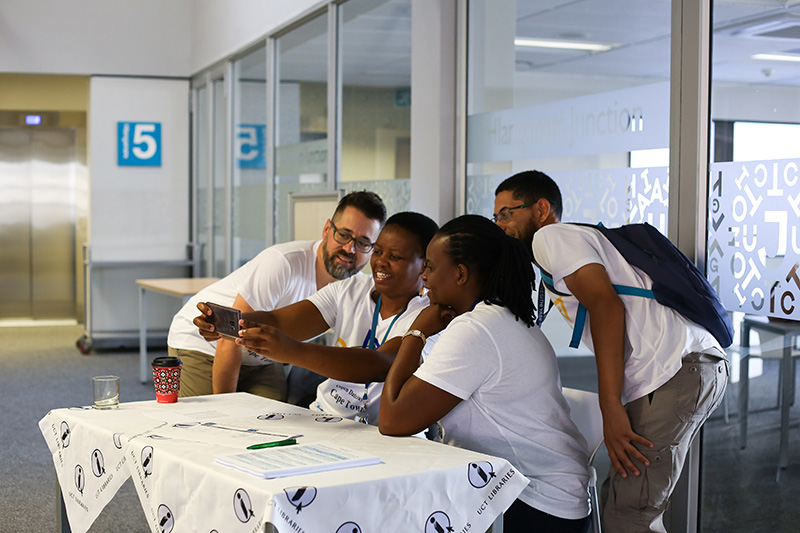 UCT Gender Health and Justice Research Unit (GHJRU) research officer Kristen Daskilewicz cited an important example when she said the use of open data is not always appropriate for research where there are heightened safety concerns.
Her example described a collaborative two-year cross-sectional research project on LGBTI health, safety and other rights that the unit undertook on behalf of the Southern and Eastern Africa Research Collective on Health (SEARCH). SEARCH is a collective of 23 civil society organisations in nine countries.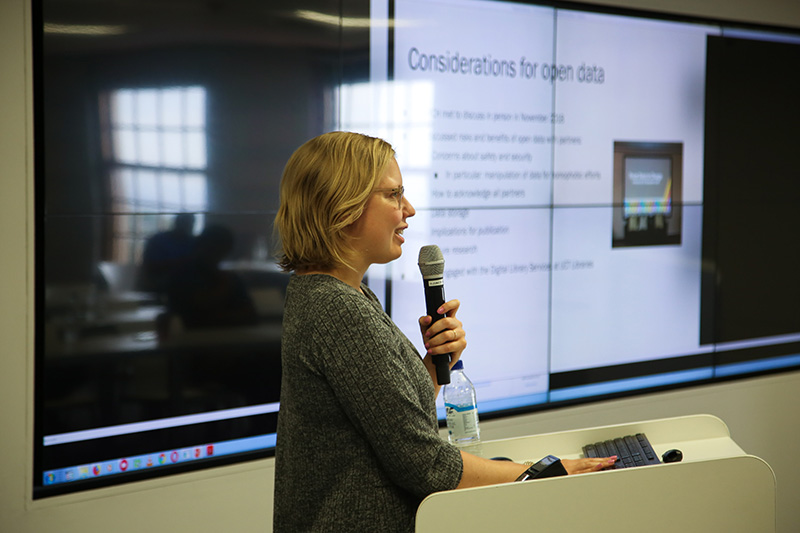 The project participants had to be "very careful" with data collection and dissemination in the study countries, particularly those where aspects of same-sex relationships have been criminalised. There were concerns about protecting the survey participants and the unit's civil society partners, who were the data collectors.
"We rolled out in the safest countries first and then in the least secure countries," said Daskilewicz.
"We also had to consider the different needs of these 23 organisations. Now that we're nearing the end of the project we're having conversations about how we disseminate the data in a safe way, especially the mental health aspects as homosexuality was considered a mental health disorder for many years.
"The risks and benefits of using open data must be discussed with all parties."
"We need to be really cautious about how we talk about mental health, violence and these kinds of things. The risks and benefits of using open data must be discussed with all parties."
Other challenges cited include how to safely acknowledge their project partners, issues around ongoing data storage (the data sets had to be stored safely, respecting the privacy constraints of all parties), and the implications for publications and future research.
These issues required that agreement between all the parties. SEARCH is planning to share the data with project partners through UCT's open-access institutional data repository, ZivaHub, with access managed by the UCT GHJRU team. Nothing will be publicly visible, which requires that the datasets are left as "unpublished".
"We'd grant permission on an individual basis to people who ask. We wouldn't share datasets unless all parties agreed. But we'd want to be open to the times it might be appropriate to share our data.
"In these types of situations with security concerns researchers must really engage with LGBTI communities and organisations throughout the research process," Daskilewicz added.
The example highlights the importance of understanding local contexts.
"We know open data is an excellent opportunity, but sensitivity and security on some topics needs to be ensured."
---
This work is licensed under a Creative Commons Attribution-NoDerivatives 4.0 International License.
Please view the republishing articles page for more information.
---