It seems like an academic cliché of sorts – the sense of trepidation surrounding mathematics as a subject. Yet, carried from generation to generation, from elementary through to tertiary levels of education, it persists. So much so that it has become an obstacle in the road to graduation for many of South Africa's brightest young minds.
As the dawn of the fourth industrial revolution breaks, and employability of graduates is increasingly determined by the attainment of skills in science, technology, engineering and mathematics (STEM), educational institutions have a growing responsibility to re-evaluate their curricula and teaching methods in these programmes to improve graduation and throughput of students.
Funded through the University Collaborative Development Programme (UCDP) from the Department of Higher Education and Training (DHET), the Diagnostic Mathematics Information for Student Retention and Success (DMISRS) is a collaborative project bringing mathematicians from across the country together in an attempt to improve student performance in mathematics, which is fundamental to all STEM programmes.
The project aims to analyse the curricula of first-year mathematics courses in higher education to establish how best to address students' needs through curriculum-integrated support initiatives, including blended learning.
Last week, on 8–9 July, the University of Cape Town's (UCT) Centre for Educational Testing for Access and Placement (CETAP) hosted the second annual DMISRS symposium at the Hoerikwaggo building on upper campus.
The symposium saw mathematics lecturers from higher education institutions across the country putting their heads together about the challenges being faced in the retention and success of mathematics students.
"Institutional collaboration in a topic such as this reaffirms higher education as a public good."
Academics rally together
In her opening address, Associate Professor Lis Lange, Deputy Vice-Chancellor for Teaching and Learning at UCT, noted how refreshing and encouraging it was to see academics rallying together and collaborating for the greater good of their students and, ultimately, South Africa's future.
She pointed out that for many academics, collaboration is not their default position – whether in policy-making, implementation or research – and that in a relatively small and under-resourced higher education system such as the one in South Africa, it is indeed quite rare.
"My enthusiasm about this collaboration is not only because I believe that we can learn from each other and capitalise on the different experiences of teaching maths across different institutional settings," she said.
"It is also because institutional collaboration in a topic such as this reaffirms higher education as a public good."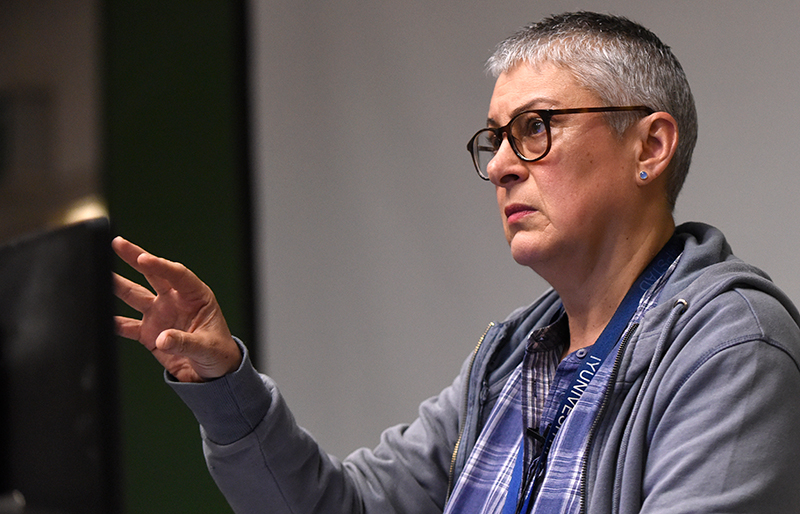 DMISRS principal investigator and CETAP test development coordinator Robert Prince echoed Lange's sentiment in his project status update.
"What the DMISRS project holds as a possibility is the opportunity to make a larger impact," he said.
"It's the norm within academia and your disciplines to be very focused on your own challenges. It's another thing to say we can walk together and work together on this."
Prince named curriculum content as an example of a challenge that is better tackled together than in isolation. One of the main outcomes the DMISRS project hopes to achieve is to enable academics to make evidence-based decisions for curriculum change to enhance student success.
Since changing curriculum content within a national framework is notoriously difficult, it can lead to feelings of frustration among individual faculty members within individual institutions.
However, once a conversation – based on the statistics and analysis thereof – starts happening at national level among faculty members facing similar challenges at an array of institutions, change may be catalysed more effectively.
"These [types of] courses sit in really important places for students to develop the basics. If they have miserable experiences with those basics, it affects everything."
Identifying high-risk students
While curriculum change is certainly a worthy outcome to pursue, one of the most exciting prospects of the DMISRS project is its potential to change the profile of students who exceed at mathematics.
Professor Suellen Shay, from UCT's Centre for Innovation in Learning and Teaching (CILT), shared some insights gained from a course cohort analysis they have been conducting with the 2015–2017 intake of first-year mathematics (MAM1000W) students.
Identified as one of the courses impeding graduation (CIG) at UCT, MAM1000W is a first-year maths course that serves as a basic requirement for a range of STEM programmes. It is also notorious for its high failure and even drop-out rates.
"These [types of] courses sit in really important places for students to develop the basics. If they have miserable experiences with those basics, it affects everything," Shay explained.
In their analysis of data collected from the MAM1000W cohort, it emerged that on every variable they used – except for gender, interestingly – there is a significant difference between the students who pass and the students who fail.
The students most at risk are predominantly black and speak a first language that is not English, among a number of other variables.
Because of this, Shay points out that the aim of the project is to "address the problem of high failure rates with a particular focus on the experience of black students".
She concluded that one of the most important ways in which high-risk students can be accommodated is to introduce more flexibility into the curriculum.
Seeing students in context
Apart from this, Prince suggested that it is important for faculty staff to remember that students step into their classes from different contexts, arriving with their own specific sets of preconceptions.
"They come to us with understandings and misunderstandings of the way the world works and I think it's quite important for us to be mindful of the fact that students don't come to us without some kind of spaces or thoughts that we need to engage with," Prince said.
When rethinking what is taught, how it is taught and how it is assessed, academics should also consider how different communities intersect for different student profiles, and how best these differences can be accommodated.
Even though the 2019 DMISRS symposium may have come to a close, there are a range of ongoing projects, events and activations happening throughout the year.
---
This work is licensed under a Creative Commons Attribution-NoDerivatives 4.0 International License.
Please view the republishing articles page for more information.
---