A study tour to the US confirmed two things for six fintech master's candidates: a burgeoning of disruptive fintech technologies, driven by artificial intelligence, blockchain and big data – and that UCT's course and students can hold their own globally.
"Unforgettable", "Once in a lifetime experience", "A series of adventures and inspiration", the students wrote of their PSG Group-sponsored, three-day visit to New York and Boston, led by master's course convenor and University of Cape Town (UCT) Associate Professor Co-Pierre Georg.
Hosts included New York University (NYU) Stern, Columbia Business School, the Massachusetts Institute of Technology (MIT) and Harvard Business School – some of the world's top universities – as well as several technology hubs. (Georg is currently on sabbatical at MIT.)
First cohort, capstone tour
The 2018 class is the first cohort of the interdisciplinary MPhil in Financial Technology degree, the first of its kind in Africa, offered by the African Institute of Financial Markets and Risk Management (AIFMRM), a postgraduate institute in the Faculty of Commerce, with courses by the Department of Statistical Sciences.
Fintech is a fast-developing arena, with artificial intelligence, blockchain and big data driving change in how financial services are offered across the globe. New technologies range from novel payment apps to cryptocurrencies traded using blockchain, or distributed ledger technology. (AIFMRM and UCT's Centre for Innovation in Learning and Teaching have created two MOOCs on fintech and blockchain.)
The capstone tour provided invaluable contact with leading academics and creatives in these highly innovative spaces, and offered insights that the students said will shape their dissertations and future careers.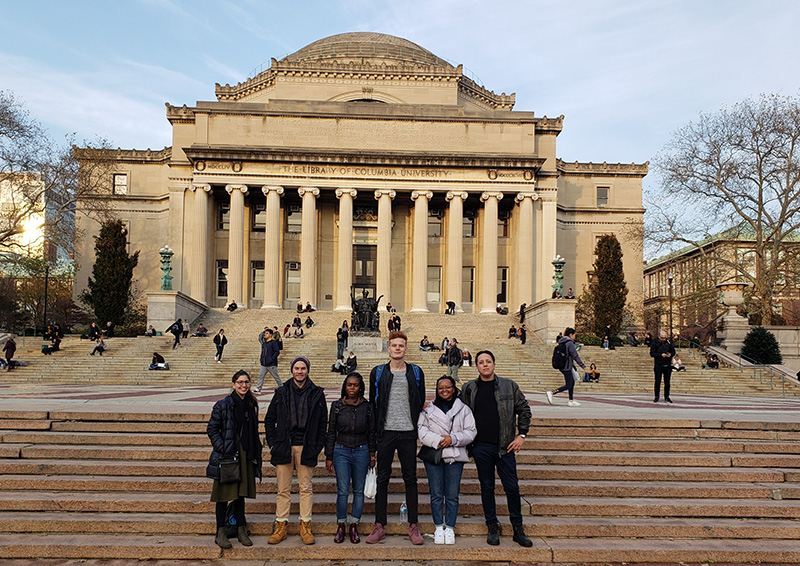 Iconic institutions
Their journey began at Barclay's Rise New York, an accelerator hub for some of the world's top fintech innovators and start-ups. Rise operates similar fintech hubs around the world, including in Cape Town, and some of the UCT MPhil programme was done jointly with Rise Cape Town.
"It was surreal to see these iconic institutions," said student Masego Modibane.
On their first day in Boston the group attended an MIT fintech class, confirming for Modibane that UCT offers a world-class degree.
"We got to see potential fintech start-up ideas and we all could break down these ideas and comment on whether they were feasible or not."
A highlight was the visit to the MIT Media Lab where they joined research group meetings and enjoyed a tour of the facilities. Described as "an anti-disciplinary research laboratory", the lab grew out of MIT's Architecture Machine Group in the School of Architecture. Its research is not discipline-specific, but draws from technology, media, science, art and design.
"The technology we saw in the lab is truly revolutionary and has inspired me to pursue studies at MIT and bring that technology back to South Africa," Modibane reported.
"If creativity was something that you could paint on walls, then this place had a coat in every room."
Student JonJon Clark said that coming from a computer science background, "just the idea of MIT got me giddy".
"There was something eclectic about the MIT Media Lab. It almost smelt different. If creativity was something that you could paint on walls, then this place had a coat in every room.
"I really got the sense that this was truly the place solving some of the world's greatest problems. I guess I should've probably expected it, given an unlimited budget, freedom and some of the world's top minds. Where else are New-Age cities being built with Lego? Who else is investigating the effects of smells on lucid dreaming?"
Each visit offered a "keyhole" view into the Ivy League institutions, Clark said.
"Certainly, these institutions take it to the next level … An experience that taught me lessons [and] helped me build friendships."
Competing internationally
Student Ryan Jacobson said two things struck him. At an MIT FinTech Venture course class where students work through the intricacies of creating fintech start-ups, he noted just how competitive the fintech space is. It was an international class, from lawyers to engineers, each intent on finding new ways to disrupt the financial services industry.
"This left me with a humbling realisation. To win at entrepreneurship means outperforming all those working on the same project."
"This left me with a humbling realisation. To win at entrepreneurship means outperforming all those working on the same project."
But he also realised the UCT group could hold their own in this space.
"I would have assumed that students at MIT are leaps and bounds ahead of South Africans. But this was not the case. We could compete."
For Ashleigh Favish, the scale of New York was reflected in the innovation they saw at Rise New York, creative input that continued at NYU Stern's Creative Destruction Lab where they got feedback on their start-up ideas and dissertations.
At MIT they met with Ripple Labs' Evan Schwartz, an engineer who co-invented the Interledger Protocol, used for payments across payment networks. Schwartz shared his vision of how money will be transferred in the future ("in a similar way to data on the internet"), and the pros and cons of "streaming of money".
At Columbia Business School Favish met a South African-born professor who is exploring using machine learning and text analysis to predict the returns on asset managers, based on their prospectus releases.
"I really feel so grateful [for] this opportunity to ... learn, be inspired and see a different part of the world."

"This whole trip has been incredible," she said.
"I really feel so grateful [for] this opportunity to ... learn, be inspired and see a different part of the world."
Student and class representative Kungela Mzuku was also struck by the meeting with Ripple Labs' Schwartz.
"What inspired me most about his story is how he navigated his career in a field that didn't exist. In many aspects, I could relate. He covered the history of Ripple and how important it was for them to get their first client, and how this was the hardest part.
"In an industry filled with buzzwords, being part of a blockchain project that has a real use case is hard to find. But when you do find it, there is so much real value that can be created, and that is what this discussion highlighted."
For Aidan Fourie, the disruptive nature of fintech points to a bigger goal.
"The powerful gift of the MPhil in Fintech is a new mindset, one that motivates students to challenge important global socio-economic problems using modern techniques and platforms. But the techniques remain just a toolset; rather it is your mind and ambition that become the differentiating factors."
In the transit between the halls of Harvard, MIT, NYU and Columbia, Fourie was also struck by the "immense world of opportunity" for hardworking, ambitious students.
And he agreed that despite vast distances and disparate levels of technical and economic development, South African students are as capable and competent as those at Ivy League universities.
"We just need the self-belief, ambition and perseverance to gain access to them [the possibilities] – and glimpsing the halls of MIT, to me, proved that every second of effort would be worth it."
---
This work is licensed under a Creative Commons Attribution-NoDerivatives 4.0 International License.
Please view the republishing articles page for more information.
---