Seeking solutions to gender-based violence is a complex challenge, but University of Cape Town (UCT) students were up for the task during a recent d-school Foundation Programme in Design Thinking.
The d-school, or Hasso Plattner School of Design Thinking at UCT, runs the Foundation Programme every semester, gathering students from various faculties across all South African tertiary institutions for 12 weeks to tackle real-world problems.
Using design thinking tools and principles, the recent group of Foundation Programme participants considered how men could play a role in combating the continued violence against women and girls in South Africa.
The students met twice a week at the d-school's creative studio at the UCT Graduate School of Business at the V&A Waterfront. They worked with project partner United Nations Women and met with lobby group Sonke Gender Justice.
Research from Sonke shows the impact of gender-based violence has been estimated to cost South Africa up to R42.4 billion per year. It also reports that the Western Cape is one of the most unsafe provinces in South Africa. A third of the country's murders are reported to police stations in this province.
Within this grim context, students engaged with young men, ex-offenders and the non-government sector to better understand the situation, and respond adequately.
Solutions included starting a mentoring programme for young men as well as an innovative book series for preschool boys to show them alternatives to violence they may be exposed to at home.
Maria Jose, from Rustenburg in the North West province, said the design thinking approach of understanding the enduser led their group to design the Boys 2 Men network. Jose completed her master's in public health at UCT.
Understanding the end-user
"We went to a high school in Cape Town to understand what young men needed. We also interviewed ex-offenders and they would often say all they wanted was love and attention," she said.
"One guy told us to get a woman to love him he put a gun to her head. We then talked to men who wanted to volunteer their time to talk to students but didn't know where they could do so.
"One guy told us to get a woman to love him he put a gun to her head."
"They were discouraged by having to organise all the logistics themselves. Our solution was to create the platform so that mentors could go to schools during the break and spend time talking to students."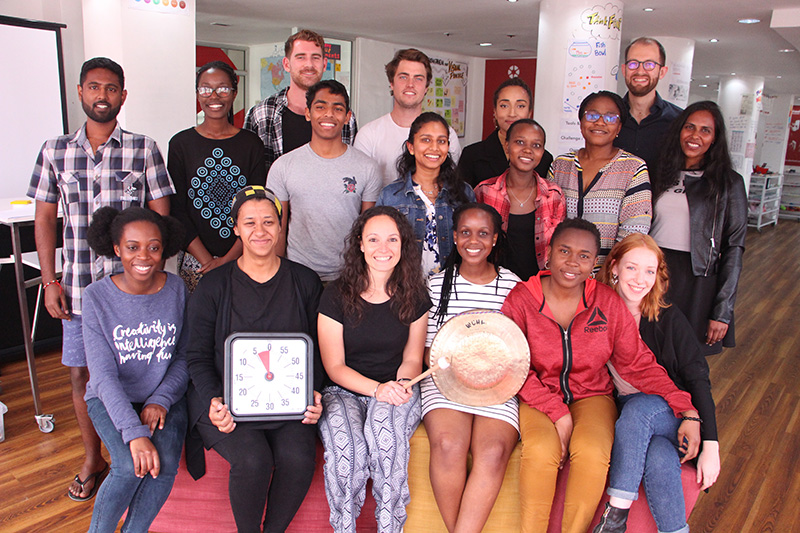 Benjamin Dovey, from Kenton-on-Sea in the Eastern Cape, said their mentorship intervention aimed to help young men gain access to positive role models. He studied economics and finance at UCT.
"High-school students are at an age where they are discovering what it means to be a man. A man does not always have to be this strong physical figure but is also someone who has respect for himself and women," said Dovey.
Innes Simbi from Rwanda, who has a master's degree in chemical engineering, said the design-thinking process helped them to think "more about social impact and changing the world".
"In my field, you don't need to be involved with people. It has been very interesting for me to be working with people," she said.
Simbi, along with her team mate Argon Poorun from Port Elizabeth, who is also a chemical engineering graduate, designed an interactive book series for young boys aimed at getting them to consider alternatives to violence.
Poorun said they visited Sonke's offices and spoke to community leaders about gender-based violence.
Cycles of pain
"We learned about cycles of pain. Young boys go through trauma and it affects them and they then later abuse people around them. We want to stop that cycle."
Poorun added that their team members came from different backgrounds, "and that meant different ways of solving problems".
"It also made a difference to the quality of the end product we came up with. This was really a valuable experience."
Rob Kellas, the d-school programme manager who worked with the students for 12 weeks, said participants were initially "very anxious about tackling such a complex social challenge".
"The students were honest with each other, communicated their concerns and created a safe space for each other," he said.
The next Foundation Programme in Design Thinking runs from 25 February to 24 May 2019. It is open to all students registered at tertiary institutions across South Africa. The application deadline has been extended to 3 February.
---
This work is licensed under a Creative Commons Attribution-NoDerivatives 4.0 International License.
Please view the republishing articles page for more information.
---