The Writing Centre, the University of Cape Town's (UCT) one-stop shop for students and staff needing to hone their writing, comprehension and textual analysis skills, has a new home in the Chancellor Oppenheimer Library's Vincent Kolbe Knowledge Commons.
This is a temporary move until the end of the year, when the Writing Centre will be relocated to Level 5 of the Steve Biko Building. The Vincent Kolbe Knowledge Commons' strong reading and writing culture made it a fitting home for the Writing Centre during the transition phase.
There are also satellite centres on the Hiddingh and Graduate School of Business (GSB) campuses.
The centre is an essential academic support service provided by the Academic Development Programme in the Centre for Higher Education Development, and offers one-on-one consultations (face to face or online) to students and staff preparing draft assignments, essays and theses. The team members also present writing workshops (integrated or ad hoc), and work with language development staff on academic literacy projects.
The centre has 15 writing consultants, all trained postgraduate students from various faculties, who represent different nations and offer "impressive linguistic repertoires and disciplinary backgrounds", the centre's acting coordinator Aditi Hunma said.
Excellent ratings
In 2018 they offered one-on-one writing consultations to 860 clients, a total of 1919 visits – mostly humanities and commerce students, almost evenly split between undergraduate (876) and postgraduate students (889).
They also achieved excellent ratings; 94% of their clients described their services as "excellent", "very good" or "good".
"It's a site of academic orientation, a safe space and interface between students and department, a site for staff development and a repository of resources," Hunma explained.
"Our philosophy is to be approachable to all students, acknowledge students' strengths and resources, steer away from the deficit view, put students in a position of autonomy, offer a professional service and build rapport within and beyond the Writing Centre."
She hopes that by being in the library, the centre will forge a strong reading and writing culture among students.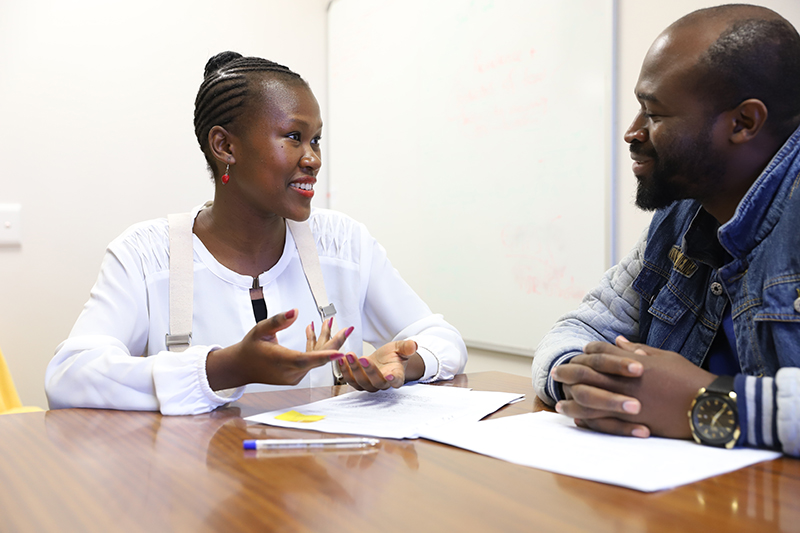 Empowering students
Hunma said that the Registrar's recent campus communiqué about the ethically problematic services offered by external agencies that write essays for students at a fee has made it even more important for students to know about the assistance the centre is able to provide.
"The Writing Centre is a space that honours their voices and guides them through every step of the often messy but rewarding writing process."
"The Writing Centre is a space that honours their voices and guides them through every step of the often messy but rewarding writing process."
It's the messy part that frustrates students. GSB consultant Gabi Nudelman said that although writing is central to the student experience, the "rules" of writing are seldom made explicit.
"In consultations and workshops, I try to make these clear to the students … I feel lucky to be able to empower them on this part of their journey."
Part-time receptionist Joel Ntando added that the centre acts as a platform for interacting with students from other faculties and research platforms, and its new home in the main library will put it back at the centre of knowledge production.
Desiree Moodley said the centre has always been a teaching and learning space for students and consultants alike.
"There is always a sense of joy and accomplishment after each session with students."
Joy and accomplishment
Consultant Yakhuluntu Dubazana remembered an American student who'd turn up at the Writing Centre, sit on the floor and work on her assignment all day, comforted by being in the space.
The learning is mutually beneficial for consultant Munashe Chideya: "I've managed to put people on their feet within their writing space. I've also managed to enable my own writing processes as I work through completing my PhD research proposal."
Consultant Deryck Sheriffs has met postgraduate students from China, Ghana, Rwanda, Tanzania and Namibia.
"I've learnt from their various fields and from their human experience. So it's been stimulating and a privilege to hear their stories and sacrifices to reach this stage of academic achievement, and to support them in expressing themselves."
Hunma said that their location in the library also enables the team to think creatively about the nature of consultations.
"Consultants could draw on books and other library resources to enhance their sessions. Likewise, students could use consultations not only to hone their academic writing but also their critical reading practices, which we believe are central to producing a sophisticated essay."
---
This work is licensed under a Creative Commons Attribution-NoDerivatives 4.0 International License.
Please view the republishing articles page for more information.
---