It's no secret that Generation Z are already attuned to the demands of a modern, tech-savvy world. But possibilities became reality when a group of high school learners from Ocean View Secondary School were introduced to developments such as 3D printing, antenna Wifi networks and cantennas during a computer science information day at the University of Cape Town (UCT).
Organised by the Department of Computer Science, in the Faculty of Science, the jam-packed one-day programme of demonstrations on 18 June had the learners enthralled. They listened intently to discussions, and watched a variety of demonstrations with great interest.
Dr Melissa Densmore, senior lecturer in the department, said the event aimed to introduce the grade 8 to 12 learners to the numerous possibilities offered by a career in computer science.
They also discussed entrance to UCT, and what it takes to study at the institution.
"We really wanted them to learn what is required to be admitted to the science faculty, and to be motivated to get the marks to pursue a career in computer science," she said.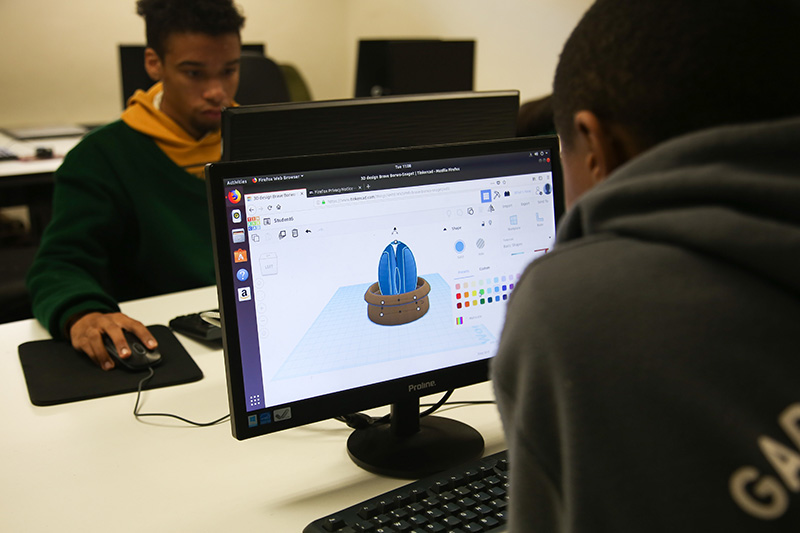 Grooming young innovators
Densmore told her young audience that computer science is not limited to surfing the internet, word processing, spreadsheets and website design. It also involves a great deal of problem-solving and learning how to figure things out.
"I want Ocean View to be a community where some of the most brilliant young computer minds come from."
With this initiative, Densmore said she hopes to help build a future generation of African innovators interested in the field and willing to explore the concepts as a degree after matric.
In the long term, she'd also like to see more young South Africans building innovative and useful applications that benefit themselves and others, rather than pulling things from elsewhere.
"I want Ocean View to be a community where some of the most brilliant young computer minds come from," she said.
"There are many ways the internet is already priming us to be able to do it."
3D printing and more
After an introduction to computer science and a Q&A session with Densmore, the group visited a computer laboratory for a 3D printing demonstration and exercise.
There they had an opportunity to put together their own 3D prints, using the Tinkercad software and guided by a team of systems experts. But because printing a single 3D print design typically takes a few hours, students will receive their items at a later stage.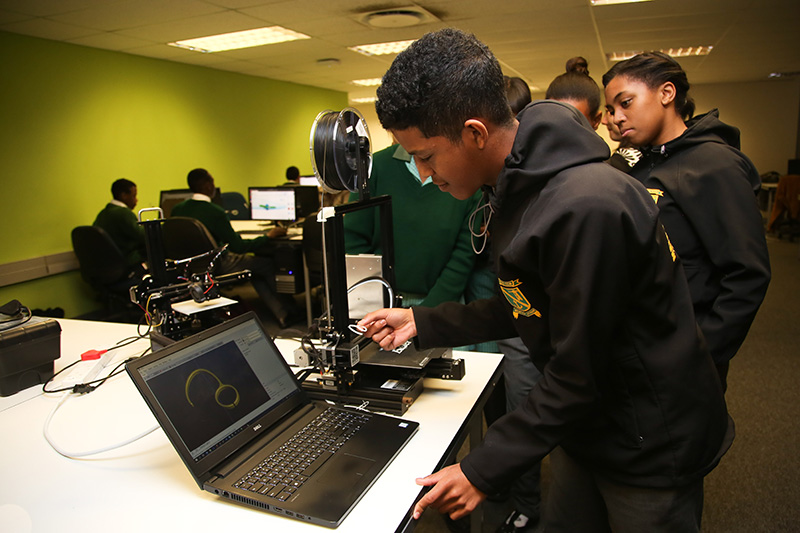 Matric learner Yusri Nelson (17) said he loved the session on 3D printing.
"It's exciting for me; it's all very cool, and I like it a lot. I really want to study computer science next year. I always wanted to. But I still need to apply to UCT with my June results," he said.
When asked about his 3D print design, Nelson said he opted for a doughnut-pizza combination.
"I love both and couldn't decide what to go with, so I chose to combine them!"
Nelson said the programme has inspired him to work "very hard" for the remainder of his matric year, in order to get into UCT's science faculty.
Other presentations on the day included building antennas and cantennas, a discussion on computer hardware, as well as a campus tour.
---
This work is licensed under a Creative Commons Attribution-NoDerivatives 4.0 International License.
Please view the republishing articles page for more information.
---