"Is it possible for higher education to co-create a process and context to heal deep colonial wounds so that we see each other as human? Is it possible that we, through our position in the Global South, could lead international, [revolutionary] educational change?"
The University of Cape Town's (UCT) deputy vice-chancellor for Teaching and Learning, Professor Harsha Kathard, gave delegates food for thought on day one of UCT's 2022 Teaching and Learning Conference. On Tuesday, 25 October, Professor Kathard delivered the keynote address at the opening of the annual event, which is currently under way in the Kramer Law Building on middle campus.
The conference provides UCT staff and students with an opportunity to connect, reflect and envision a socially just teaching and learning landscape, and seeks to provide tips and advice on how to move forward in this regard. The theme of this year's event is "Vision 2030 and a socially just teaching and learning environment at UCT".
A significant moment
Kathard described the conference as a significant moment. She said it's also an opportune time to pause and reflect on critical events of the past, such as the #RhodesMust Fall and #FeesMustFall protests and the COVID-19 pandemic, and how they've shaped educational experiences and practices, as well as the teaching and learning environment broadly.
"As we transition into a new era of higher education – bound in complexity – it is also an exciting time for education and more importantly for self-reflexivity on the role public higher education [institutions play] in societal transformation," she said.
"I look forward to this conference; to engage, to learn, to unlearn, to be inspired and to be led by the many diverse voices which shape the future of undergraduate and postgraduate education."
She said the conference themes have been carefully selected to provide delegates with the opportunity and platform to engage on key issues affecting the higher education sector. These issues, she added, include decolonising the curriculum, curriculum transformation, and exploring critical pedagogies for digitally enabled education. As delegates engaged in discussion and debate during the event, she encouraged them to keep the following critical questions top of mind: Why is it important to engage in conversations around decolonial curriculum change? How are UCT's contextual practices building a valued, contextually responsible African university? What's the key to making sense and addressing the achievement gap between black and white students? How can UCT create a culture of care and inclusivity through its educational practices? What's the best way to create an educational environment that prioritises the well-being of staff and students?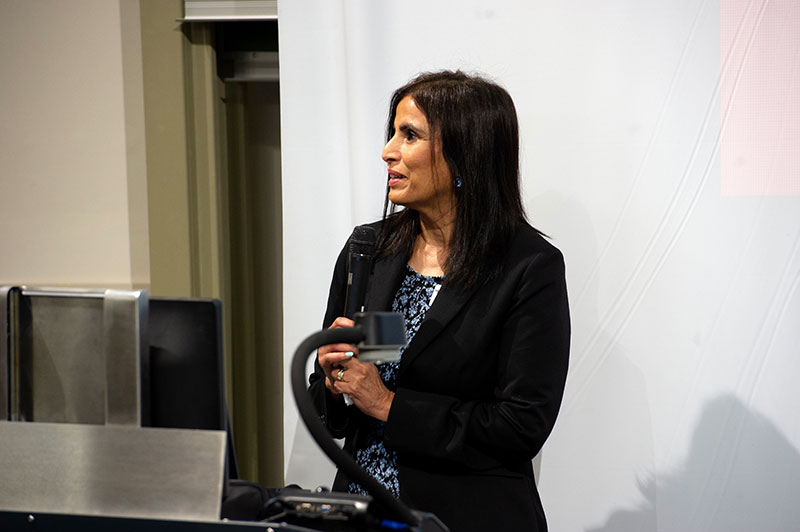 "I look forward to this conference; to engage, to learn, to unlearn, to be inspired and to be led by the many diverse voices which shape the future of undergraduate and postgraduate education as we unleash human potential for a fair and just society," Kathard said.
Teaching and learning – a collaborative exercise
Addressing the audience, UCT's vice-chancellor, Professor Mamokgethi Phakeng, thanked delegates for their commitment to the university's teaching and learning project. She stressed that the conference takes place at an important moment, when UCT is in the process of relooking its teaching and learning methodology in the face of rapid global changes.
These changes, she said, include those introduced during the COVID-19 pandemic, as well as numerous other changes nationally, some of which relate to the higher education language policy and how best to implement it in UCT's teaching and learning project. Further, contemplating change by discouraging failure and effectively supporting students to ensure that they remain challenged in order to succeed is high on the priority list.
"Here at UCT, teaching and learning is key."
"Teaching and learning is not just something that happens and that is decided by one person who is teaching. It's a collaborative exercise that we do together and during this kind of conference," Professor Phakeng said. "Here at UCT, teaching and learning is key. That's one of the things that make us an outstanding university. I know that no university can just stand for research without teaching and learning, and so it's important to see you here – to enable teaching and learning and to make our university what it is."
The conference, which was set for two days – October 25 and October 27 – will take a virtual format on Thursday.
Visit the CILT website for more information.
---
This work is licensed under a Creative Commons Attribution-NoDerivatives 4.0 International License.
Please view the republishing articles page for more information.
---