The University of Cape Town's (UCT) newly launched student Leadership Academy (UCT Lead) offers a rigorously developed model for human-centred leadership development for South African higher education institutions, Vice-Chancellor interim Emeritus Professor Daya Reddy said.
Emeritus Professor Reddy was a guest speaker at the celebration on 15 August, held at the Old Mutual Conference and Exhibition Centre, Kirstenbosch. The event was also an opportunity to unveil UCT Lead's new logo with its slogan, "Dala iiNkokheli", isiXhosa for "Create Leaders".
The academy was conceptualised by UCT's Department of Student Affairs (DSA) as part of its key strategic areas and repositioning the DSA in relation to UCT's Vision 2030. The academy has four foci: student governance leadership development, student life leadership development, capacity building, and innovation.
Launch attendees included staff and students from a cross-section of departments and entities involved in UCT Lead's conception and inception over 21 months. Among these are the Office for Inclusivity & Change (OIC), the Centre for Higher Education Development (CHED), the Centre for Innovation in Learning and Teaching (CILT), the Global Citizenship programme, and the African Gender Institute.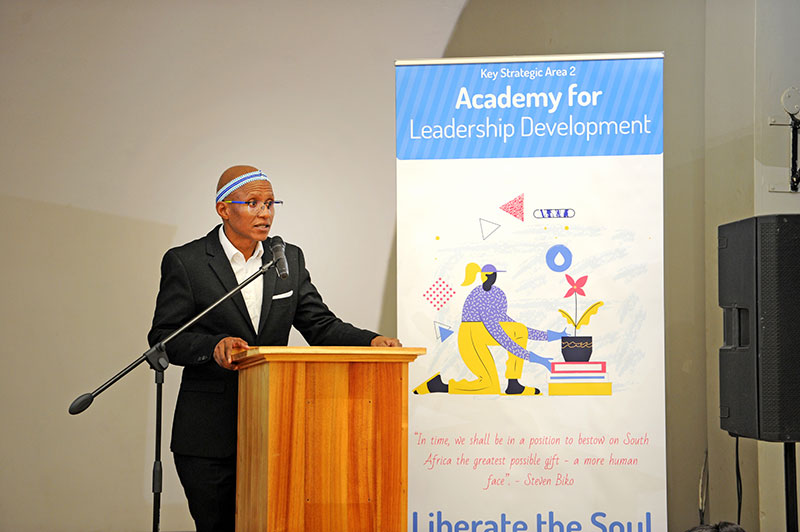 Leadership for a fair and just society
"The Leadership Academy recognises the leadership potential of every student at UCT and links directly to UCT's Vision 2030, which is to [unleash] human potential to create a fair and just society," said Reddy.
A milestone in the university's transformation journey, UCT Lead will nurture ethical, humane graduates who are able to serve their communities. As such, the initiative is inextricably bound to Vision 2030's three pillars, said Reddy. These are excellence, transformation, and sustainability; the guiding principles for leading UCT into the future.
"Good grades are not the only measure of excellence," said Reddy. "There are many other factors: how we relate to people, how we communicate, the priorities we set, and everything we do.
"In terms of transformation, it's how we teach and learn; how we broaden students' horizons and paths for people to achieve academically. It's our relationships with each other and how we learn to listen, and not just talk, to people from diverse backgrounds and histories."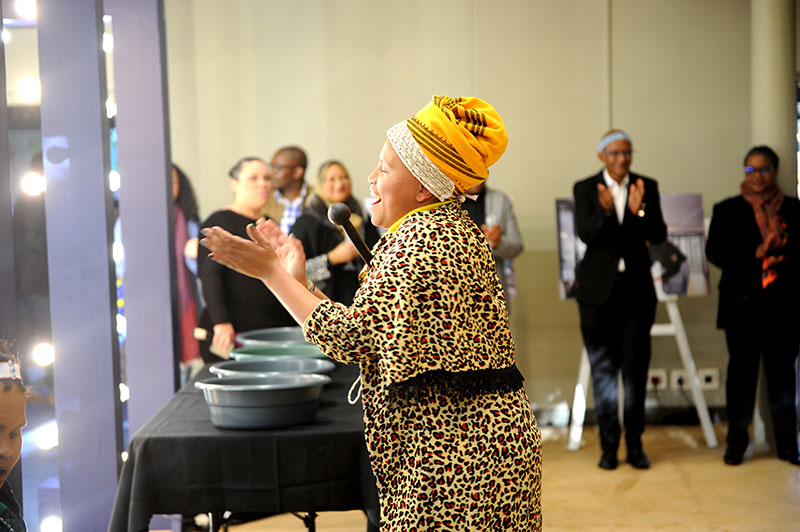 Regarding sustainability, Reddy said that in the context of Vision 2030, this also refers to UCT's contribution to society, its impact on communities, people and institutions outside the university.
The academy is based on the principles of building accountability, leadership and service among UCT's students and community, he added.
"I encourage you to embrace it," Reddy said. "Decide on what leadership means to you; [develop] the flexibility to evaluate your own progress and impact, and the courage to make changes."
The student of the future
In her address, Deputy Vice-Chancellor: Transformation, Student Affairs and Social Responsiveness Professor Elelwani Ramugondo said the academy would play a vital role in building the attributes of the student of the future – and the university as a nurturing space.
"Of course, we're talking about a successful student, but we're also talking about a student who embraces lifelong learning, who understands the importance of teacher–learner exchanges. And it speaks to those among us who are willing to learn from younger student generations."
Professor Ramugondo added, "It's also about the student who will successfully evade capture in the battle ground for the mind. That's a conscious student."
Here she referred to Professor Yunus Ballim's TB Davie Memorial Lecture at UCT in 2021, titled "Ours is to educate, not to captivate – teaching, learning and student development in a context of academic freedom".
Professor Ballim argued that it is not the university's role to make students captive to a particular worldview or forms of knowledge about the empirically observable world. Rather, it is ensuring the students have opportunity to develop the knowledge, skills, and habits of mind that allow them to maintain a sceptical attitude towards received wisdom, and to be able to critically reflect on prejudice, dogma, and misconception in their living and working lives.
"The academy gives you the tools with which to find yourself and think through and solve society's problems," Ramugondo added. "But if the student emerges from the university no longer able to recognise themselves, who no longer knows who they are and how they connect with their communities, they will not be able to serve humanity."
Manifestation of a human face
On the essence of UCT Lead, Pura Mgolombane, the executive director of the Department of Student Affairs, quoted black consciousness leader Steve Biko who said, "In time, we shall be in a position to bestow on South Africa the greatest possible gift: a more human face."
Mgolombane said: "At UCT, the Leadership Academy is the manifestation of that face. Unleashing human potential ought to be a humanising experience. It's not … only about changing places and spaces.
"If this university does not have a human face, who are we building it for?"
"If this university does not have a human face, what are we building it for? If this university does not have a human face, who are we building it for?"
At the heart of the academy are three pedagogies: a humanising pedagogy, a pedagogy of discomfort, ie recognising that personal growth and development happen at points of sufficient discomfort; and a pneumatological pedagogy, ie acknowledging the unique capacity and needs humans have for meaning, purpose, direction, and spirituality in life.
"Let's try as a collective … to create a university with a human face. That is what we are striving for so that together we can Flourish-Ad Infinitum," said Mgolombane. "In order for us to Flourish-Ad Infinitum, this formula is critical 3R=F [Ad Infinitum]. The 3Rs are: rekindle the dying embers of the soul; rehabilitate the soul in order for the soul to radiate. Only then will we Flourish-Ad Infinitum."
"A priceless gift"
Dr Charmaine January, the manager of Residence Life, who played a key role in UCT Lead's development, said it had been a daunting but transformative journey with fascinating discussions within the various groups and at their colloquia.
"These really produced some searching questions about the role and purpose of education in our society. If we are going to have education that produces a society that is well, what would it look like? What should be the inputs?"
These were hard questions to answer.
"It required us to go into a dreaming space. The research project we collaborated on with CILT allowed us to dream about what that future could look like. And it forced us to write the narrative of the future – and to describe it in depth."
UCT Lead confronts the theoretical paradigms of higher education; one that sees education or a degree as a commodity people acquire, use in a market-related exchange of goods and services, which is essential, but not enough, she said.
"To what extent have we lost our bearings in terms of what is deeply meaningful to us as human beings. Such educational reform redirects attention to what is called a human capability approach."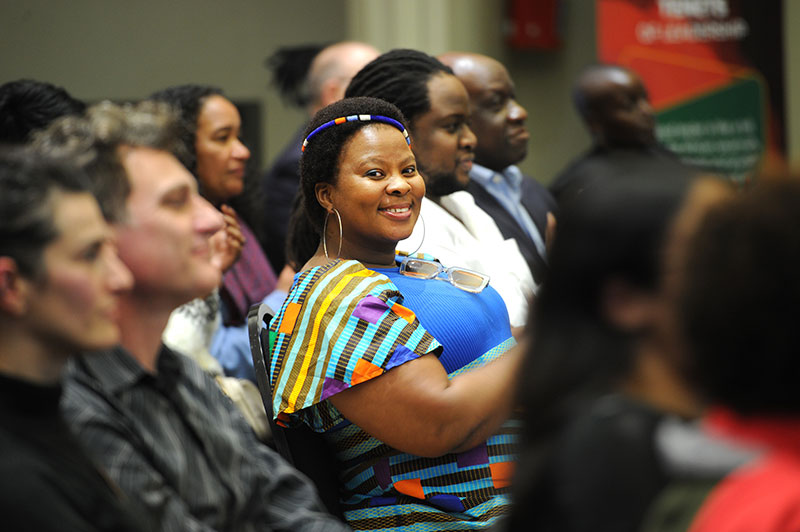 Study and leadership not separate
Students played a large part of the development process. Speaking at the launch, students Shalom Abiodum and Abigail Tshiamala shared their thoughts about participating.
Abiodum is a master's student in the African Robotics Unit, vice-chairperson of the UCT Sports Union and additional member of the Faculty of Engineering & the Built Environment Postgraduate Student Council.
Tshiamala is a fourth-year LLB student with a BCom in economics and law. She is also the chairperson of the Constitutional Committee and former Students' Representative Council member.
Abiodum said he'd initially loathed to participate. His plate was full, and he'd been part of several other student leadership development programmes. But one had "diverged significantly" from the other.
"It reaffirms the role of university students as transformative, radical agents in society."
"For me Dala [Dala iiNkokheli] represented a platform to assist [in developing] the needs of our highest present and future leaders.
"From our workshops, we soon developed ideas of intergenerational collaboration, as well as create the spaces where students feel to study and to be a leader – it's not separate."
This would be translated into the academic framework, he said.
Thsiamala added, "UCT Lead is what students need; nurturing every aspect of students' growth: intellectual, emotional and creative."
The process yielded answers that were more holistic and student-centred, she said.
"It reaffirms the role of university students as transformative, radical agents in society. And it challenges the notion of the university as a mere repository of knowledge.
"The university stands as a crucible where ideas are forged, where individuals are empowered to challenge conventions and where the status quo is questioned.
"Our research team's journey exemplifies how universities are evolving beyond the classroom and engaging in projects that not only enrich the educational experience but also ripple outwards to shape society.
"My experience as part of the Dala research team has been nothing short of inspiring – a testament to the power of genuine collaboration."
---
This work is licensed under a Creative Commons Attribution-NoDerivatives 4.0 International License.
Please view the republishing articles page for more information.
---