Learning the rudiments of South African Sign Language (SASL) called for a new level of physical communication skills among University of Cape Town (UCT) audiology and speech-language therapy students. Eyes, fingers, face, hands and feet and a wide range of facial expressions were called into play as Deaf lecturer June Bothma took them through their paces at a recent "friends welcome" workshop.
The event was hosted in the Frances Ames Room on the Faculty of Health Sciences campus and marked International Month for Deaf People, a commemoration of the first world congress of the World Federation of the Deaf in September 1951.
Each Friday, Bothma takes the third-year audiology and speech-language therapy students through their SASL paces as Sign Language is a compulsory part of their curriculum in the Division of Communication Sciences and Disorders. SASL recently became the country's 12th official language to promote the rights of persons who are Deaf and hard of hearing.
Bothma was assisted by several student signers after a large contingent arrived on the day, following the broad invitation to the faculty's students and Division of Communication Sciences and Disorders lecturers by fourth-year BSc (Hons) audiology student Neha Patel. Patel is also the head of Students' Health and Welfare Centres Organisation (SHAWCO) Audiology where her main role is to oversee and run the audiology clinic portfolio.
"When universities like UCT contribute to and support SASL, it leads to the celebration and preservation of the Deaf culture."
The International Month for Deaf People collaboration with Bothma was to create more awareness about SASL and the Deaf community – and an opportunity for students to learn a vital skill, she said.
"Events like these represent a step towards accessibility and inclusivity for the Deaf community," Patel added. "Sign Language workshops can train future healthcare professionals to effectively communicate with Deaf patients. And by promoting SASL, UCT can help empower Deaf individuals by enabling them to actively participate in society. This includes healthcare, education and the employment market.
"When universities like UCT contribute to and support SASL, it leads to the celebration and preservation of the Deaf culture."
Beyond the workshop, SHAWCO Audiology used their Instagram page to communicate interesting facts about the Deaf community. They are also planning to make a Sign Language reel with basic SASL phrases.
"Additionally, we plan a health promotion on Deaf Awareness Month at the clinical sites that we visit, with the patients."
Lipreading and eye contact
For the past 12 years, Bothma has taught two to three third-year audiology and speech therapy groups per week, ensuring that the classes are small enough for her to attend to everyone. These are like beginner classes, but more structured with assignments and examinations. The classes have also been amended to include the medical terminology that is essential for communication with Deaf patients in a medical setting, Bothma noted.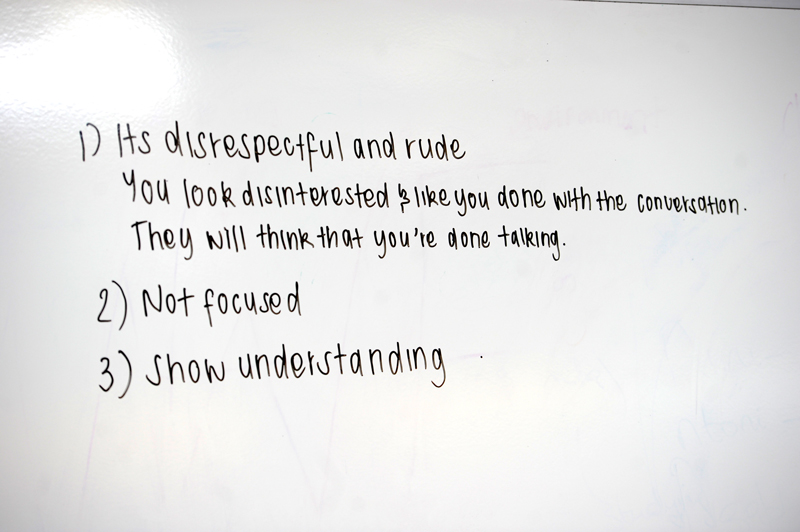 Her signing teaching practices have evolved over the years. She began teaching what she thought was best for the class, and over time, she changed the order of the lessons for the courses.
"I would regularly ask the attendees for feedback as I was open to new ideas and their experiences of the classes. It helped and guided my teaching skills over the years. After a few years, I started to reorder the lessons so that it made more structural sense to the students. I start with the introduction, addressing the topic of communication skills with Deaf people – such as maintaining eye contact – then we learn the alphabet, greetings, numbers, family structures, and so on."
Spreading the skills
This International Month for Deaf people event started three years ago as students were asking Bothma if they could bring their friends to classes "to see what Sign Language is like".
But as the formal course is a year long, a single class without prior learning didn't make sense. So, Bothma started with a set of activities that would form part of Deaf Awareness Month and help students understand the Deaf experience of lipreading and the reason Sign Language is so important.
"I want them to understand how difficult it is for Deaf people to lipread."
"I plan these sessions specifically for students to bring their friends to share the experience. I've even had mothers and siblings joining us!"
For those intimidated by the seemingly complexity of signing, Bothma said the starting point is always eye contact with the Deaf person, and to speak slowly as lipreading is so essential.
"I want them to understand how difficult it is for Deaf people to lipread, the importance of eye contact in Deaf culture as a means of listening, and the reason they cannot look away during conversations with Deaf people.
"They learn through the activities that as most words have the same mouth movements, misinformation is a common experience for the Deaf community."
Animal fun
The highlight of the workshop for the attendees at this month's workshop was undoubtedly learning the signs for animals. These mimic physical characteristics (the rhino's horn, for example) and movements because of the instant visual connection they have with the sign and the animal's features.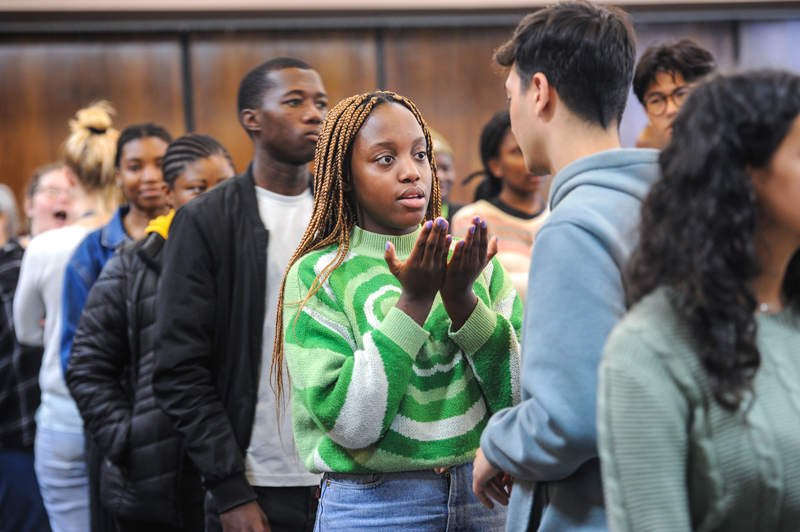 "When we do the animal signs memory game, they gain confidence in maintaining eye contact, creating connections with each other, and using facial expressions with the correct signs. The key takeaway at the end of the day is that SASL makes a big difference – and that there is more to just learning signs."
Bothma also works with the Students with Disabilities Forum. In Deaf Awareness Month, she is keen to get key messages out into the community.
"Deafness is an invisible disability as most people are unaware and cannot always see that someone is deaf. Deaf Awareness Month is important as people need to understand the Deaf experiences of daily life and the barriers we face. It also highlights the fact we can do anything, except hear. I've had people asking me if I can drive, or whether I am having a conversation when I sign."
It's also important to note that the term, "Deaf" is the correct term to use, and not "hearing impaired", as it implies people who are Deaf need to be "fixed" or their hearing loss remedied, she added.
---
This work is licensed under a Creative Commons Attribution-NoDerivatives 4.0 International License.
Please view the republishing articles page for more information.
---