"Assertively working for gender equality is an ethical imperative; [it] is one of the United Nations' Sustainable Development Goals (SDGs) as well as the most powerful way we can advance general economic development."
These were some of the musings from University of Cape Town (UCT) Chancellor Dr Precious Moloi-Motsepe at a Women's Day luncheon themed "The future we want" on Thursday, 10 August.
Dr Moloi-Motsepe was part of a powerful speaker line-up, which included alumni Dr Samkelisiwe Nyamathe and chair of the University of the Future steering committee, Professor Salome Maswime.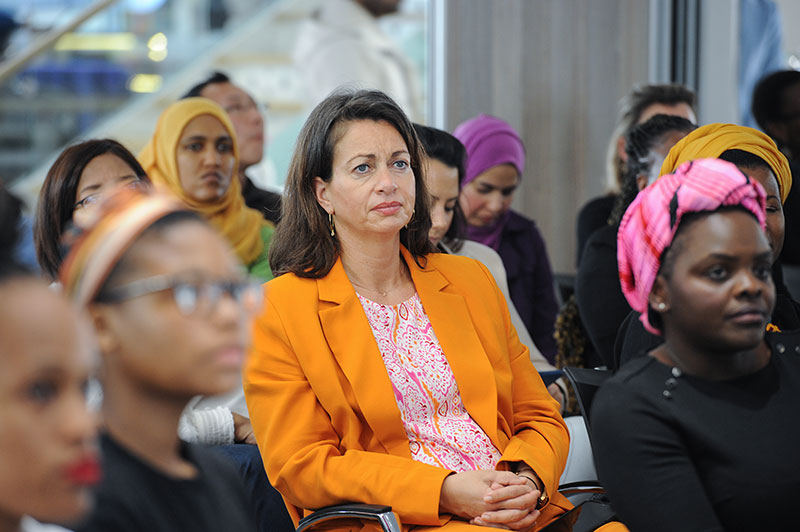 Trust and cohesion
Hosted by deputy vice-chancellors professors Elelwani Ramugondo and Sue Harrison at the UCT Graduate School of Business Conference Centre, the gathering was also attended by Vice-Chancellor (VC) interim Emeritus Professor Daya Reddy as well as the chair of Council, advocate Norman Arendse.
"During this month, I find myself reflecting on my own life, but also the role we have played as women and continue to play to protect our democracy and to contribute to transformation.
"We know that in recent years, many economies have faltered; jobs have been lost and many democracies have seen some loss of trust and cohesion. These trends affect everyone, but they have a strong impact on women – and especially vulnerable women," said Moloi-Motsepe.
She added: "If we carefully consider the [framework of the SDGs], it is clear that it will be impossible to achieve sustainable transformation if we leave women behind."
Attendees also heard testimonials from recipients of the Advancing Womxn research awards, announced in 2019.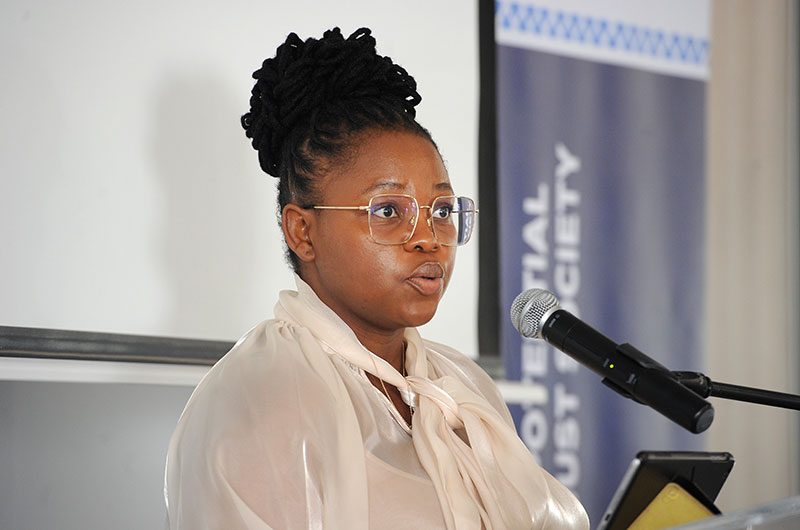 UCT alumni and one of 2023's M&G 200 Young South Africans, Dr Nyamathe spoke about encouraging women to own spaces they are invited into, in whatever capacity.
"I often have to remind myself that I am the right person for the opportunity. Former Miss Universe Zozibini Tunzi reminds me that we should be teaching young girls to take up space; Toni Morrison tells me that when we get these jobs that we have been trained for, just remember your real job is that if you are free. You need to free someone else," said Nyamathe.
"We may not rise to fame, but we all have a platform, and we can use it wisely."
"If you have power, your job is to empower someone else. Clinical work has given me a sense of my true responsibility of effecting change in a crippled health system.
"What I remain overwhelmingly sure of is that there is enough space for all of us. We are the ones we have been waiting for. We may not rise to fame, but we all have a platform, and we can use it wisely. As I grow, I hope to take women along with me."
For Professor Maswime, looking to the future requires an assessment of the past.
"When one looks back in history, it goes without saying that the past was unjust and unfair to women, especially women of colour. Higher education was not accessible for many of our sisters, mothers, and grandmothers despite their deep desire to learn, high level of performance and their efforts to contribute to society, but today we ask a different question: have we created an enabling environment for women in higher education?"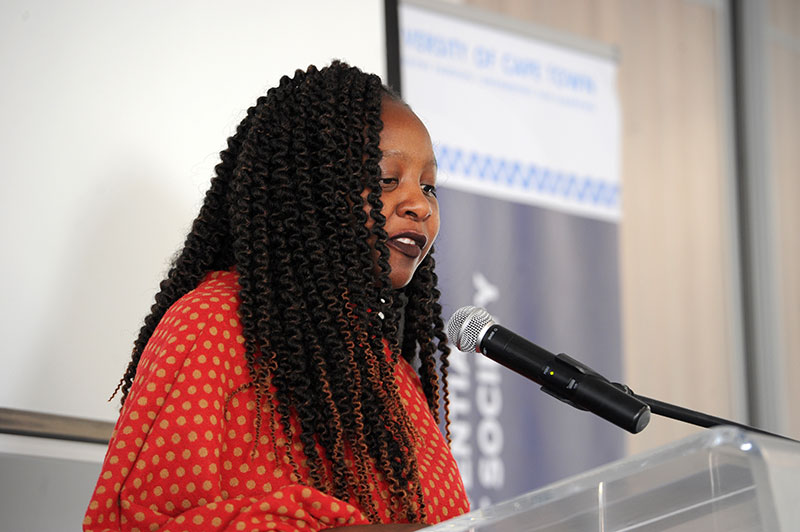 Safe schools, grants, parental supervision
Maswime concluded: "We may want to ask what type of environment one needs to thrive and feel like they belong: is it the shape and colour of the buildings, the artwork, the relationships, the curriculum, the policies, or support services we create?"
"We need a spectrum of initiatives that contribute to gender equality."
As she concluded her presentation on gender equality, Moloi-Motsepe said: "There are many factors that impede gender equality. Gender inequality is driven by complex and interrelated forces. We do not require one simple solution – we need a spectrum of initiatives that contributes to gender equality and that try address gender inequality in real, concrete contexts.
"I want to praise UCT for intersectional research and outreach efforts that you do because these fall across the spectrum of possibilities whilst always focusing on women's empowerment."
---
This work is licensed under a Creative Commons Attribution-NoDerivatives 4.0 International License.
Please view the republishing articles page for more information.
---