Like many institutions of performing arts, the University of Cape Town's (UCT) renowned Opera School has grappled with new formats of teaching and learning during the COVID-19 lockdown. But students have engaged with material in new ways, resulting in a "palpable difference" in their approach to singing, said the school's director, Jeremy Silver. They even staged an opera.
Trained as a pianist and conductor, Silver started working in opera in London in 1989. He has been the director of UCT's Opera School since early 2019. His association with South African opera spans more than 20 years. He was on the staff of several British opera companies where he "really learned by craft from the inside". He has worked as a freelance conductor, which included opera in Pretoria and Cape Town, as well as symphonic work in Durban. At UCT he trains young singers in the musical, linguistic and dramatic skills needed for the operatic stage. He spoke with UCT News.
Helen Swingler (HS): Opera singers need hours of one-to-one coaching and group work. How has the Opera School rallied to keep classes going – and even stage a production of Così fan tutte?
Jeremy Silver (JS): Unlike similar programmes in Europe, we were unable to maintain one-to-one online sessions with students as so many of them had connectivity problems at home. So, apart from the coaching for the cast of Così fan tutte, all other teaching was done asynchronously – by creating and posting lessons about the common singing languages, dramatic analysis of texts and analyses and comparisons of YouTube performances. The students engaged with the material in a totally new way, as they could no longer hide behind simply making a nice sound! When they did finally return to campus, there was a palpable difference in the way they approached their own singing, which I believe to have been very beneficial. This is in no way to disregard the considerable challenges so many students faced trying to find space and time to study during lockdown.
HS: These challenges would no doubt have been greater for students living in remote areas without Wi-Fi and access to technology. How was this managed?
JS: We provided students with phone data and laptops, which enabled them to access the new online material which we created. Of course, some students were in more conducive circumstances than others, but they persevered – many of them only able to study in the middle of the night. There was a very small number of students in the wider music school (not among the singers) who were sent paper copies of all their learning material as their connectivity problems were too difficult to overcome.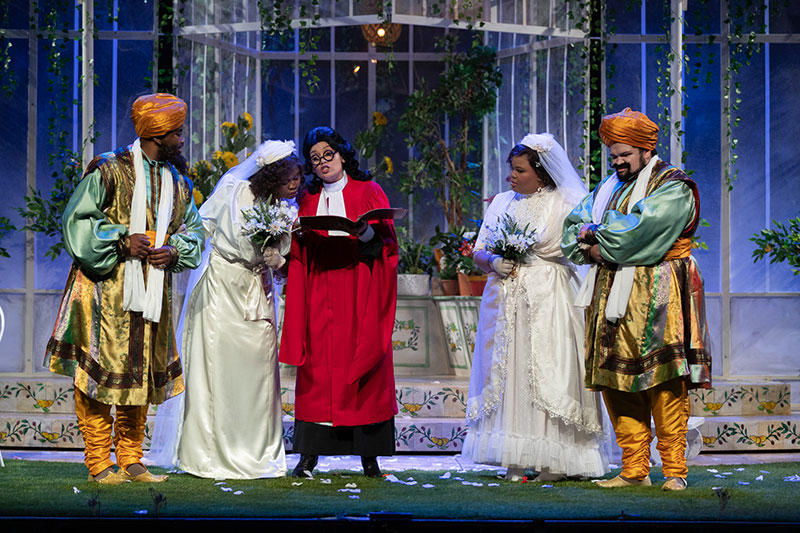 HS: What is the current situation regarding live performances now that lockdown has lifted, but given the threat of a second wave and the need to be socially distanced?
JS: After considerable research about best practice in Europe, as well as consultation with a health-and-safety company here in Cape Town, I made the judgement that we could mount a production of Così fan tutte in October, which would look and feel normal. Rehearsals took place with masks, visors, screens, social distance, caps on the number of people allowed in a room and constant sanitising spray! The rehearsal period was constantly disrupted as the slightest sniffle could have meant COVID-19. But, in the event, none of the singers became ill. We had planned to record rather than perform to an audience, but when the government moved us into Level 1, we were permitted a reduced audience, so that felt very much like a bonus. In retrospect, the timing was very lucky, as cases are slowly rising again in the Western Cape. I'm not sure we would have dared go ahead now.
HS: Are exam recitals going ahead and, if so, when do these take place?
JS: Yes, they are, but very much later than usual owing to the lack of early preparation. Some are happening this month, but the majority will take place in January with a few going into February. I have also reduced the size of ensembles to mainly duets, [thereby reducing] the amount of close contact between singers.
HS: There was talk of holding a Symphonic Wind Ensemble concert outdoors, perhaps in the new Baxter gardens, and that practices were taking place outdoors in the South African College of Music car park. That must be a treat for passers-by!
JS: Both those things have happened. We might have lost out when it comes to connectivity, but at least we have a good climate for working outside.
"I believe our work will be richer in the future through the blending of the online and live experiences."
HS: What have all the extraordinary measures required from the team at the Opera School been, and what has been learnt? Perhaps there have been lessons also from overseas opera schools that would have been facing the same challenges? Any interesting cases that you know of?
JS: We have learned a huge amount about online platforms, how to present material in an interesting and varied fashion and how to manage a variety of different types of assignments. This is material we will always use in the future. I believe our work will be richer in the future through the blending of the online and live experiences. We have not gone down the route of complicated and innovative online presentation of opera, as I think much of that innovation, hard work and cost would fall on the technical teams rather than the singers we are training. But certain opera schools in the United Kingdom have had the capacity to pursue these projects with amazing success.
HS: Last words?
JS: I am choosing to believe that live performance as we know it will return in time. As such, it is important to continue training the singers to express their humanity deeply via music, language and movement. If we are unlucky, and life for some reason doesn't return to normal, the training will not be in vain, for we will be searching for as authentic a human experience as possible via online platforms. I believe we have a long way to go before we can do that, but human beings in need are remarkably resourceful and inventive!
---
This work is licensed under a Creative Commons Attribution-NoDerivatives 4.0 International License.
Please view the republishing articles page for more information.
---