On 1 September 1939, Germany invaded Poland. Two weeks later, World War II (WWII) was officially afoot. But on the Glazewski family estate in eastern Poland there was no talk of the war on the afternoon of 15 September. Well, not yet at least. The family was enjoying a leisurely Sunday lunch when a radio news bulletin turned everything upside down.
Although the broadcast was in English, one of the four Glazewski brothers understood the newsreader very well. The message was clear: Russia was mobilising to invade eastern Poland just a stone's throw from their family farm near Lviv (now in Ukraine). Leaving lunch on the table, the four brothers and one's wife, who was pregnant at the time, decided to do some mobilising of their own. The siblings took the tough decision to flee Poland and to seek refuge elsewhere.
Rushed departure
Before their rushed departure, the brothers buried treasured family silver and hunting guns in a knee-deep hole on the property. That same day they fled to Romania together, and from there separately to different parts of the world. Their father remained in Poland. He refused to leave his place of birth, and although he lived for 20 years after his sons' departure, he was not to see them again.
"WWII had started on 1 September 1939, but [the family] was not too worried because they heard that the Germans had attacked [Poland] from the west."
The story of the Glazewskis' voyages across the world – one family settling in Cape Town – is a tale of fortitude and determination. How it all came full circle in October 2019 – eight decades after their departure from Poland – was relayed during a University of Cape Town (UCT) Summer School lecture on Wednesday, 11 January. The speaker, Emeritus Professor Jan Glazewski, is the youngest son of Gustaw Glazewski and his wife who made the Mother City their home. Emeritus Professor Glazewski (Jan hereafter) was a professor of marine and environmental law at UCT. He retired in 2018.
A trip south
"WWII had started on 1 September 1939, but [the family] was not too worried because they heard the Germans had attacked [Poland] from the west, and my grandfather's farm was right in the east of Poland. In fact, refugees were [all] moving eastward," Jan said.
But as the BBC World Service reported that Russia was preparing to invade the east of Poland too – with the Glazewski family estate about 10 km from the Russian border – tough decisions were made. Rapidly, Sunday lunch was plunged into chaos, as Jan's parents and uncles fled their homeland.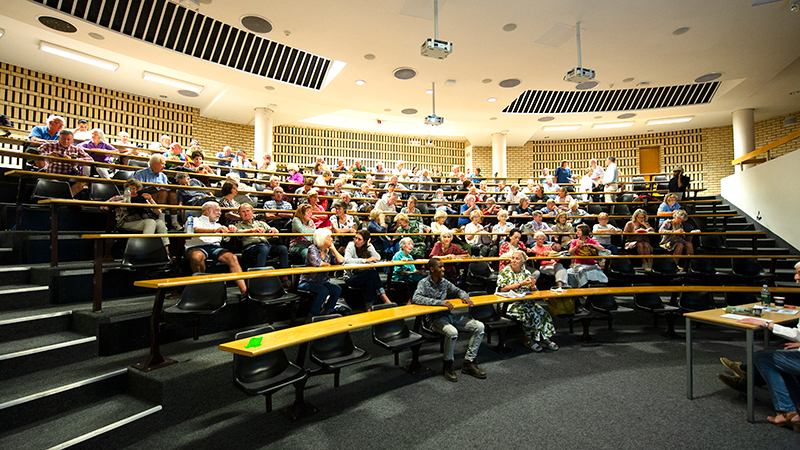 After a few stops and starts along the way, Jan's father, who had studied agriculture in France before he fled Poland, was told that the prospects for farming were good in South Africa. So, the couple and their three daughters made their way to the country by boat from Cairo, arriving here in 1947. Jan, the family's "laatlammetjie", was born in Paarl in 1953.
Near-death experience
Jan's father kept their fascinating history alive. He often recounted how the young men abandoned lunch and hurriedly buried the family silver; how Jan's mother packed only old sheets in their suitcases thinking they'd eventually return to use the crisp new linen (but they never did); and how the four young men tried in vain to convince their father to accompany them on this life-altering journey.
"The Russians arrived [on the family estate] about a month [after the brothers left]. They wanted to kill my grandfather. They were killing the wealthy landowners in the whole district… [At the time], he was hidden away by the workers. But they found him and he was marched off into the forest. The workers followed behind and said: 'Don't shoot him, he was good to us'," Jan said.
In the end, the Russian army spared Glazewski senior's life. But they ordered him to leave the estate and never to return to the manor house. And to ensure that he complied, they completely destroyed the family home.
A hand-drawn map – by memory
This tragic story of displacement, separation, loss and buried treasures fascinated Jan. His goal was to locate the silver and see through a process of restitution – for his parents and his uncles and for his grandfather too.
But where would he even start looking? What Jan needed was a map of the site. And after many requests, in 1989 – 50 years after Jan's parents and his uncles fled Poland – his dad handed him a hand-drawn map, as well as one-and-a-half pages of instructions, which he had typed using a vintage typewriter that somehow always faded out the letters.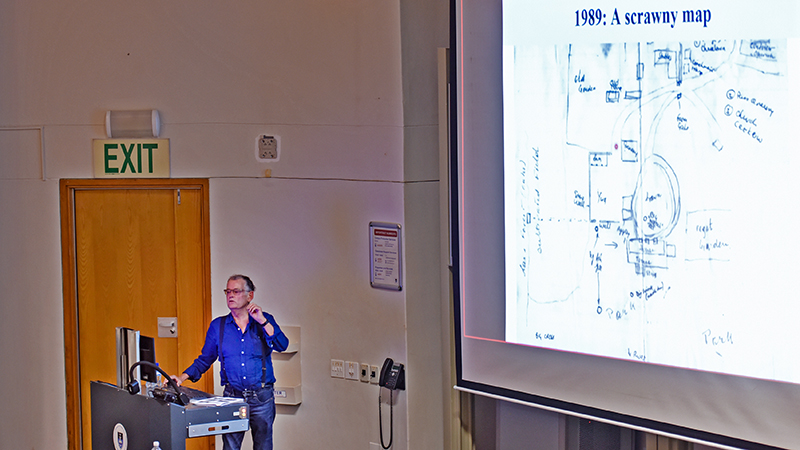 And so Jan's journey north to locate the family silver could finally begin. A few years after he received the map, he made his first trip to what was once his family's farm. As he surveyed the land, he discovered that the cellar was all that remained. What he really needed was to find the foundation of the yard wall – a line on the map that started at the cellar and would lead him straight to the buried silver. However, it was all grass and forest and Jan needed help.
"It [finding the silver] was really a needle in a haystack kind of situation."
Needle in a haystack
He returned to the estate in 2019 with help in tow. But locating the family silver was not an easy task. The area was overgrown with bushes and the cellar was no longer as visible as it had been before – making finding the treasure a near impossible task.
"It [finding the silver] was really a needle in a haystack kind of situation," he said.
But many hands make light work. Jan and his friend Alina, who doubled up as a Polish-Russian-Ukrainian translator; the metal detector Taras (a retired academic archaeologist); and Jan's niece Layla, were determined to locate the buried silver. When things were not going according to plan, they solicited some extra input from the community. They turned to a local school principal and a 92-year-old woman, Pani (Mrs) Paulina, who vividly remembered Glazewski senior. Coincidently, her sister worked in the kitchen on the farm and she had kept a photograph of Jan's grandfather on her mantlepiece until her death.
Thinking that Jan, Alina, Taras and Layla wanted to hear about life on the farm before the war, she happily pointed out where the vegetable garden once was and where Jan's father pioneered planting vineyards. But it was an elderly man who had also joined the search, uninvited in fact, who steered the breakthrough that ultimately led to the cellar, the adjoining yard's wall and the buried silver.
Finding silver
On the third and final day of the search, another metal detector, Vasyl, was recruited to join the expedition. As the group located the foundation of the yard wall, they made their way across the field and down the slope towards the forest. Instinctively, Jan said, he felt that his father and uncles would not have buried the silver too far down, and called to Taras who was ahead of him to explore the land further up, which he did. As Taras's metal detector bleeped and bleeped again, he plunged a spade into the earth and – with Layla and Vasyl's help – "silver speckles" appeared beneath the soil.
"I was happy to find just a teaspoon, but I found a lot more than that."
"My father didn't give me an indication about what was buried. My big regret was that I didn't ask him more. I just imagined that it would be the same family silver we've got on the mantlepiece. But what I found, firstly, the volume was huge, and secondly, it went back generations. I was happy to find just a teaspoon, but I found a lot more than that," Jan said.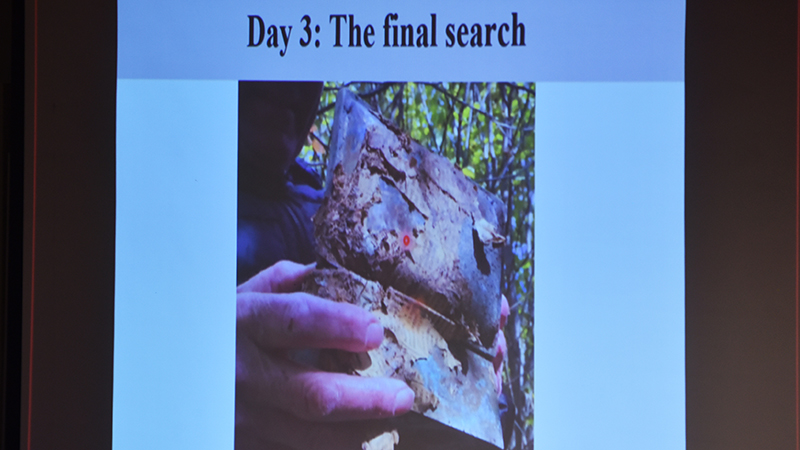 They had struck silver! Once uncovered, it was like a treasure trove of family heirlooms – silver candlesticks, candelabras, milk jugs, trinkets, coins and medallions, a gold cross embedded with amethysts, goblets, and a few hunting guns. Jan's father's baptism spoon, with his name Gustaw engraved on the handle, was also found among the treasures. After 80 years, Jan felt a sense of accomplishment. He had fulfilled his father's wish, he had found the jewellery box packed by his beloved mother for safekeeping underground, he had located the family silver – at long last.
The silver is currently in safekeeping in Lviv.
Jan Glazewski has written his memoir, Blood and Silver: A true story of survival and a son's search for his family treasure.
---
This work is licensed under a Creative Commons Attribution-NoDerivatives 4.0 International License.
Please view the republishing articles page for more information.
---