"The more you read, the more things you will know. The more that you learn, the more places you'll go." – Dr Seuss
These words, written by renowned children's author Theodore Seuss Geisel (Dr Seuss) in his book I can read with my eyes shut, have inspired the University of Cape Town's (UCT) Mary Lister, and she has made it her mission to empower children with the most powerful weapon yet: reading.
The library manager based at the UCT Graduate School of Business (UCT GSB) has spearheaded several initiatives that aim to nurture a love for reading, especially among children living in under-resourced communities. And she has rallied the UCT GSB troupes – motivating staff and students to open their hearts and wallets to contribute generously to several beneficial reading projects.
In celebration of International Day of Libraries on Tuesday, 24 October, UCT News showcases Lister's initiatives, which have placed children who visit the Jim se Bos Library in Philippi at the top of the UCT GSB's list. Her interlinked projects have one main goal: to expose children to good, quality, age-appropriate books and nurture a culture of reading. International Day of Libraries brings to light the wonderful work carried out by the thousands of public libraries around the globe and their contributions to society. It also encourages individuals to take advantage of the space and what it has to offer.
"What's extra special is that by supporting these initiatives, students studying in the higher end of the academic careers are supporting those who are only just starting."
"Giving back is so important, and initiatives like ours that give less fortunate children an opportunity to develop a love for reading is a beautiful thing. What's extra special is that by supporting these initiatives, students studying in the higher end of their academic careers are supporting those who are only just starting," she said.
Community library
Lister first met Seung Young Jung, the founder of the Jim se Bos Children's Library, in 2012 when he joined her church's Sunday School programme. During their interactions, he mentioned that he established a children's library, which had been built from wooden huts. His idea was to create a safe space that encouraged a culture of reading among the children in the community. And Lister was struck by his commitment and dedication to making the project work.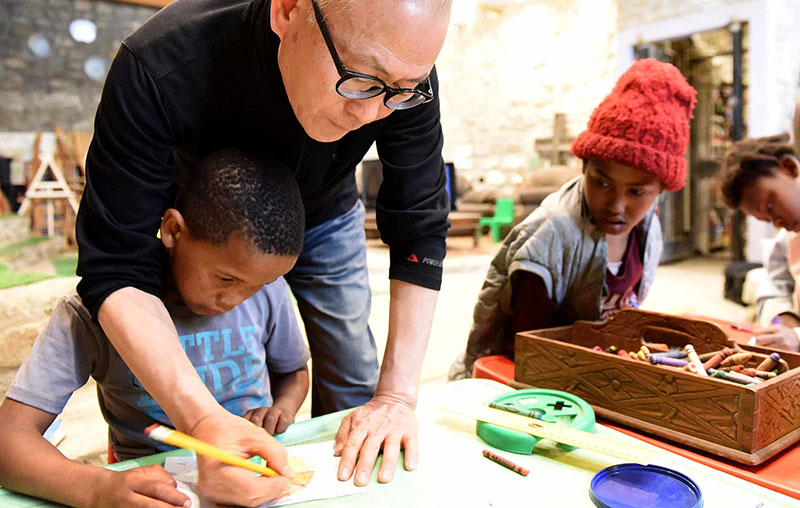 Over the years, the space developed into an early-childhood development (ECD) centre and a homework club in the afternoon. And after a devastating fire in 2019 that completely destroyed the wooden structure, a bigger and better version of the building was rebuilt in stone – giving more children an opportunity to enjoy the space.
"As a member of the UCT GSB's Transformation Committee, I was trying to find a fitting social responsiveness project that we could be a part of on a long-term basis. And this library came to mind. It resonates with me because as an educator, I understand that children need good foundational learning to excel on their academic journeys," Lister said.
The gift of reading
When the idea for a book drive sprouted, Lister jumped into action. She created a Google document with a list of different age-, language-appropriate, and culturally relevant books, included the price of each book and circulated the document among students and staff. A SnapScan code was also provided to ensure a seamless donation process. The response was overwhelming. And because many students and staff also donated extra cash, the additional funds were used to buy stationery, heavy-duty library plastic (to cover the books) and a donor's bookplate for each book.
Soon, the initiative became the UCT GSB's first major community engagement project.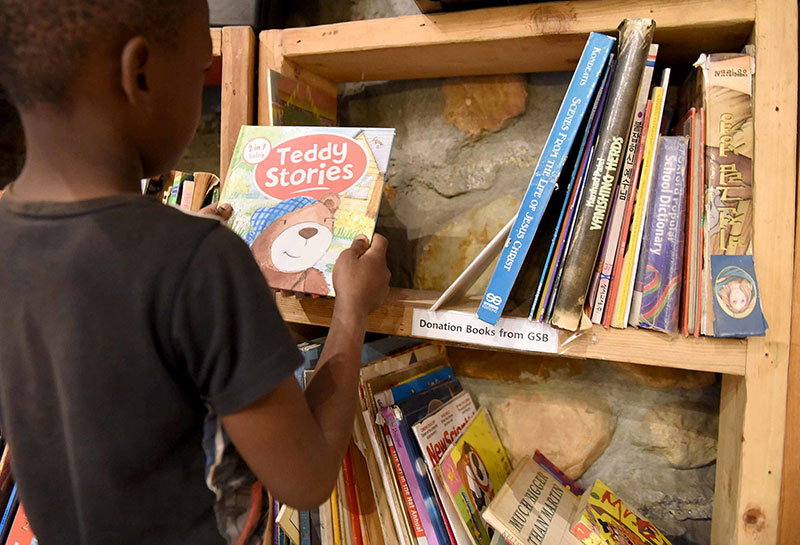 "We donated more than 70 books with this drive. Being able to contribute to the library in this way and giving children who can't afford the little things we take for granted, like a book, was heartwarming and so fulfilling," she said.
Reading at home
But reading during library time was not nearly enough. It was important for the children to read at home as well. Because Lister understood that the books donated during the book drive were strictly meant for the library's shelves, she needed to come up with another plan. And she did. She approached the UCT GSB community for a second time. She called on staff and students to donate cash and quickly raised enough funds to purchase two books each for the 130 children who regularly visit the library. It didn't end there. Lister realised that the children also needed a storage case to ensure that their reading material is kept clean and dry at home.
So, the library team canvassed the UCT GSB community once more. And after explaining their latest initiative to students on the Executive MBA programme, donations came flooding in. Lister said the class raised enough funds to purchase 130 hard plastic containers big enough to fit two books (with a personalised label), as well as stationery items.
"The children were enchanted that they were given books of their own to treasure and keep at home. Yes, these efforts may seem like a tiny drop in a large ocean. But if our involvement with this library can demonstrate to the children just how reading can change the trajectory of their lives and motivate them to continue, that would be more than enough for us," Lister said.
Providing opportunities to learn
This International Day of Libraries, Lister said she is proud of the UCT GSB's contribution to the Jim se Bos Children's Library, and for providing children with an opportunity to read and to learn. Afterall, that's the essential role of a librarian – to ensure that visitors to a library are equipped with the reading material they need to flourish.
She hopes that the young visitors to the Jim se Bos Children's Library will take advantage of the space and will use the power of reading to chart their paths to success.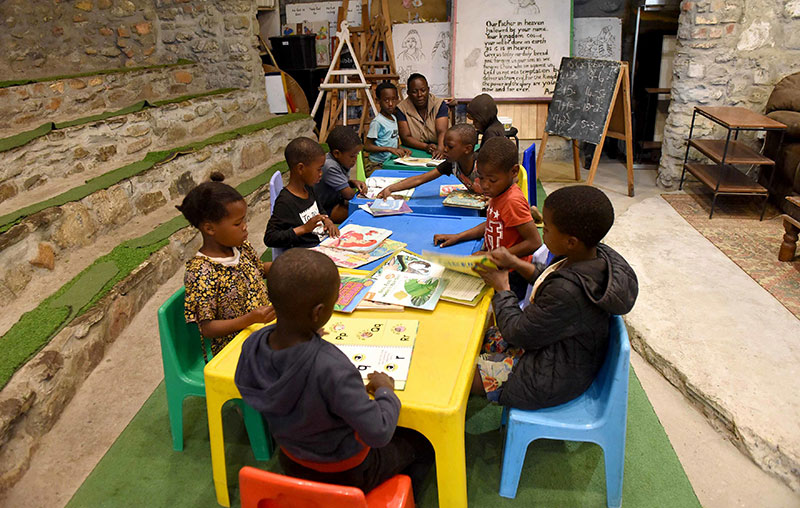 "Librarians need to fulfil their role by engaging with their users, providing opportunities for them to learn and grow, while always focusing on the user's holistic experience. We can't and mustn't block or diminish the minds of those who come through our doors, because we need to unleash a world of readers to change the world," she said.
---
This work is licensed under a Creative Commons Attribution-NoDerivatives 4.0 International License.
Please view the republishing articles page for more information.
---