There is a plethora of reasons why learners do not earn matric certificates at the end of Grade 12. While it's far easier to criticise the individuals and the education system, acting residence catering manager, Hester Smit, and the team at the University of Cape Town's (UCT) Department of Student Affairs (DSA) are piloting a plan that will help university staff complete matric and unleash their human potential.
When residence catering staff member Abigail Spogter was growing up in Klipplaat, a small town about 185 km from Gqeberha, she dreamed of being a doctor. Unfortunately, financial constraints and social challenges at the time meant that she was unable to matriculate with the rest of her class or pursue a degree in medicine.
Now, 30 years later, Abigail is back on track to becoming a matriculant and ready to fulfil her ambition of working in the medical field.
A new educational initiative driven by the DSA residence catering team is empowering professional, administrative support and service (PASS) staff to obtain their National Senior Certificate (NSC). Abigail is one of the 11 catering staff in the first cohort of DSA matrics who are aiming to matriculate at the end of 2023.
Still passionate about healthcare and with experience working in government clinics under her belt, Abigail has chosen subjects she believes will put her in good stead for becoming a pharmacist.
"I want to be a doctor, but it's a lot of time to invest at this stage of my life. I used to work in the clinic as a tuberculosis [TB] treatment supporter, so that inspired me to want to become a pharmacist," she explained.
In addition to finding inspiration from her time as a TB treatment supporter, where she was responsible for ensuring that patients took their TB drugs regularly, on schedule and for the full duration of their treatment, Abigail is consistently inspired by the students to whom she serves food.
"My desire to do matric started back in 2018 when I started working around the students. Seeing them and working with them in the university environment as a caterer inspires me every day. It made me think: What is keeping me behind? And it motivated me to follow my dreams."
Empowering staff to flourish
Smit said that it was stories like Abigail's that drove a realisation within the DSA that there was an opportunity for the team to unleash human potential through empowering and uplifting its staff members.
The initial scheme revolved around offering short courses at the staff learning centre. However, after seeing the team's eagerness to gain knowledge and figuring out that about half of all residence catering staff don't have matric certificates, the plan shifted to providing an opportunity for staff to complete matric.
"The sad reality is that some of our staff members – between 55 and 62% – have not had the opportunity to [obtain] their matric certificate.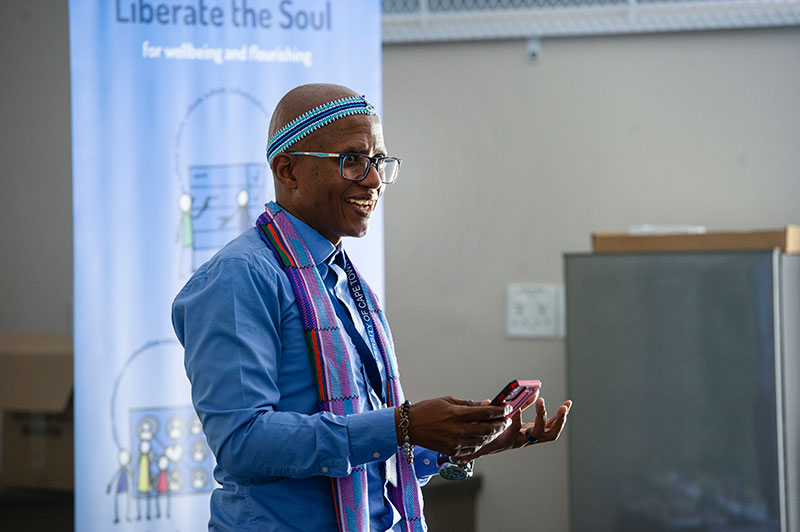 "We realised that if we want to see a positive change in staff morale, we need to show staff that their hard work, loyalty and commitment to UCT is truly appreciated. So, in 2022, we decided that we wanted to provide a safe platform for them to upskill, develop and flourish," she explained.
"A decision was taken to create and provide that opportunity for our staff. After plenty of discussions and planning, we started registering staff members for matric. We now have 11 staff members aged between 39 and 47 registered to complete their matric certificates in 2023."
The executive director of Student Affairs, Pura Mgolombane, emphasised that the initiative exemplifies the university's Vision 2030. "I think the initiative embodies the idea of unleashing human potential, which is exactly what Vision 2030 is about.
"It speaks to all three pillars of the vision. In terms of what it does for the individual and the community they come from; it is transformation in action. The work itself will create excellence, because when people feel good about themselves, they do their best work. Then, of course, there is also the sustainability that lies in lifelong learning," he noted.
"In the DSA, we also speak about the idea of liberating the soul for well-being and flourishing. These are extremely important activities for us because what getting matric will mean for the staff is that they feel good about themselves. When you feel good about yourself, you will become well. Once you are well, you can be liberated. And when you are liberated, you can flourish."
Quiet confidence
While the excitement was palpable when the DSA matrics gathered in the Avenue Road Residence hall to collect their certificates of enrolment and stationery packs, there was also a hint of trepidation in the air.
Nomxolisi Folokwe, a catering team staff member and mother of two school-going children, is cognisant of the doors that having a matric certificate can open. However, she's also acutely aware of the challenges that working and studying while raising children can present.
"I decided to do matric because you can't go anywhere in life without it. You can't get a job or get better things for yourself without it. But I don't want to pretend that it's going to be easy, especially when I'm working," she said.
"When I get home from my shift, I first have to look after my kids and help them with their homework. Then I'll have to do my assignments. So, I will have to be working late at night and it's going to be tough."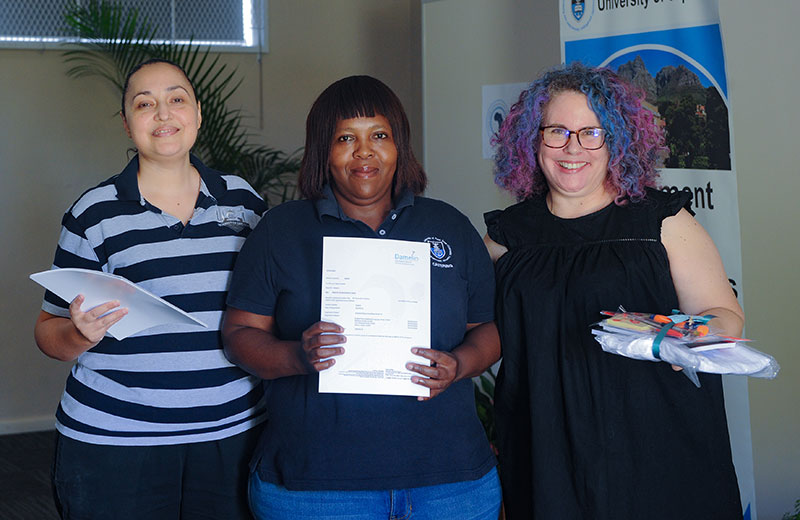 To this point, Smit pointed out that the DSA has put support structures in place to ensure that all of the matriculants have the best possible chance of success.
"We have a dedicated team that's running the project. They ensure that the study guides go out when they need to, that the classes are available online and that the matrics are actually able to attend those classes," she said.
"We've made study labs available where the matrics can access computers. We've set up study groups and we have volunteers who are going to assist the candidates. Plus we are going to be engaging the SRC [Students' Representative Council] to get support from the broader UCT community.
"This is not just an effort from the departmental team, it's a far bigger effort. We know that to achieve our goal, we need to get support from everyone to help our matrics cross the line at the end of the day."
Despite the daunting task of singlehandedly supporting two children while studying herself, this level of support makes Nomxolisi optimistic about what the year ahead holds. Knowing that there is a team behind her, she is confident that she will be able to obtain her matric and move on to even greater things.
"Whatever it takes, I'm going to try and I'm sure that I'll succeed. Then, when I have my matric, I want to continue studying. We have a lot of opportunities here at UCT, so I would like to make sure that I can use them to better myself," she said.
---
This work is licensed under a Creative Commons Attribution-NoDerivatives 4.0 International License.
Please view the republishing articles page for more information.
---