A cohort of students from University of Cape Town's (UCT) Department of Electrical Engineering recently embarked on a science, technology, engineering, and mathematics (STEM) outreach project at Portland High School in Mitchells Plain around themes of sustainability and e-Mobility, offering a glimpse into the exciting possibilities within these fields.
The two-day project included theoretical and practical demonstrations in a bid to kindle the curiosity of the next generation of engineers and innovators, instilling a passion for STEM subjects. This initiative is part of the Department of Electrical Engineering's broader socially responsive programme, linking its world-class research to direct community impact around UCT.
Kai Goodall, the outreach lead, and an electrical engineering MSc student, reflected on revisiting Portland High School because of their positive working relationship. "The students; principal, Ridwaan Williams; and head of the science department, Siphesihle Mgobo, have consistently shown a keen interest in our outreach programmes, and their receptiveness has been a driving force in our decision to return," Goodall said.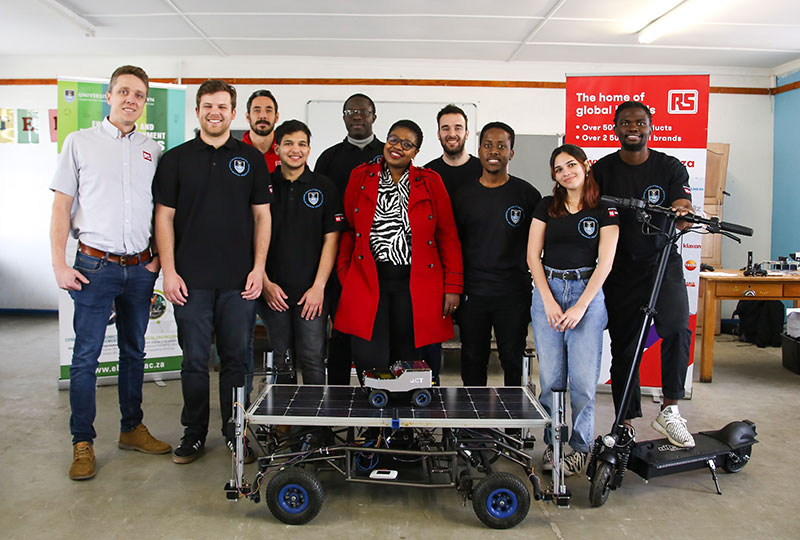 With a strong tradition of outreach initiatives and community engagement, UCT has provided a conducive environment for Goodall and Associate Professor David Oyedokun. Recently, Muhammad Aadil Eyasim joined the team as the vice outreach lead.
The team, under the tutelage of Associate Professor Oyedokun, who plays a pivotal role in mentoring and guiding young minds like Goodall and Eyasim, includes electrical engineering student volunteers: Dean Makoni, Gianluca Patrizi, Kauthar Du Toit, Kudzayi Samakande, Munashe Jambawo, Nyakallo Peete, Phemelo Maile, and Phenyo Dantjie.
On the first day, Oyedokun delivered an engaging lecture on e-Mobility and sustainability, emphasising the importance of these concepts in shaping a cleaner and more sustainable future.
Goodall took the stage to demonstrate the practical application of these principles with his educational artificial intelligence (AI)-solar-powered car, HeliosRover. His lecture brought the concept of sustainability and e-Mobility to life and inspired the students to think about innovative solutions for electric transportation.
"What sets this project apart is its sustainability aspect: the car is powered by solar panels equipped with an onboard solar tracker system."
The car has self-driving capabilities driven by AI and computer vision, allowing it to navigate autonomously through road lanes. "What sets this project apart is its sustainability aspect: the car is powered by solar panels equipped with an onboard solar tracker system. This system maximises solar energy collection by aligning the panels with the sun's path or a light source using light sensors (LDRs)," Goodall said.
Also on display were MercuryRover, Eyasim's educational high-speed AI car with stop sign and traffic light detection capabilities as well as an e-scooter and an electrically powered MINI Cooper. Eyasim took the stage to present his project and motivate the students, after which Patrizi delivered a lecture on the e-scooter and the future of wireless charging technologies.
"MercuryRover blends electronics, programming, 3D design, and sustainability, showcasing the culmination of my skills and creativity," Eyasim said. To make the sustainability statement, he included a solar panel in the car to power parts of it.
As much as the programmes are designed with school-going pupils in mind, the presenters also get the opportunity to showcase their work and share their knowledge – something Du Toit enjoyed during her interaction.
"The responsibility to uphold a sustainable outlook is vital to an electrical engineer to enable a reduction in the use of non-renewable resources and work towards a better, brighter, and cleaner tomorrow," she said.
'The sky is the limit'
For Jambawo, being part of initiatives like this one means telling students that in electrical engineering, "the sky is the limit". "[I] encourage students to have a sense of curiosity in their interests. By taking up STEM disciplines, the students' curiosity and interests morph into different aspects of the STEM discipline like problem solving, innovation, creativity, and personal fulfilment."
The electric MINI Cooper was also popular among the learners.
"The MINI Cooper S electric presented an opportunity for the learners to see and experience a complex electrical engineering system which is powered by batteries. It embodies the 'sense, think, and act' philosophy. During the two-day event, the learners got to appreciate the translation between solar energy and e-Mobility, the requisite skills for joining the field, and how important is it to take STEM subjects seriously," Oyedokun said.
"It was great to hear that many of them were already thinking of their futures in the STEM field."
He added: "This outreach programme strongly aligns with UCT's University of the Future initiative and serves as a testament to the Department of Electrical Engineering's dedication to socially responsive programmes."
Patrizi noted: "The two days struck the right balance of informing the students about e-Mobility and sustainability through the presentation and having them participate and engage with the subject by building the solar-powered alarm circuit.
"It was great to hear that many of them were already thinking of their futures and planning and setting goals, especially in the STEM field."
Hands-on
Through the generous sponsorship of RS South Africa, UCT was able to bring along 14 electronics kits for the students. The outreach programme's grand finale saw pupils tasked with building a robotic alarm system powered by solar energy, providing hands-on experience in electronic circuitry, mechatronics, and renewable energy.
"These projects are designed to provide a hands-on introduction to the exciting world of STEM fields while fostering a profound sense of accomplishment and enthusiasm for engineering among the participating students," said Eyasim of the task.
Jambawo observed: "The highlight of the outreach was witnessing the happiness when students had achieved the set tasks especially after they had not succeeded in their first attempts."
"I couldn't help but smile as they celebrated their victory as their buzzers beeped and their LEDs were lit."
Du Toit shared her sentiments: "They were all so eager to learn and I couldn't help but smile as they celebrated their victory as their buzzers beeped and their LEDs were lit."
The outreach also featured the launch of the STEM Club at Portland High School, run by Mgobo. This milestone underscores UCT's impactful outreach, inspiring other schools to form similar STEM clubs, a future goal for the programme.
In addition to the electronics kits, UCT donated two Arduino robotics kits to the school's STEM Club, once again made possible through the generosity of RS South Africa. Wesley Hood, RS South Africa's education and social impact specialist, said: "I am positive that this contribution will undoubtedly aid in fostering the club's growth and technological exploration. RS South Africa is excited to see this STEM club keep gaining momentum."
This initiative is supported by the Institute of Electrical and Electronics Engineers (IEEE) and RS South Africa for logistical and financial aid. Pick n Pay provided the catering.
---
This work is licensed under a Creative Commons Attribution-NoDerivatives 4.0 International License.
Please view the republishing articles page for more information.
---