Imagine spending nine months living through an Antarctic winter. That's around 270 dark days with temperatures dropping to -50°C with winds blowing at 250 kilometres per hour. Then, imagine leaving Antarctica and spending an equally lengthy period in the desert and after that, below the ocean.
It would be easy to assume that this is something out of the latest sci-fi novel or a scenario that would fit neatly into a Bear Grylls episode. But it is, in fact, part of candidate astronaut Adriana Marais's preparation for life on Mars.
Marais is one of 100 people from across the world who have volunteered and been selected for the Mars One mission. In brief, Mars One aims to establish a permanent human settlement on the Red Planet and test its suitability as a second home for humanity. And the humans who are going, like Marais, are going there to stay.
While the Mars One team looks to secure billions of dollars worth of funding, Marais, who is currently pursuing a second PhD in economics in resource-constrained environments at the University of Cape Town (UCT), is preparing for life on Mars using Earth's most extreme conditions.
The 36-year-old theoretical physicist recently shared her preparation plans with attendees at UCT's Graduate School of Business Alumni Weekend. In May 2019, she quit her job and founded the organisation Proudly Human. In 2020, team members will begin acquiring and building the necessary equipment for the "off-world settlement simulation experiment" and, in 2021, they will spend the winter at the White Desert Camp in Antarctica.
Lessons from Earth
Marais and Proudly Human's nine-month overwinter experiment in Antarctica will be the first such endeavour. While adventure is certainly a driver for her, the Antarctic trip will in fact help prepare her for life on Mars.
Temperatures on Mars average -60°C, comparable to those in the Antarctic. Because solar energy is not an option during an Antarctic winter, as it is on Mars, Marais and the team will be testing wind turbines and their performance at these low temperatures, and in extreme wind conditions. This is expected to provide the team with valuable data on an additional source of renewable energy on Mars.
"Once we have done all of these experiments, we will be ready to advise on the settlements on the Moon, Mars and beyond."
Antarctica also provides an opportunity to experiment with air. Although the air is breathable – on Mars, it's filled with carbon dioxide and the team will still need to heat it up using the wind turbines. On Mars, astronauts will need to extract air from ice crystals found in the sand.
"Either way, this will be in an enclosed habitat where we will also regulate the temperature," said Marais.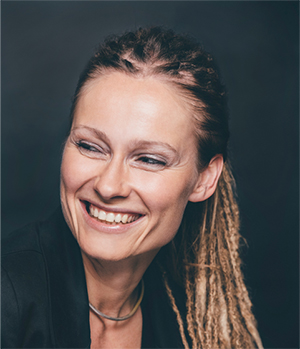 Then there's water – one thing Antarctica has in abundance, albeit in the form of ice. On Earth, the humble spade will be used to break up the ice while on Mars, rovers will be sent ahead of the humans to dredge up sand, melt the water out of it and store it in tanks. It shouldn't be all that hard to find water on Mars: Evidence in the canyons and pebbles on the Red Planet shows that oceans existed some four billion years ago.
"Looking at water management efficiency, I think if we can get that right on Mars … then building a desalinator in Cape Town becomes trivial," said Marais, much to the amusement of the GSB alumni.
Food for thought
As for food, Proudly Human will learn from the German Antarctic base, the Eden Project, which is run in collaboration with the International Space Station. They're looking at contamination and growing food in enclosed spaces.
Here again, the coldness and the resource efficiency required are comparable between Antarctica and Mars. There is the ability to machine-learn the exact light frequency and intensity as well as the exact nutrient ratios required.
Water will also be collected via a drip-through and recycled back into the system, which means "you can farm the most nutritious piece of food with the least amount of resources". This is a valuable experiment for us on Earth, she added, particularly for inhabitants of urban centres and for efforts to reduce our carbon footprint.
It could serve as a significant step towards food security and is, at a minimum, an alternative to the agricultural systems humans have been using for 12 000 years.
The final aspect of the 2021 overwinter experiment is communications. The first challenge the team will have to tackle is securing their antennas in powerful Antarctic winds because, like on Mars, communication and gathering data will be crucial. The team will also make use of 3D printing which Marais deems a "hugely crucial technology for sustainability off Earth".
"Once we have done all of these experiments, we will be ready to advise on the settlements on the Moon, Mars and beyond."
After Antarctica, which they plan to leave in 2022, the Proudly Human team will head to the desert and then plan to live under the ocean where they will continue their research on life support systems, water management, food growth and setting up communications systems.
"Once we have done all of these experiments, we will be ready to advise on the settlements on the Moon, Mars and beyond," said Marais.
Human resilience and courage
While her interest in and dream of life on Mars dates back to when she was still in school uniform, Marais is equally passionate about making her current home an equitable, just and healthy habitat for all.
Referring to Ernest Shackleton's voyage to Antarctica, she said it had great lessons for the overwinter experience, life on Mars and right here on Earth.
While Shackleton and his crew never made it to Antarctica, their story, she said, "is a true example of human courage, human resilience and the characteristics that we often forget to embrace in this era of comfort-seeking".
She said exploring was in our DNA and that this ability to "imagine a reality … that may lie just beyond the horizon" was, in fact, our power as humans.
"If we don't use this power to envisage a better future than the one we currently see ourselves on a trajectory towards, then we have wasted this gift."
She called on her fellow human beings to use their imagination for good.
"Every one of our dreams has a role to play, in fact a crucial role to play, because only through all of us imagining a better future can we really work towards and achieve … a glimmer of that Proudly Human future."
---
This work is licensed under a Creative Commons Attribution-NoDerivatives 4.0 International License.
Please view the republishing articles page for more information.
---