Breaking bread with and celebrating the victories of off-campus knowledge partners is one of the crucial ways in which a university can remain engaged in civic life. So, when the Philippi Horticultural Area (PHA) Food and Farming Campaign recently received a landmark court ruling in its favour, the University of Cape Town (UCT) joined in a special lunch celebration at founder and activist, Nazeer Sonday's, Schaapkraal farm.
Apart from the courtroom victory, the celebration also served as acknowledgement of a very important relationship between UCT's Global Citizenship Programme (GCP) and Sonday. This relationship started in the mid-2010s when former director of the GCP Associate Professor Janice McMillan approached him to share his knowledge around civic engagement and active citizenship in several GCP short courses, as well as on a credit-bearing course in the Faculty of Engineering & the Built Environment (EBE).
Since these courses encourage critical debate, voluntary service activities and reflection on key contemporary issues, Sonday's experience as an activist for the protection of the PHA and the Cape Flats Aquifer offered a perfect fit.
"We've had a rich working relationship with Nazeer," said McMillan. "More than just acknowledging him as a knowledge partner, we want – as citizens too – to recognise his role as a guardian of our water."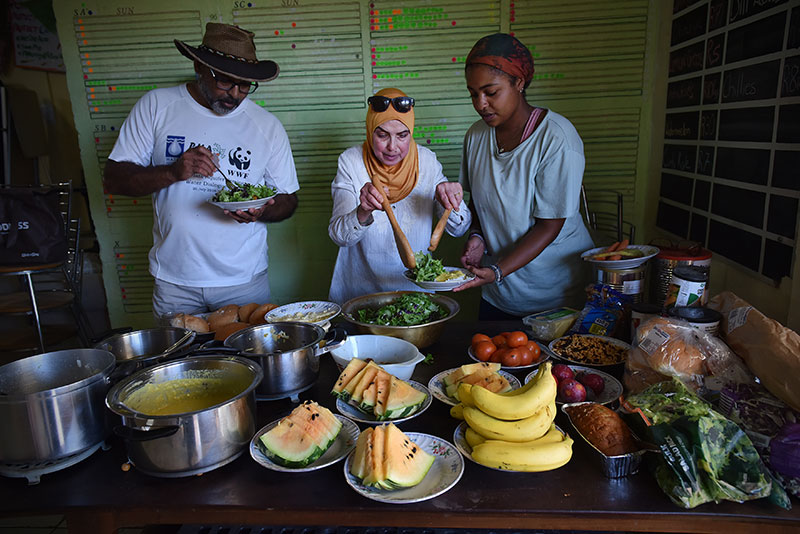 Gathering around the large table in the middle of the PHA Food and Farming Campaign's headquarters, various PHA staff and farmers, together with UCT staff members and students, had the opportunity to show their appreciation for Sonday's hard work, as well as to celebrate the campaign's recent court victory over a delicious home-cooked and freshly harvested lunch.
Precedent-setting ruling
For the past 10 years, the PHA Food and Farming Campaign has been at the forefront of a legal battle with various large-scale property developments in the Philippi area.
These have been gruelling times for Sonday and his allies, but in February their perseverance was rewarded with a precedent-setting Western Cape High Court ruling by Judge Kate Savage, which found that neither the City of Cape Town nor the Western Cape Government had properly considered the impact a housing development would have on the Cape Flats Aquifer.
She ordered that Western Cape MEC for Local Government, Environmental Affairs and Development Planning, Anton Bredell, reconsider the impact the Oakland City development will have on the area in the context of climate change and water scarcity.
"In our team, we consider it to be a precedent-setting awarding where the judge said that the City and province must consider the aquifer, water scarcity and climate change when making planning decisions," said Sonday during the celebratory lunch. "Now, if similar issues come up elsewhere in the country, this ruling can be used."
Future dreams for PHA
While there is much cause for celebration and hope, Sonday knows that there's still a lot of work to be done. Standing in the middle of a dirt road with a field of carrot greens sticking out above the sandy soil on one side and the still untouched contested land on the other, he shared his future vision for the 3 000 ha PHA.
"Our dream is to have this whole area farmed by small-scale farmers; 500 of us are putting in fynbos and food and berms – all kinds of stuff that protect the water."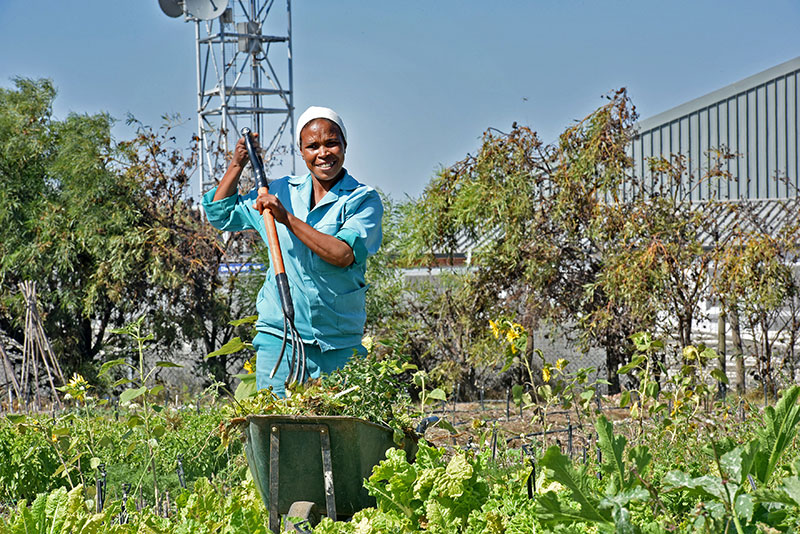 Even though Sonday has been leading the charge in this ongoing battle, he's quick to divert any attention back to the land in question.
"I don't think I'm anybody special. I just think there are circumstances that prevail for us here to try to protect what we have," he said. "These circumstances make us understand that actually we have to think about a whole bunch of different things ─ not just about farming."
Valuable partnerships
It is precisely this approach that has made the GCP's partnership with Sonday and the PHA Food and Farming Campaign particularly fruitful.
His expertise has proven to be especially valuable in the Social Infrastructures (END1019L) course, the credit-bearing humanities elective tailor-made for EBE students that McMillan initiated in 2013, and currently offered via the GCP. As part of the course, students are expected to spend time in off-campus classrooms to gain a richer understanding of the knowledge that exists beyond the realms of their discipline and campus.
"There are circumstances that prevail for us here to try to protect what we have."
"There's a particular interest in working with Nazeer that is more than teaching our students," said McMillan. "He offers a deeper understanding of how our city, citizenship and climate justice can work together, about the importance of this aquifer, about [small-scale] farmers, and about how important it is to understand and challenge power relations in contexts of deep inequality."
She added that even though nurturing community partnerships requires hard work and is not often rewarded in teaching and research environments, it is crucial to the work of building a more inclusive university.
"It takes time, but it brings the university into context with its city, where it's located in the world," she said. "And eventually it becomes a university that is more porous and more connected."
The importance of experiential learning
Nurturing these sorts of partnerships is also central to Vice-Chancellor Professor Mamokgethi Phakeng's vision for a more inclusive, engaged and connected UCT.
As McMillan pointed out, working closely with civic leaders like Sonday broadens students' understanding of what knowledge is and makes them aware of the fact that it doesn't only exist on campus or in their own discipline.
She is particularly passionate about the concept of 'embodied learning', where students come to new understandings through their own experiences rather than mere book knowledge.
"What facilitates real change is when it's embodied. When you feel it in your body and your being."
"Many excellent courses teach students about inequality, but I think what makes [those offered in the GCP] slightly different is that we get students to experience these issues in the world," she said. "You haven't just learned about food security. You've learned about someone's story and their history and their space.
"This in turn is important in helping students understand that there are many forms knowledge takes; we need to disrupt the idea of a hierarchy of knowledge, which places academic, technical knowledge above other forms. Lived and experiential knowledge is critically important in educating students as citizens working for social justice.
"What facilitates real change is when it's embodied. When you feel it in your body and your being."
---
This work is licensed under a Creative Commons Attribution-NoDerivatives 4.0 International License.
Please view the republishing articles page for more information.
---