South Africa has the world's largest cohort of young people with HIV. More than 300 000 adolescents aged between 10 and 19 are living with the virus. Part of the born-free generation, their health outcomes – and those of their families – reflect the triumphs, as well as the enduring challenges, of post-apartheid healthcare, said Dr Rebecca Hodes, the recipient of the University of Cape Town's (UCT) Social Responsiveness Award for 2019.
Dr Hodes is a researcher in UCT's AIDS and Society Research Unit, which straddles the faculties of Humanities and Health Sciences. The award recognises her collaborative study Mzantsi Wakho (Your South Africa), which was conducted in the Eastern Cape.
Hodes described it as a large, longitudinal, mixed-methods study about adherence to medicines and sexual health practices among young people living in post-apartheid South Africa. The researchers worked in 108 facilities across the province.
The study is unique because of its participant population: over 1 000 HIV-positive adolescents and young adults, most of whom were vertically infected through mother-to-child transmission at a time when antiretroviral (ARV) treatment was inaccessible.
"Their lives span critical developments in politics, public health and social development."
"Their lives span critical developments in politics, public health and social development," Hodes wrote in her award application. "Because of the delayed provision of public ARVs in the Eastern Cape, a proper programme to prevent mother-to-child HIV transmission was provided only from 2005.
"However, their ongoing survival and well-being is premised on another key development in politics and public health in South Africa: the national roll-out of HIV treatment and subsequently the establishment of South Africa's HIV treatment programme as one of the largest and most effective public health interventions in history."
They were also able to develop novel, participatory research and analysis methods designed to engage and empower young people.
She continued: "In its broadest sense, the study is about the lives and experiences of youth in democratic South Africa and about the vast potentials and opportunities, coupled with the ongoing challenges and constructions of growing up in the post-apartheid present.
Collaborative study
The study began in 2013 with a research grant by the International AIDS Society's Collaborative Initiative for Paediatric HIV Education and Research. In partnership with the University of Oxford's Department of Social Policy and Intervention, the UCT AIDS and Society Research Unit established the study in the Eastern Cape. Hodes has led its qualitative research components since 2013. In 2015 Mzantsi Wakho researchers were lead authors on South Africa's National Adolescent and Youth Health Policy.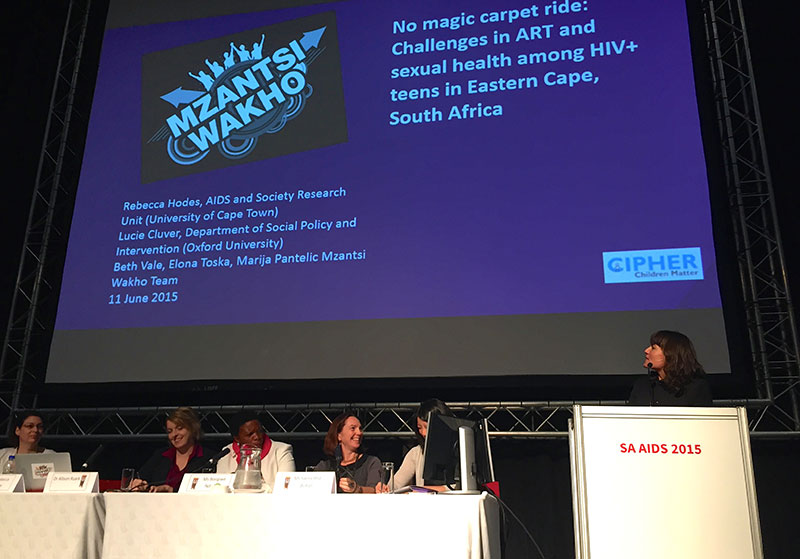 The choice of the Eastern Cape for the study site was important.
"It was essential to locate the study in settings at the fulcrum of democratic development, in previous bantustans in which service delivery in South Africa's transition to democracy has been targeted," Hodes explained. "Mzantsi Wakho research is led by local researchers in partnership with the South African departments of Health, Social Development and Basic Education, and with civil society organisations, including Paediatric-Adolescent Treatment Africa."
Blindsided by an epidemic
Medical historians like Hodes are rare; in South Africa they're a small collective of some dozen academics who self-identify primarily as medical historians, she said.
"We study the past, and hopefully make greater sense of the present, through exploring histories of illness, health and healing … We're a pretty eccentric bunch, with a high collective gross factor and an enduring love of primary sources, archives, artefacts and lengthy, collegial correspondence!"
Her own social activism was awakened as an undergraduate at Rhodes University, also in the Eastern Cape. In first year she realised there was no sustained or organised student advocacy focused on HIV.
"I was born in 1981, the first year that AIDS was identified as a new disease, and my childhood was punctuated by the dawning fear."
"I was born in 1981, the first year that AIDS was identified as a new disease, and my childhood was punctuated by the dawning fear, the horror really, of the global HIV pandemic. My undergraduate years at Rhodes spanned the time of mass deaths from AIDS in South Africa, and I think my generation of students, poised to push forward democratic redress, was partly blindsided by the epidemic."
The student organisation that was founded focused on access to HIV testing and treatment.
"This grew through collaborations between students in the sciences and humanities to develop HIV awareness campaigns that resonated with the lived experiences of our friends and ourselves," she said.
This advocacy was reflected in Hodes' academic work, her history honours thesis focusing on the emergence of the Treatment Action Campaign (TAC), an HIV activist group that was adapting queer rights and anti-apartheid advocacy during her time as an undergraduate to fight for access to HIV medicines.
A scholarship took her to Oxford where she completed an MSc in the history of medicine, science and technology. Her work examined the histories of Western medicine in Africa and focused on science and imperialism. Hodes' DPhil in the history of medicine was a study of HIV on South African television.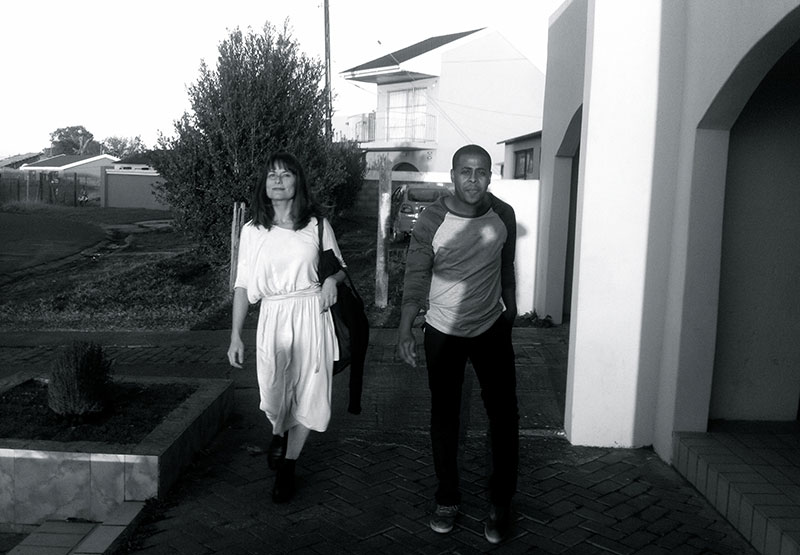 "This work was a social history of activism, including anti-apartheid, gay rights and HIV treatment activism, combined with a study of health communications and particularly the power of television."
Ten days after submitting her PhD thesis, Hodes started a job as director of the TAC's Policy, Communications and Research Department.
"After a hectic year of advocacy, I was approached by a long-standing mentor and scion of HIV social science in South Africa – Professor Nicoli Nattrass – to apply for a postdoctoral fellowship at UCT and to convert my thesis into a book. I've been working in the Humanities and Health Sciences faculties at UCT ever since.
Double celebration missed
Winning the Social Responsiveness Award is an emphatic endorsement of her work. It's been heartening, she said.
"A lot of academic work is solitary, niggly and monotonous. One of our primary objectives within the Mzantsi Wakho research study, and of the AIDS and Society Research Unit more broadly, is to conduct and share research that is problem based, and that hopefully provides insights into understanding and addressing 'super wicked problems'. Examples are the interface of gender inequality and sexual violence, poverty and persistent high rates of HIV incidence, which are fundamental challenges to public health in South Africa."
But COVID-19 has meant that Hodes couldn't receive the award at the usual mid-year graduation. She rues the lost opportunity for what would have been a double celebration.
"My colleagues were especially thrilled about the news of the award as one of my doctoral students, Lesley Gittings, who had just completed a powerful research study on traditional circumcision and adherence to HIV medicines, was going to be capped at the ceremony. Celebrating the award together with Lesley's graduation would have been a double delight."
Gittings has since returned to Canada. But there's been little chance to look back, Hodes said.
"We've immersed ourselves in the challenges of the COVID-19 pandemic, and particularly its intersections with HIV and TB."
"We've immersed ourselves in the challenges of the COVID-19 pandemic, and particularly its intersections with HIV and TB among people living in the global south, and I am working with global health and human rights activists in a large advocacy project spanning South Africa, India, China, Guatemala, Sierra Leone, the Ukraine, Indonesia, Malawi and Nepal."
Returning to the Mzantsi Wakho study, does she have a sense of a lost generation in the youths studied? It's difficult to generalise, but she found the study group "collectively resilient and aspirational".
"The reality is that, despite the enormous sums of money spent on HIV prevention and treatment, South Africa's HIV incidence rates remain high, with approximately 240 000 new infections in 2018 alone."
Though South Africa has achieved remarkable results with the public roll-out of antiretroviral treatment, the Joint United Nations Programme on HIV and AIDS estimates that over 70 000 people in South Africa died of AIDS in 2018.
"Advances in scientific medicines, and the successful struggle for public access to these drugs, has transformed HIV from a fatal illness to a chronic and manageable condition. We have to work harder to understand why people struggle to adhere to their medicines, and why the stigma around HIV remains."
Her advocacy work also continues at the public interface, writing for a range of online publications such as Daily Maverick, where she is a regular contributor. It's an important nexus.
"The late John Lewis encouraged people to get into 'good trouble'. I write for the public media when it seems that particular orthodoxies or, conversely, collective silences, are taking hold. It's an enormous privilege to be able to write and think freely and critically, and to do this for a wider readership beyond niche academic interest groups. The social media can be a jagged playground, but sometimes you just have to join the fracas."
What of the future for the country's vulnerable youth?
"It's a truism that South Africa has beautiful policies but that their implementation lags, starting right at the top with the Constitution. The policies are certainly there on paper, but what is lacking, perhaps, is robust, critical and tenacious advocacy, in particular by youth, to ensure that these are realised.
"Historians tend to avoid making predictions about the future and, if 2020 has taught us anything, it is that we live in deeply uncertain times. But I feel confident that South Africa's future leaders – including many UCT students – will transform society for the better."
Read more about Social Responsiveness at UCT.
---
This work is licensed under a Creative Commons Attribution-NoDerivatives 4.0 International License.
Please view the republishing articles page for more information.
---