Investigators at the University of Cape Town (UCT) are working with the South African National Blood Service (SANBS) and the Western Cape Blood Service (WCBS) to conduct the PROTECT-patient trial.
The trial will investigate the use of convalescent plasma (CP) from people who have recovered from COVID-19 to generate evidence on the effectiveness and safety as treatment for patients with moderate to severe COVID-19 pneumonia.
International experience, which has been mirrored in South Africa, has shown that around a quarter of the people who need oxygen for more severe COVID-19 pneumonia may die from the disease. Outcomes for those placed on ventilators for respiratory failure is worse. Various drugs are being investigated to reduce the need for mechanical ventilation and improve survival for those with severe COVID-19; two have shown some efficacy so far, only one of which (dexamethasone) is available in South Africa.
"Other safe, accessible, and affordable treatment options are clearly needed and must be established through the conduct of well-designed clinical trials before being used in routine patient care," said Associate Professor Sean Wasserman at the Department of Medicine in the Faculty of Health Sciences, and the co-principal investigator of the PROTECT-patient trial.
Wasserman is also a contributing investigator at the Wellcome Centre for Infectious Diseases Research in Africa, which is supporting the trial through its core infrastructure. The centre is housed at UCT's Institute of Infectious Disease and Molecular Medicine.
The trial comes as a surge of COVID-19 infections, the respiratory illness caused by the novel [severe acute respiratory syndrome] SARS-CoV-2 virus, is projected to peak in the country between July and September 2020. The spike of infections, according to South Africa's health minister Dr Zweli Mkhize, has changed hands from the Western Cape to Gauteng now becoming the epicenter of the pandemic.
The use of CCP
Plasma is the colourless part of blood that does not contain red blood cells. COVID-19 CP refers to plasma collected from donors who have recovered from COVID-19 and have likely produced neutralising antibodies to SARS-CoV-2. It is hypothesised that infusing plasma that has virus-specific antibodies will provide immediate transfer of passive immunity to the recipient and may improve their clinical course and outcomes by accelerating viral clearance and antibody-dependent killing of infected cells.

A paper co-authored by Wasserman and published in The South African Medical Journal, states: "The use of convalescent plasma (CP) as passive immunisation to treat viral infections is not novel. Early administration of CP has proved successful in reducing mortality from severe influenza as well as the related epidemic coronavirus severe acute respiratory syndrome (SARS)-CoV, and has been used successfully in Middle East respiratory syndrome (MERS)-CoV and Ebola virus disease … Where CP was used to treat SARS-CoV infections, the absolute risk reduction in mortality ranged between 7% and 23%, and CP was associated with earlier discharge from hospital. It is because of the positive results of these trials, in addition to the lack of successful treatment options available at present, that the use of CCP has been considered in the current SARS-CoV-2 pandemic."
According to Wasserman, "Treatment outcomes with CCP in China and the United States have been encouraging, showing reductions in viral load and improved clinical and radiological parameters. However, these findings have important limitations, including small numbers of patients; lack of blinded, randomised or placebo-controlled study design; and patients receiving concurrent experimental therapies that may have independent effects."
He said that although generally safe, there are certain side effects associated with plasma transfusions that need to be better understood in the context of widespread use.
"Despite unproven benefit, CCP has been included in the treatment guidelines for severe COVID-19 in China, and the Food and Drug Administration approved its use for critically ill COVID-19 patients in the context of clinical trials and through an expanded access programme in the United States," he said.
But there's still a lot to be done. Larger controlled studies are required to establish the safety and efficacy of CCP for evidence-based treatment decisions to be made.
Benefits of a successful trial
While most people with COVID-19 (up to 20%) have mild symptoms – particularly older people and those with comorbidities – they may develop pneumonia and require hospitalisation. The PROTECT-patient trial is designed to test whether CCP is safe and effective at improving clinical outcomes for people admitted with COVID-19 pneumonia. Once approved, the trial will involve 600 participants at multiple hospitals across South Africa, with each participant receiving a single infusion of either CCP or saline placebo, in addition to regular care, and monitored for up to 28 days.
"A successful trial will provide definitive evidence on whether CCP should be used in our population."
"A successful trial will provide definitive evidence on whether CCP should be used in our population. If CCP is shown to be effective, it will have a major impact on the management of patients with severe COVID-19, potentially reducing the need for mechanical ventilation, with important implications for resource allocation," said Wasserman.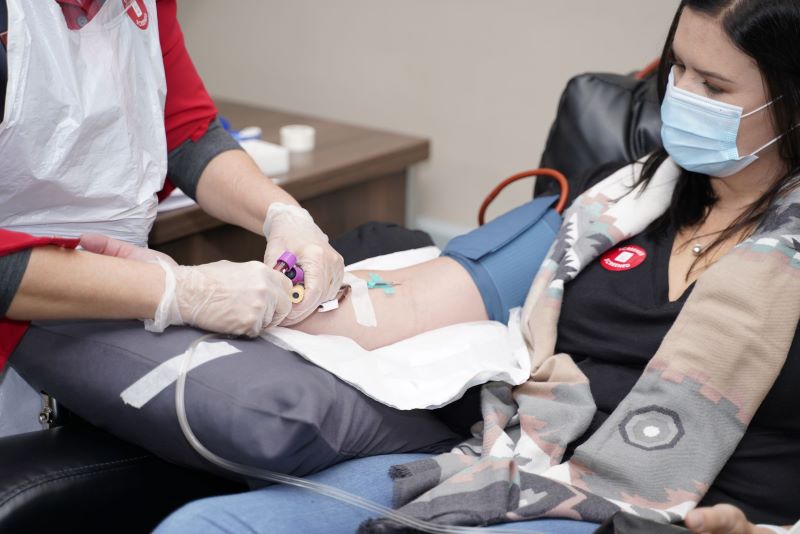 South Africa is primed for this type of work because SANBS and the WCBS can produce CCP locally. A protocol has been developed and approved for collection of CCP and people who have recovered from COVID-19 are encouraged to donate their plasma to support the trial.
"Both SANBS and the WCBS are committed to support efforts against the COVID-19 epidemic. Through our national footprint of quality-driven blood donor centres, processing and testing laboratories and blood banks, we are uniquely positioned to collect the CCP for the clinical trial and then, if proven efficacious, rapidly scale collection and production thereof," said Dr Karin van den Berg, SANBS project co-lead on the PROTECT-patient trial.
"The blood services have always been able to rely on the South African population to ensure a safe and sustainable blood supply and we are confident that those South Africans recovered from this disease will once again heed the call to support others in need."
---
This work is licensed under a Creative Commons Attribution-NoDerivatives 4.0 International License.
Please view the republishing articles page for more information.
---