In response to the COVID-19 pandemic, the University of Cape Town's (UCT) Students' Health and Welfare Centres Organisation (SHAWCO) has stepped up to continue their work in under-resourced communities across Cape Town.
Along with the education team, SHAWCO Health has been hard at work during the nationwide lockdown, adapting and responding to the needs of their partner communities, which include Imizamo Yethu and Hangberg in Hout Bay, Khayelitsha, Gugulethu and Manenberg.
This work by the student-led non-profit organisation includes the distribution of pamphlets, home care packages, a fundraising initiative, work with homeless people and a flu vaccination drive.
"The UCT community's response to our call for donations was extremely heart-warming."
Shortly after news of the impending lockdown broke, the SHAWCO Health team created pamphlets in English, Afrikaans and isiXhosa. These pamphlets contained important information about handwashing, social distancing, COVID-19 symptoms and the contact details for relevant call centres. They were distributed to all SHAWCO partner communities and were accompanied by soap and hand sanitisers.
Addressing challenges
When lockdown came into effect, SHAWCO Health identified challenges faced by their partner communities: overcrowding in informal settlements, lack of amenities such as bathrooms, and food insecurity.
In informal settlements like Imizamo Yethu, residents live close to one another and frequently share amenities. Preventing the spread of the virus was thus a major concern for the team. The challenge of food insecurity was worsened by the loss of jobs and income, the impact of which could be seen in protest action in Mitchells Plain.
"We wanted to assist with both these issues and needed funds in order to do this," said SHAWCO Health president, Sana Salduker.
In response, the SHAWCO health and education teams joined forces and launched the online campaign #BeKindOnline. With the help of the SHAWCO volunteer community and social media influencers from the broader UCT community, they managed to surpass their goal of raising R200 000, bringing in an additional R100 000.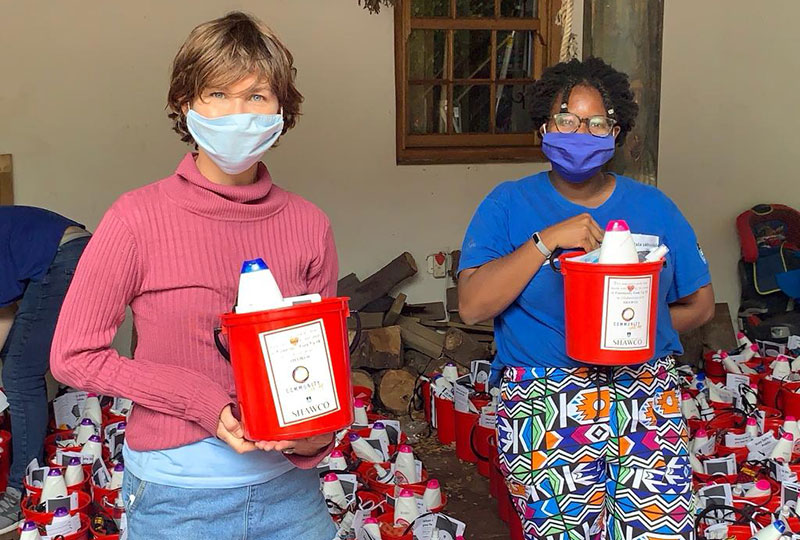 "The UCT community's response to our call for donations was extremely heart-warming," said Salduker.
With the funds raised, SHAWCO distributed home safety kits, including masks, sanitisers, household cleaning agents and sanitary pads to over 500 households in Imizamo Yethu and Hangberg. SHAWCO Education also used some of the funds to feed over 1 000 people on the Cape Flats by collaborating with local soup kitchens.
Community outreach
SHAWCO Health's work during the lockdown has also seen the student volunteers provide essential health services to some of the most high-risk communities, including homeless people and the elderly.
In the early stages of the lockdown, SHAWCO Health was contacted by the City of Cape Town to provide medical care to homeless people who had been relocated to a camp in Strandfontein. While the camp has since closed, the team was happy to have played their part in assisting the City and the homeless community.
"SHAWCO Health works closely with the homeless community as we usually have a free clinic at The Haven Night Shelter every week," explained SHAWCO Health vice-president, Robyn Kamau.
Their work in Strandfontein was featured in a recent Talloires Network newsletter. The Talloires Network, of which UCT is a member, is an international body that fosters community engagement in institutions of higher learning. They provide opportunities to student volunteers, which include conferences, funding and awards.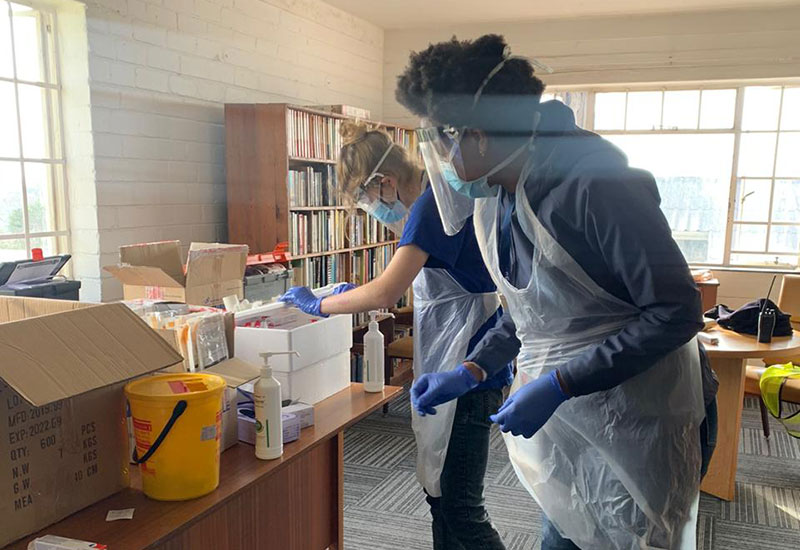 "It is a fantastic network to be a part of as it connects us to other universities and students who care about community outreach all over the world," said Kamau.
"We can learn from each other [and] be inspired by incredible student-led outreach happening on a global scale."
Distanced but together
SHAWCO Health continues to adhere to the safety precautions outlined by authorities such as the World Health Organization. These include screening, social distancing and regular handwashing. All volunteers have also been working in full personal protective equipment.
"We often work with people who are unwell or vulnerable, and our main concern is not spreading the virus to our patients and communities," said Salduker.
Prior to the lockdown, SHAWCO Health coordinated six clinics in various Cape Town communities. These clinics included services such as paediatric screening, physiotherapy and occupational therapy. Unfortunately, due to the lockdown, the in-person nature of the work and the risks involved, the clinics have been temporarily closed. Once it is safe to do so, the team will return to providing free primary healthcare in their partner communities.
Despite this, the SHAWCO Health team continue to use their skills for good and are currently collaborating with low-cost housing provider Communicare to provide flu vaccinations to elderly people. They are also continuing their health promotion work and will provide up-to-date evidence-based information on the virus and debunking common misconceptions about COVID-19.
While the pandemic and the lockdown have brought about very real challenges, the SHAWCO Health team are grateful for the many messages and photos they receive from community health workers, thanking the students for their work and commitment to communities.
"Although we were social distancing, these activities and the fight against COVID-19 has brought the large SHAWCO community together," said Salduker.
---
This work is licensed under a Creative Commons Attribution-NoDerivatives 4.0 International License.
Please view the republishing articles page for more information.
---