COVID-19 infection risks do not disappear immediately after the death of those who succumb to it. In death's aftermath, the people closely involved with the body – families, carers, priests, hospital porters and undertakers – remain at risk. University of Cape Town (UCT) forensic scientist Dr Marise Heyns has been travelling the length and breadth of the Western Cape province, training organisations on how to manage human remains in the context of the virus.
For Heyns, lockdown has meant four wheels, a road map app and food on the move (padkos). Having volunteered to assist the state Forensic Pathology Services (FPS) at the start of lockdown, Heyns took over some of their training sessions in the Western Cape in April. The province has the country's highest reported infection and mortality rates.
Since then, the senior lecturer in biomedical forensic science in UCT's Division of Forensic Medicine and Toxicology has travelled extensively – including to Ceres, Swellendam and Bredasdorp – over 3 000 km across the province to train those who manage the dead, where there are still dangers of becoming infected.
"COVID-19, as a coronavirus, is categorised as a hazard group 3 pathogen. All decedents should be managed as potentially infectious," Heyns explained. "Infection is transmitted via droplets spread from person to person, through face-to-face contact or from contaminated surfaces. Caution should be used in procedures such as moving the body or handling possibly contaminated clothing."
Need to know
Her training includes information sessions (virtual or in person) on COVID-19 and the aims of lockdown, demonstrations of donning and doffing personal protective equipment and clothing, and all the steps and stages between death and burial or cremation.
"Typically, we discuss the collection of the deceased in homes and hospitals, sources of contaminations, minimising contact with infected surfaces, protection, handling of paperwork, movement of bodies from home or hospital to undertaker to cemetery or crematorium, disinfecting equipment and vehicles – and the safe disposal of medical waste."
The need for information has been particularly marked among undertakers, hospital porters and care home staff.
For example, Heyns said that many funeral services did not know how long aerosol droplets from the deceased's lungs, deposited before death, could remain infectious, and how the surfaces under and around the deceased may infect them.
"I've realised that the industry is largely unregulated, with many small enterprises functioning without adherence to minimum standards. These are spread widely in the metro regions, but not as much in the smaller towns."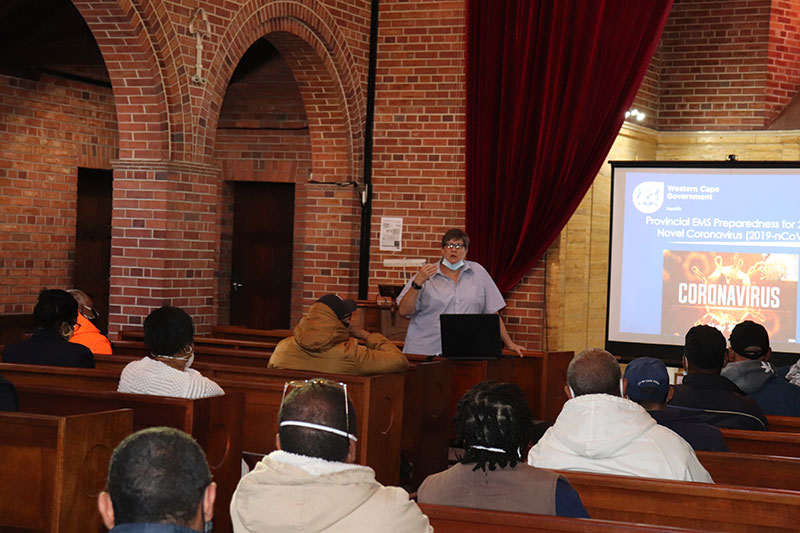 So far, Heyns has trained more than 700 people virtually and in person (following all the necessary safety precautions), helping them "prepare for the worst of the pandemic". The Western Cape's levels of COVID-19 infection and commensurate deaths are expected to rise steeply in the next months as people return to their workplaces and sectors of the economy reopen.
Heyns said she had received "only praise and gratitude" for her direct approach to presenting the extent of COVID-19 risks and her innovative approach on minimising risk in cost-effective ways.
Swab all bodies
Her work for the FPS does not involve testing, but she believes swabs should be taken from all bodies brought to undertakers and state mortuaries to help contact tracing.
"It's not yet a requirement to take swabs from all deceased, and this not only affects the stats and data, but makes tracking difficult," Heyns noted. "If we do not know who was positive at the time of death, we can't test and isolate the people who have been in direct contact, such as family, carers, and so on."
"It's not yet a requirement to take swabs from all deceased, and this not only affects the stats and data, but makes tracking difficult."
While Heyns travels, what she has seen on her road trips is not reassuring.
"Not everyone is practising social distancing or wearing protective masks. Over the weeks that I have travelled, I can categorically state that social distancing was, and still is, not practised. Masks are also mostly used when shopping but not when socialising in the streets or neighbourhoods. There seems to be no difference in the number of people outside places of residence during lockdown compared to any other time."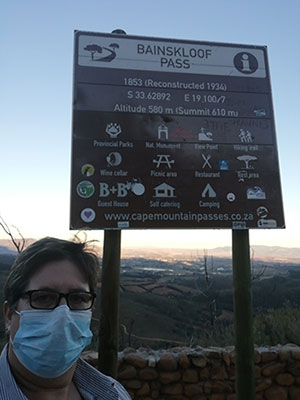 There's also confusion about which guidelines to follow from death to burial or cremation.
"There are so many national and provincial guidelines, directives, circulars and regulations going around that there are conflicting instructions. Not one of these documents address the complete path of a deceased from death to burial or cremation for all the possible handlers of the remains. On top of that, some will advise following [the] World Health Organization guidelines.
Service protest
There is also misunderstanding among undertakers about what is or isn't allowed during burial ceremonies.
Heyns cites one bizarre example.
"A few weeks ago, there was a guideline that asked undertakers not to provide chairs or gazebos at the cemeteries, as these must be decontaminated after use. One family got upset with their undertaker for not providing the 'full' service when another undertaker on the day had provided chairs for the family they were contracted for. This resulted in the first undertaker being chased around the cemetery by a highly upset, shovel-wielding family member!"
"One family got upset with their undertaker for not providing the 'full' service."
The latest amendment posted in Government Gazette No 43350 on 25 May 2020 (Government Notice No 457) indicate that only close family should attend the funeral service of a person who died of COVID-19; that burial services be restricted to two hours; that the body may not be delivered the night before the burial, but in the morning of the burial; and that the funeral undertaker must ensure that the remains are not touched during viewing.
During this period of training, Heyns has identified areas for improvement in the identification of all stakeholders. This includes the process of dealing with COVID-19 remains, in the manner guidelines and instruction are communicated; ensuring all stakeholders receive prompt, accurate and effective instructions; and the manner questions or issues arising from the handling of remains can be addressed.
"I have collected valuable research data, which can now be analysed and translated into recommendations for future applications," she said.
Shoulders to the wheel
Heyns is among many UCT staff doing their bit during the pandemic. In the health sciences faculty, for example, staff at the Division of Forensic Medicine and Toxicology ran a socially distant sweatshop where a facemask factory was set up to cut and pin facemasks.
This "can-do" attitude is especially pertinent with the focus on Africa Month – and what it means to be African.
Heyns is quite clear about this.
"For me being an African means that you care for each other and carry people's best interests at heart, even if it means taking risks yourself. Yes, there is a risk for me to enter hotspots and come into contact with people and premises where [the] COVID-19 virus is present, but if my sessions can protect these essential workers and save but one life, it would all have been worth it," she said.
"I know that not only are these workers at risk, but their families and anyone they come into contact with outside their work environment is also at risk."
She added, "Scientia potentia est. Knowledge is power but 'Knowledge shared is knowledge squared'."
---
This work is licensed under a Creative Commons Attribution-NoDerivatives 4.0 International License.
Please view the republishing articles page for more information.
---