The University of Cape Town's (UCT) Office for lnclusivity & Change (OIC) wrapped up its month-long Sexual and Gender-Based Violence (SGBV) Indaba on 31 August, which interrogated administrative justice.
The indaba drew from multiple disciplines to interrogate the university's current practices, and the last day brought the institution's special tribunal, incorporated with the findings of UCT's Sexual Misconduct 2022 Report, into the spotlight.
Throughout the month of August, the faculties of Humanities, Engineering & the Built Environment, and Law, as well as residences, hosted themed dialogues each week unpacking topics that challenge the university.
"The theme compels for an examination of the beneficiaries and potential casualties of administrative justice. The theme raises questions about which voices are amplified and which are silenced, as well as which experiences are foregrounded versus those that are marginalised," said UCT Deputy Vice-Chancellor (DVC) for Transformation, Student Affairs and Social Responsiveness Professor Elelwani Ramugondo.
"The challenges are many and multifaceted, and the inherently sensitive nature of SGBV coupled with the complexities of the administrative process often render survivors to secondary victimisation. Our aim is to explore structural impediments that hinder reporting, case resolutions, support, justice as well as biases that affect administrative decisions."
"We need to avoid running administrative processes like many criminal courts."
The last day also heard contributions from Professor Jameelah Omar from the Faculty of Law; Anne Isaac from UCT's Special Tribunal; Nthabiseng Sepanya-Mogale, commissioner of the Commission for Gender Equality; and Seehaam Samaai from the Women's Legal Centre.
Professor Omar said that adversarial processes in holding perpetrators accountable often had an unintended consequence of inflicting more harm on the survivor because the process mirrored the criminal justice system.
"There exist prejudices, myths, and stereotypes about complainants of sexual violence. This is exacerbated by emphasis on oral evidence because it means the truth of the complainant's version is tested by how well they conduct themselves on the stand [and] how well they fare under cross-examination," said Omar.
She added: "We need to avoid running administrative processes like many criminal courts. That's not the mandate of administrative tribunals. There is an effort to move away from the rigid structure of an adversarial process."
Stats
SGBV-reported cases in 2022 increased slightly compared to 2021, as the report noted 35 more reported incidents in 2022 than in 2021. In 2022, the OIC received 138 reports of SGBV.
Importantly, the report emphasises: "The OIC receives reports from survivors who have experienced trauma recently or who are coming forward to receive assistance for historic incidents of sexual violence. The value of this approach means that UCT can offer psychological support and accommodations to staff and students regardless of when and where the trauma took place. This approach does, however, inflate UCT's reporting statistics in comparison to other universities which may not offer a similar service."
Isaac drafted a new set of disciplinary procedures for sexual misconduct for the Special Tribunal. These were approved by Council in December 2020.
She spoke about the adversarial versus inquisitorial procedure: "In an administrative space, the obligation is to prove your case on a balance of probabilities. It's a lower test," Isaac said.
She continued: "On a balance of probabilities, we were looking for which is the more likely version based on the required evidence of the process. But we were burdening the process and survivors because the way it was unfolding was akin to a criminal court."
They have tightened their processes by way of having a legally qualified person as the presiding officer who has experience in matters of SGBV. The assessors, who are staff and students, continually engage in mandatory training on SGBV.
This process also requires a different lens of interpreting trauma evidence, Isaac said.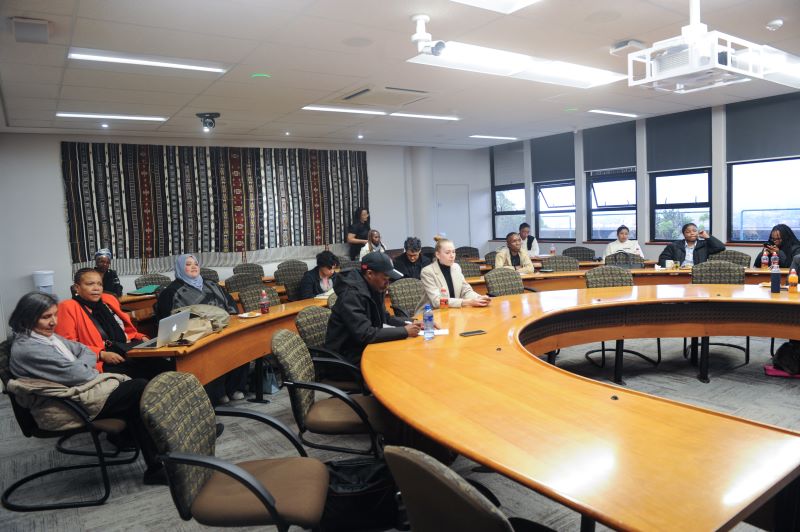 Sepanya-Mogale's approach to the dialogue was to probe whether staff at institutions knew the kind of students who walked the corridors.
She said: "[I am talking about] the kind of student who, at 13, had already violated a girl; the kind of student who, at 15, was violated; the kind of student who has seen their mother being assaulted. There needs to be a layered approach too in understanding that sexual assault is not an institutional matter because violating someone is a crime. Harassment is a crime … universities cannot entertain these crimes, using their own measures with very low benchmarks in terms of repercussions."
Systemic barriers
Samaai steered her conversation in the direction of looking at advancing women's rights as a feminist legal centre.
"We [the Women's Legal Centre] aim to empower all women to ensure no one is left behind. Administrative justice is a pillar of equity which serves as a cornerstone of society and ensures that individuals are treated fairly and justly in their interactions with administrative bodies," said Samaai.
"The synergy of the centre's approach allows us to successfully challenge systemic barriers and create pathways towards women empowerment. Strategic litigation has been a tool and has led to achievements. We serve as a legal foundation to combat gender-based violence and discrimination. We empower women to have agency over their lives. And in cases of sexual violence, the centre champions the right to voice one's experience and ensure that survivors can name perpetrators without fear of legal retribution."
---
This work is licensed under a Creative Commons Attribution-NoDerivatives 4.0 International License.
Please view the republishing articles page for more information.
---