As an African institution the University of Cape Town (UCT) is uniquely placed to lead and shape new financial technologies such as blockchain and to make these relevant to the continent's new markets and applications, said Vice-Chancellor Professor Mamokgethi Phakeng.
Professor Phakeng was speaking at a UCT-hosted meeting with a high-level Swiss ministerial business and science delegation on 7 July. The delegation was led by Guy Parmelin, Federal Councillor and the head of the Federal Department of Economic Affairs, Education and Research (EAER). It was part of a four-day visit to South Africa.
The meeting was also a platform for the National Research Foundation's Dr Makobetsa Khati, Executive Director: Research Chairs and Centre of Excellence (RCCE), to announce the new DSI-NRF-Swiss Bilateral research Chair in Blockchain Technology. Applications to host the joint chair will open to South African and Swiss universities later this year.
Valuable partnership
In her welcome, Phakeng pointed to a longer-term collaboration with Swiss partners in areas such as drug discovery and fine arts, through two joint chairs in environmental health and in urban studies with the University of Basel.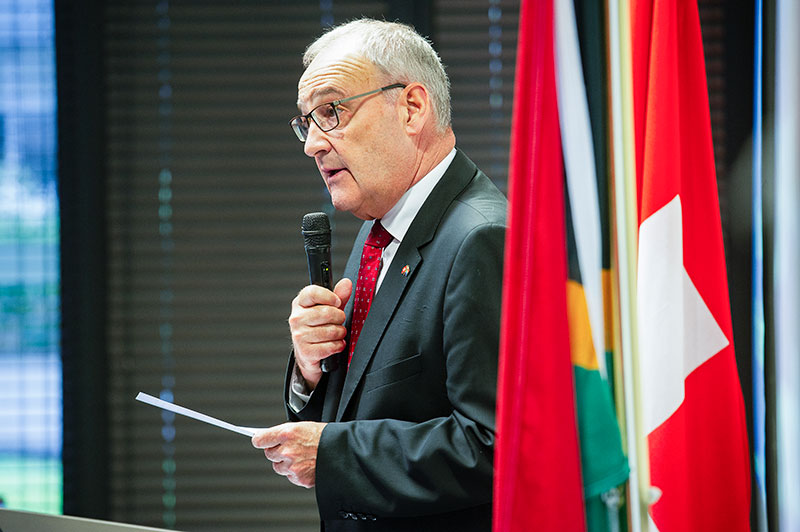 Their support has been key to developing UCT's blockchain research, technology and innovation ecosystem, said Phakeng. In 2019 UCT became the first African university to introduce a dedicated course on financial technology and cryptocurrencies, part of a master's in financial technology degree. The Algorand-UCT Financial Innovation Hub was subsequently launched in 2021, in partnership with the Algorand Foundation.
Lighthouse projects include the InCube Challenge, organised by the Federal Institute of Technology Zürich's Entrepreneur Club of the Swiss. (A lighthouse project is a small-scale but big-picture project that acts as a beacon for future digital transformation and development.)
"We have created an environment for this innovation to thrive."
In his address, Parmelin described how Switzerland had become world leaders in blockchain technology. The country is home to over 1 000 blockchain-related companies, an increase of 80% since 2020. More than 6 000 jobs had been created in the sector, a rise of 60% in only two years. Many of these companies and start-ups are in the Swiss centre of Zug, now known as Crypto Valley.
"We have created an environment for this innovation to thrive," said Parmelin. "We also focus strongly on research." Here the universities of Zürich and Basel are leading the way. The University of Zürich's blockchain centre has 22 professors.
He said he was looking forward to further collaboration with South Africa to shape the global blockchain research and innovation ecosystem, and its societal and economic impact. In addition to the establishment of the new Swiss–South Africa blockchain research chair later this year, September will see the launch of a blockchain innovation challenge between the two countries. The focus will be on impact, he said.
"We will bring five Swiss start-ups to South Africa, where they will pitch against five blockchain start-ups at the 2023 South African Innovation Summit."
Leaders in Africa
Africa, with its burgeoning youth population, offers many possibilities for this new technology, and so does UCT, Phakeng added.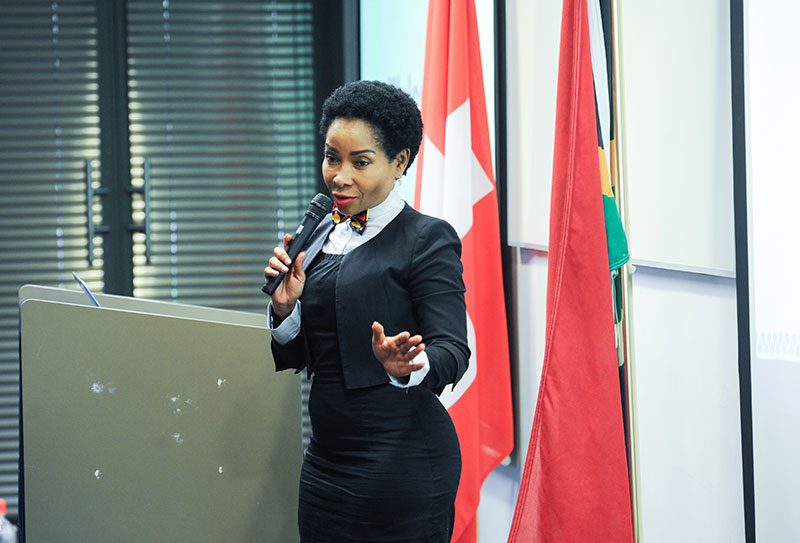 "We believe that UCT offers a unique perspective in financial technology because we teach hard skills, such as coding in blockchain. Our students [will] become blockchain entrepreneurs. This also helps to transform the face of business, especially as so many entrepreneurs on the continent are women."
"And we've got the best of Africa here at UCT."
As such, the collaboration fulfils UCT's Vision 2030 with its massive transformative purpose of unleashing human potential for a fair and just society, Phakeng added.
"And we've got the best of Africa here at UCT."
"UCT comes to these collaborations as an equal partner … We bring not only academic excellence to these endeavours, we also offer the world a gateway to the distinctive location in Africa. Our vantage point at the confluence of two oceans is a platform for Antarctic research, a unique floral kingdom, and easy access to the southern skies and oceans.
"But another unique resource is our people, our diversity and our unique history," said Phakeng.
Boosting digital in Africa
In his address, Associate Professor Co-Pierre Georg of UCT's School of Economics and the director of the Algorand-UCT Financial Innovation Hub said more than half of the students on the programme are women, and more than half are black South Africans.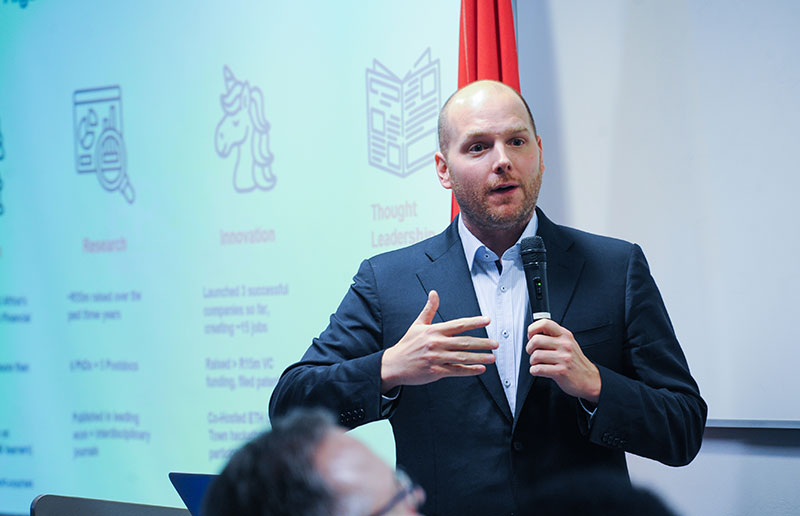 "We are introducing the kinds of voices that are needed in this relatively new area ... to make it relevant to new markets and applications across African society. We are working closely with the financial services industry in South Africa to help these businesses to master the digital transformation."
Data is becoming … fuel for growth, not only for the digital economy but for every aspect of the real economy as well, he said.
"The challenge is that large parts of Africa's population remain digitally excluded. Three billion people in the emerging markets do not have access to smartphones and won't be able to benefit from the value created in the digital economy.
"In South Africa, some 50% of our population does not have a smartphone. And it remains a constant challenge to include these people in the growth of the economy to make sure everybody participates."
To illustrate how UCT alumni-led start-ups are doing this, three new companies – FoodPrint, Nautilus and Sun Exchange – presented their work.
"We couldn't be prouder of what they have achieved," said Associate Professor Georg.
FoodPrint will help small-scale farmers in sub-Saharan Africa digitally participate in the food web (the circular food production cycle – from seed to harvest table) using low tech. It directly connects them to buyers by capturing their harvest and sales data onto the blockchain. This creates a critical production record that unlocks access to previously inaccessible markets and services.
Nautilus is a South African platform that allows users to own their personal data. It allows the creators to license the use of their personal data without sacrificing privacy. The next step will be to build a privacy layer for the cloud that ensures that data is kept private.
The Sun Exchange addresses the national energy crisis by using blockchain to verify how much energy is produced by solar installations – this certification makes it possible for investors to provide funding for new solar installations.
The three companies are flying UCT's flag high.
In closing, Phakeng said, "I applaud the Swiss Embassy in particular, His Excellency Guy Parmelin for recognising what UCT has to offer in co-creating so many avenues for UCT to work together with Swiss academies and companies for the good of both our countries – and for the benefit of global knowledge."
---
This work is licensed under a Creative Commons Attribution-NoDerivatives 4.0 International License.
Please view the republishing articles page for more information.
---