A second-year social work student at the University of Cape Town (UCT) is committed to making Cape Town a safer place – without serious and violent crime – where Capetonians are free to enjoy the benefits of their communities.
Zukile Ntentema has developed what he describes as a watertight crime prevention strategy and has already pitched his idea to Reagan Allen, the MEC for community safety in the Western Cape. His objective, he explained, is to make Cape Town a safer place. His strategy is focused on crime prevention and involves social media monitoring and leveraging on community policing forums, law enforcement agencies and healthcare facilities stationed in hard-hit communities, to help him reach his goal.
Earlier this year, the Mexican Council for Public Security and Criminal Justice published a list highlighting the 50 most violent cities in the world. Four South African cities (Cape Town, Johannesburg, Durban and Gqeberha) feature, and Cape Town sits at number 11. The Mother City also holds the highest murder rate overall, with 2 911 murders recorded for the 2021/2022 period. This means the city's murder rate currently sits at 62.22 per 100 000 people and it is heavily weighted towards gang-related violence.
"Cape Town is one of the most beautiful cities in the world, yet it's also one of the most dangerous."
"This is dismal. Cape Town is one of the most beautiful cities in the world, yet it's also one of the most dangerous. I want to help change that and get the city off that 'most dangerous' list," Ntentema said. "Currently, there's a wealth of material on gangs in Cape Town that is sufficient to help safety and security professionals comprehend the etiology of gang violence and develop appropriate solutions to combating the scourge. We can get there if we work together."
Foiling crime
Ntentema's strategy is designed to monitor, predict and prevent gang violence in some of the most dangerous communities on the Cape Flats. It relies on social media to monitor incidences and recurring trends in communities and enlists the services of staff at healthcare facilities to provide information as incidents occur and as gang members require healthcare after violent clashes. He said ongoing communication between participating stakeholders is crucial and means that they will be able to identify gang violence sequence symptoms as and when they occur and raise the call before it escalates. This will help law enforcement agencies to respond accordingly.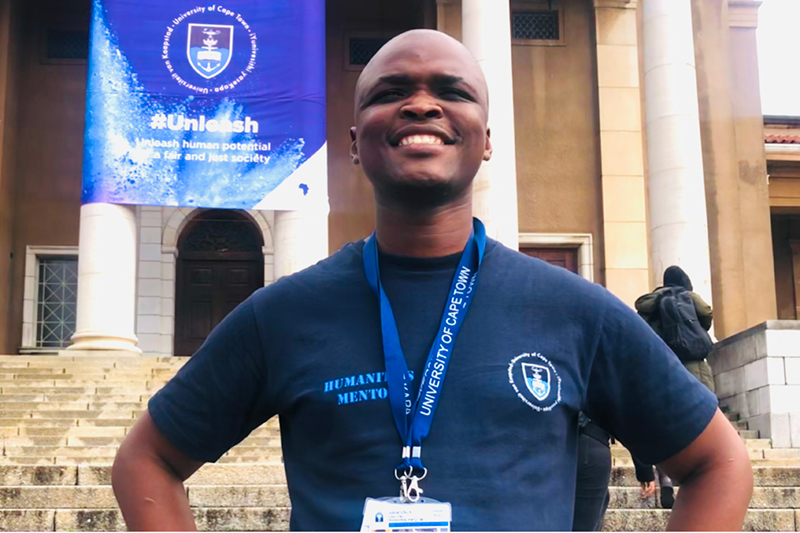 "My idea is that by closely monitoring trends and identifying when there's a shift and a possible escalation in crime, [I will] work closely with the South African Police Service (SAPS) and other law enforcement agencies to be able to take the necessary measures to prevent further escalation," Ntentema said.
He said his idea stemmed from reading many research papers on organised crime authored by Federico Varese, a professor in criminology and the head of the Department of Sociology at the University of Oxford. Ntentema reached out to Varese and the duo connected virtually. It was during this discussion that Ntentema came up with his crime prevention strategy.
Flattening the curve
In the city's fight against crime, Ntentema said it's important to develop the ability to identify new gang violence tendencies, understand historical trends and use the data from past and present incidences to help aid the monitoring and response process.
"With gang violence there is normally a pattern of a particular type of violence that develops over time. When one type of gang violence receives enough exposure, thanks to various interventions, that violence curve flattens and a new type of violence begins to emerge in time," he said.
As a result, he developed his strategy to recognise "those flashing lights" and to assist with examining and identifying new trends, monitoring the signals, and reacting at the right time. The key, he explained, is to be proactive and to respond swiftly. In the process, he also hopes to help SAPS update their gang violence profiles within police stations.
Presenting the strategy
Recently, Ntentema sat down with Allen at his offices in Wale Street in the Cape Town CBD and presented his strategy. He said Allen assured him that he's on the right track and said his strategy aligns well with a programme the province has embarked on with the Global Initiative against Transnational Organised Crime – a network of over 500 independent global and regional experts working on human rights, democracy, governance and development issues in places where crime has become increasingly pertinent.
"I'm so proud that I will be able to contribute to this programme in a meaningful way, share my strategy and hopefully help to make Cape Town a safer place."
"The MEC asked if I'd like to get involved and be part of the multidisciplinary team working on the Gang Monitor Outputs Evidence-based Programme and I immediately agreed," he said. "This is a massive opportunity, not just for me, but for many safety and security activists on the Cape Flats. I'm so proud that I will be able to contribute to this programme in a meaningful way, share my strategy and hopefully help to make Cape Town a safer place."
---
This work is licensed under a Creative Commons Attribution-NoDerivatives 4.0 International License.
Please view the republishing articles page for more information.
---