University of Cape Town (UCT) alumnus Dr Peace Francis (25) has won the 2020 Bongani Mayosi Medical Students Academic Prize. The prestigious national award recognises final-year medical students who epitomise the leadership qualities and values of the late UCT Dean of Health Sciences, Professor Bongani Mayosi. Among these is the saying "Lift as you rise".
All South African final-year medical students are eligible for the award, and are nominated by their peers. The Faculty of Health Sciences' runner up is Inga Mgaleli. Awards were also made to final-year students in those UCT faculties that play a role in teaching medical students.
Dr Francis, a Klaus-Jürgen Bathe Leadership scholar and now a medical intern at Chris Hani Baragwanath Hospital in Soweto, spoke to UCT News.
Helen Swingler (HS): Please tell us about yourself: where you're from, your interests and inspirations growing up, and your journey to UCT's medical school.
Peace Francis (PF): My blood is Nigerian. My parents relocated from Nigeria to Namibia, where I was born and spent the first four years of my life, and then eventually to Johannesburg, where I spent the rest of my formative years. So my blood is Nigerian, I was born in Namibia, but I was shaped in and by South Africa, and I am a South African citizen. In short, I am African.
My parents are my biggest supporters, and as I grew up, they always encouraged me in my various interests. They were firm in their exhortations for me to do the best that I can in everything, because all talents are from God and all work is for God. My interests and career choices changed multiple times as I grew up, until I finally settled on medicine. This was confirmed while listening to an interview by Dr Mamphela Ramphele [a former UCT vice-chancellor]. She was asked whether she regretted studying medicine, as she'd gone on to do many other things in her life. She responded emphatically with a "No!", because "training in medicine is training in leadership".
HS: And leadership is key to the Bongani Mayosi Medical Students Academic Prize. How did you develop your own leadership skills?
PF: I arrived at UCT ready to absorb and learn as much as I could – about the core medical content, but also about the 'soft' skills and rare perspectives that medicine gives you. I have been so privileged to have found friends and mentors who have motivated me to take on various leadership positions: subwarden at my residence, chairperson of the Health Sciences Students' Council (HSSC), vice-president of SHAWCO Health, and chairing the UCT Student Governance Court. These positions taught me so much about leadership and about service, and opened my eyes to the difference a group of students can make.
"He epitomised servant leadership – which is not self-serving, but rather community-, nation- and world-building."
My time in SHAWCO Health, for example, reminded me that we as students could make a difference in the health status of our community. As I led SHAWCO Health with then-president Danielle Hugo, we had many conversations about how to make a change, and how to do it in a way that centred the communities we served, and respected the communities' autonomy – and in a way that was ethical and responsible. These conversations and the process we underwent for decision-making, together with the work ethic, care and passion of the SHAWCO Health students and the SHAWCO Health leadership team, will continually influence the way I live and lead.
HS: The late Professor Mayosi's mantra of "Lift as you rise" is a compelling statement. How does this fit with your own philosophy on life?
PF: For me, this mantra describes the humility and rarity of Prof Mayosi. He epitomised servant leadership – which is not self-serving, but rather community-, nation- and world-building. I see this mantra as a constant reminder that my life is not to be lived for myself, but for others' enjoyment and advancement – a life with a God-given purpose. Throughout our continent, we need more leaders who see beyond themselves and how they could benefit. For me personally, this mantra speaks to being the type of person – the type of leader – who sees people deeply and honestly; sees them where they are, and works to create opportunities for "lifting".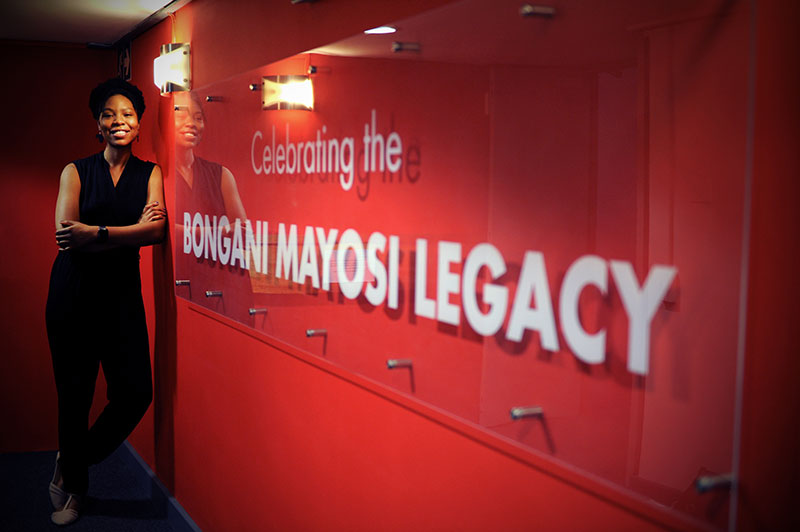 HS: Did you ever meet Professor Mayosi (he was very involved with students), and can you share any anecdotes?
PF: Over the years I had the opportunity to work with Prof Mayosi – at times quite closely during my time in the HSSC; first in my role as head of PR and marketing, and later in my role as chairperson of the council. He was the most inspiring and approachable leader I have ever met. One moment I remember is from 2017, at the end of my term as chairperson of the HSSC, when we held an event called Masithethe Sakhane, aimed at inspiring young black health sciences students to pursue careers in academia. It was close to Prof Mayosi's heart.
"I am one block into my internship, and I appreciate the rigour and excellence of my training."
After the event, he asked me what my plans were and where I wanted my life to go. I shared some ideas and thoughts. And once I was done, he gave me ideas and suggestions that were much bigger than my current dreams. He saw more potential in me than I saw in myself. That day I realised that this was his worldview, and how he interacted with those around him: a deep belief in a person's brilliance and potential that even they could not see.
HS: What are your plans once you've completed your internship?
PF: I hope to register for an MSc in Global Surgery at UCT soon.
HS: The past year has been exceptionally challenging for senior medical students. How have you found COVID-19 has impacted on you and your training?
PF: The pandemic was incredibly difficult to navigate in our final year. It was difficult. There was a lot of unanticipated anxiety. And because the situation was fluid, no one had answers. I remember returning to the clinical platform in the middle of 2020 and thinking that medicine and how it is done had changed.
I applaud our faculty for how they navigated the pandemic and prioritised, ensuring that we were still able to access the necessary training. I am one block into my internship, and I appreciate the rigour and excellence of my training at UCT. I also applaud my classmates, who despite navigating the changes and restrictions in our final year, still found ways to celebrate and enjoy the last stretch of a long and difficult journey.
HS: Is there excitement among the medical fraternity that vaccines now appear to be within reach of South Africans, starting with health professionals and those at the front line?
PF: In my circles there definitely is! I have been vaccinated and have enjoyed watching my colleagues and peers post pictures of themselves being vaccinated. The emotions I have seen and felt are those of excitement, hope and relief – and reflection over all that has been lost, and all that has changed. I know that there are sceptics, but for now, I'm basking in the joy and hope.
HS: Is there anything else you'd like to add?
PF: This award is also quite bittersweet. It is a dream come true to be the recipient of an award that bears Professor Bongani Mayosi's name, but it's also a reminder of a great loss; a reminder that he is no longer with us. Most of all, it is a reminder to continue his legacy – being excellent, and lifting as we rise, as was his mantra.
---
This work is licensed under a Creative Commons Attribution-NoDerivatives 4.0 International License.
Please view the republishing articles page for more information.
---