Sweet and clear, the ethereal sound of a flute greets visitors to artist-researcher Dr Ralph Borland's exhibition at Brutal Curation, Side Street Studios, in Woodstock. But the instrument yields a surprise: it's been crafted from a human femur bone, a to-scale 3D replica of Dr Borland's own thighbone.
The exhibition, AIAIA – Aesthetic Interventions in Artificial Intelligence in Africa, caps Dr Borland's two-year collaboration with a surgeon at Tygerberg Hospital, and a parallel personal journey that intricately weaves together his art and his research – and his lived reality.
His project investigates emerging technologies in healthcare through collaboration. Borland is a Carnegie Corporation of New York-funded junior research fellow, and his work is one of seven strategic projects under the umbrella of HUMA's Future Hospitals: 4IR and Ethics of Care in Africa initiative, which reflects critically on the role of artificial intelligence (AI) and other technologies of the Fourth Industrial Revolution in the future of hospitals in Africa.
Borland's work focuses especially on the "potential for positive human–machine collaboration, amid the negative impacts of new technologies on human experience – automation's threat to human skills, for example".
He asks, "What choices can we make to use technology appropriately to enhance human skills and experience?"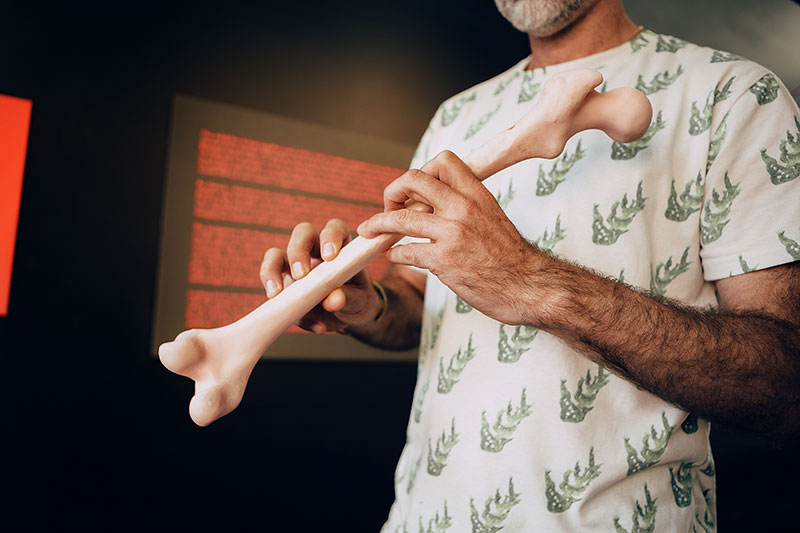 Bone instruments in history
Orthopaedic surgery is one of the specialisations benefiting from innovations in biomedical engineering, with 3D printing offering new, cost-effective approaches. At Tygerberg Hospital, orthopaedic surgeon Rudolph Venter works in his 3D orthopaedic laboratory to develop low-cost methods for 3D-printing patients' bones so surgeons can practise complex procedures. Dr Venter's work presented a unique opportunity for Borland to explore an existing idea for an artwork using a replica of his own femur.
Borland has a history of repurposing his own body parts and functions for artwork. For example, his art-design piece Suited for Subversion (2002), in the permanent collection of the New York Museum of Modern Art, is a suit made for protestors that amplifies the wearer's heartbeat and makes it audible outside the body.
His current project emerged from a concept, first framed 10 years before, for using his bones as material for an artwork. This developed into a proposal for a bone flute made from his femur, tapping into a long history of musical instruments made of animal and human bone.
"The artwork plays on the history of the bone flute as an iconic musical object, as well as emerging technologies in healthcare," he explained.
Borland also ties the work to the symbolism of the Danse Macabre, a popular motif in Western European art, poetry, literature and drama, in which the dead, represented by skeletons, dance with the living. It was a reminder of the universality of death, particularly after the Black Death and other epidemics that swept Europe in the mid-14th century.
Musical instruments made of bone have also been found at Neanderthal sites, the earliest dating back 53 000 years.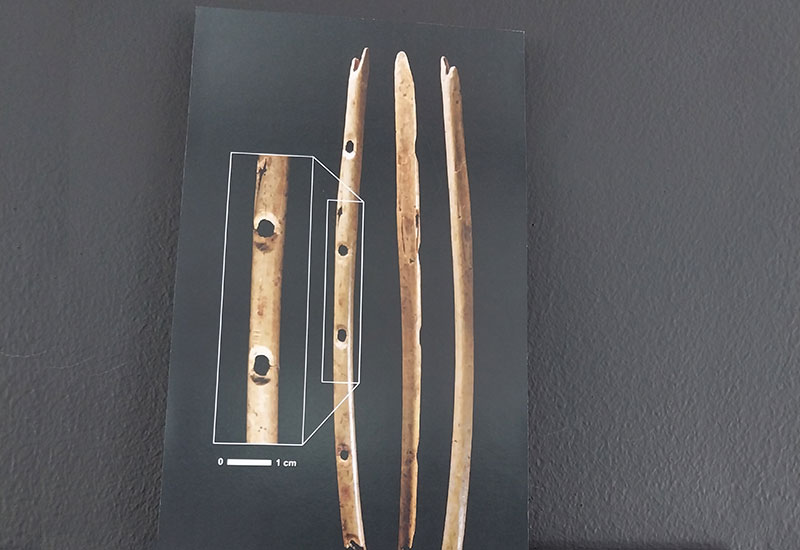 But in the 21st century, artificial intelligence (AI) and digital technologies for making bones and body parts have introduced new conundrums for ethicists and for medical science, as Borland discovered when he proposed using a replica of his own femur.
"The exhibition explores some of the concerns around these technologies: the impact of automation on human experience, access to technology for patients, AI as a form of divinity and the possibilities of human–machine collaboration," Borland wrote in the preamble to the exhibition.
Unique collaboration
After Borland's femur was 3D-printed by CranioTech, he, Gigli and Venter came together in Venter's orthopaedic laboratory to carve holes into the creation, using the same tools and processes Venter uses for his surgical simulations that utilise 3D prints.
To recreate Borland's thighbone, Venter and medical technologist Bernard Swart used MRI images obtained following a hip injury that Borland sustained in 2021 while running. Once the bone had been digitally printed, Gigli advised on the precise places the embouchure (place for the mouth) and other holes should be drilled, and tested the instrument for pitch and sound.
Up close and personal
But there is a parallel story here. Borland wasn't to know how intimately he would get to know Cape Town's hospitals – not as a researcher, but as a patient, when his leg and hip were scanned in those processes. These opportunities allowed him to collect data both for his personal health and for his art and research.
However, in the hospitals he was confronted by the real environments with which his art-research project engages. A series of images he took show the long, cavernous corridors, empty spaces, regimented rows of empty chairs and the artificial lighting of an ageing public hospital and the new, high-tech orthopaedic laboratory within it.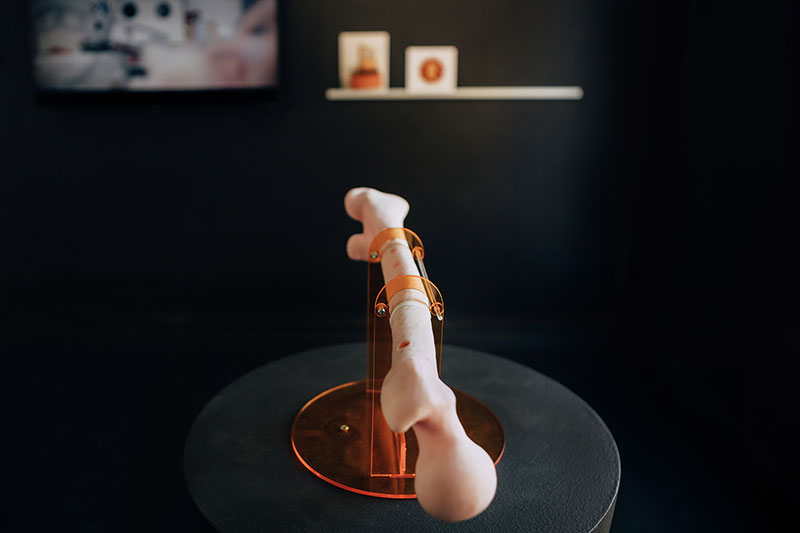 ---
This work is licensed under a Creative Commons Attribution-NoDerivatives 4.0 International License.
Please view the republishing articles page for more information.
---