The University of Cape Town's (UCT) new Vice-Chancellor Research Scholarship will fully support and develop the institution's top young researchers to position them at the forefront of research into society's most pressing challenges.
Vice-Chancellor Professor Mamokgethi Phakeng congratulated the first 100 awardees, representing all six academic faculties, at the scholarship launch on 30 May.
These excellence awards recognise "exceptional academic achievements" among UCT's master's and doctoral students registered for research degrees. The scholarships cover the full cost of attendance at UCT.
In recognition of their academic achievements, all awardees will also receive an additional R5 000, unless the conditions of their other award/s specifically preclude this.
As these scholarships will be allocated at the beginning of each year, after other UCT funding instruments have been awarded, they will not replace alternative funding such as the UCT postgraduate merit or need awards, but will be held concurrently as a supplement.
The development follows months of work by the Postgraduate Task Team, launched in 2017 and chaired by Professor Nicci Illing, to develop and retain UCT's future stars.
"You are just what UCT is looking for to help build the future of a research-intensive university."
Speaking at the launch at Smuts Hall, Phakeng told the awardees: "You have been selected for this scholarship because of the high standards you have demonstrated in your academic work.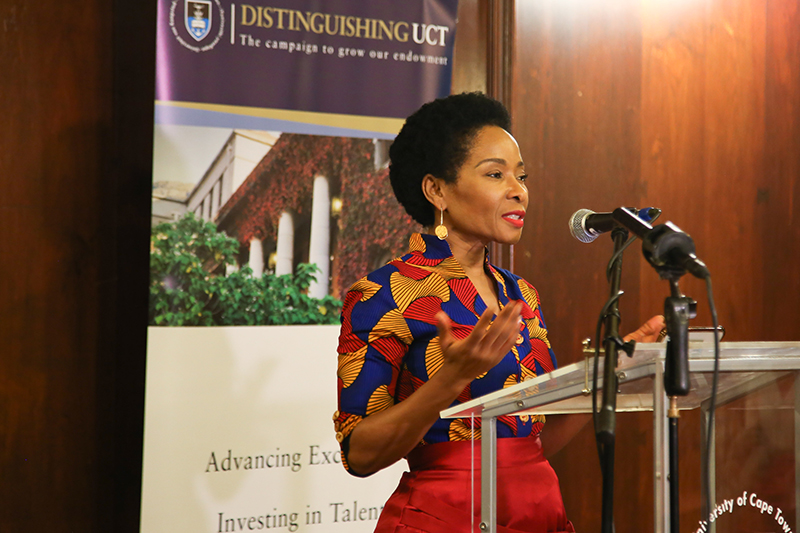 "In other words, you are just what UCT is looking for to help build the future of a research-intensive university.
"We are committed to helping you build on your excellence and we hope that as a result you will find your way to world-changing research."
She said that humanity faces global-sized challenges: climate change, human migration across national boundaries, urbanisation, extinction of species that will affect the food chain as well as our environment, and growing poverty and inequality.
Building the future
She encouraged early career researchers to build "critical networks" around the world to deepen their knowledge.
"When we negotiate exchange agreements with partner universities around the world, we prioritise postgraduate students … so they can gain exposure to global scholarship and build international networks.
"We want you to stay with us but also have international experience," Phakeng said.
However, there are many advantages to the students furthering their research careers locally, she added.
"As South Africans you have a perspective of the world that most other researchers in your field anywhere else in the world will not have. That's an advantage because you can see first-hand the results of poverty and inequality.
"Whether you have experienced it yourself or not, you have experience of people that are affected in some way by HIV/AIDS, TB, depression, unemployment, climate change … You have something to offer that many other researchers in the world lack because they did not grow up here, they do not live here.
"Our view at UCT is that these problems are opportunities for leading transformation and leading change across the world."
UCT's young researchers, Phakeng stressed, are in a prime position to conduct research that transforms South Africa and the continent by "showcasing and drawing on the tremendous talent that Africa can offer the world".
"One of my goals is to build a cohort of researchers who can take UCT to the world and bring the world to UCT."
"One of my goals is to build a cohort of researchers who can take UCT to the world and bring the world to UCT.
"This is not just about money … It's about the recognition of extraordinary talent that you bring to our university and what that talent means for the continent.
"We called this event just to say to you that we want you to realise that if you do nothing about the challenges we are facing at UCT, in South Africa, on the continent and in the world, perhaps no one will."
Sustainable Development Goals initiative
Underscoring the importance of research to realising the United Nations' Sustainable Development Goals (SDG), Phakeng said that UCT's Research Office is developing a UCT SDG initiative under the leadership of Professor Haroon Bhorat. This will profile the breadth and depth of SDG-related research at UCT.
"Next year we plan to host a conference titled ʻAchieving the SDGs in Africa: A decade to make a difference'. This will be supported by online resources – a website and a searchable database – so that the world can see cutting-edge research that focuses on SDGs."
What the students say:
Scholarship awardee Phakamani Ntentema, a master's student in African languages and literature, has welcomed the opportunity the award provides to develop neglected sectors of research, giving postgraduate students the tools and voice to research deep issues facing the African people, "and the world at large because we live in globalised world".
"[Robert] Sobukwe tells us that education to an African child means service to Africa … and the VC has opened that opportunity," he said.
Awardee Maxine Rubin, doctoral candidate in the Department of Political Studies in the Faculty of Humanities, welcomed the scholarship as a "fantastic opportunity".
"It transforms the pursuit of a PhD from something that was a part-time dream into a reality since I can concentrate on it full-time. It also helps one feel validated and more included in the university since a degree through research is quite isolating."
Her thesis offers an analysis of African state behaviours to the International Criminal Court (ICC). It seeks to identify the main drivers of the different behaviours to develop a more comprehensive understanding of the ICC–Africa relationship, as well as the types of African agency in international relations.
"The encouragement to use this [funding] opportunity to orient our future careers towards addressing social injustices and inequalities is inspiring and fitting for an institution such as UCT, which seeks to encourage a transformative agenda nationally, regionally, and internationally," she said.
Awardee Athi Balisto, a master's student researching forensic anthropology in the Division of Clinical Anatomy and Biological Anthropology, said the scholarship has lifted a burden from her and her family's shoulders.
"Thanks to the VC Research Scholarship, I can continue with the degree and focus on my research."
This work involves the identification of human remains. She said that forensic services in South Africa face serious issues around unidentified human remains. Her research is an evaluation of the impact of Forensic Anthropology Cape Town's (FACT) anthropological analysis of these remains.
Awardee Tashiv Sewpersad is a master's student in computer science in the School of Information Technology. His field of research is mobile virtual reality.
"An issue that arises in mobile virtual reality is that the main interface – the screen – of the phone is covered by the virtual reality headset. This means that an alternative interface must be utilised to allow a user to interact with the virtual reality simulation. I am looking into developing a mobile virtual reality interface with a good degree of expressiveness and a lower cost when compared to an external physical controller."
While he has been unable to accept the main scholarship because of restrictions in his current funding, Sewpersad has been able to accept the award of R5 000, "which definitely reduces my financial burden".
"More importantly, I value being included in something bigger than myself, because it is easy to forget about the larger world that exists just outside my lab. I feel that my aspirations of bringing good sustainable change to this world have been renewed and revitalised," he said.
---
This work is licensed under a Creative Commons Attribution-NoDerivatives 4.0 International License.
Please view the republishing articles page for more information.
---