Arriving early for work at Welgelegen, which is where the University of Cape Town's (UCT) Communication and Marketing Department (CMD) is based, always meant being greeted with a warm and sincere, "Hallo! Hoe gaan dit?"
The greeting emanated from the kitchen, one of the rooms or the boardroom where Charmaine Kannemeyer would be tidying up and preparing for the day ahead. "Aunty Charmaine", as she is affectionately known to colleagues, was always the first person in the office. And she always wanted to know how you were doing, usually as you kuiered (visited) in the kitchen over that first cup of coffee.
Of course, the pandemic has meant an end to this morning ritual. But when the department eventually returns to Welgelegen, staff will have to come up with a new way of starting their day. That's because Aunty Charmaine retires on 31 December, after 20 years at the university.
It's an early retirement but much needed and, equally, much deserved.
From Zoar to UCT
Kannemeyer grew up in Zoar, a small town in the Western Cape, which is home to the Attequa people, descendants of the Korana, a Khoi community. Zoar can be found along the so-called Missionary Route in the Western Cape and was established by the South African Missionary Society in 1817.
Her parents, both of whom passed away many years ago, owned a shop in Zoar, and her father worked for the local council. Kannemeyer spent her childhood there with her four sisters and two brothers and attended the local RP Botha Primary School.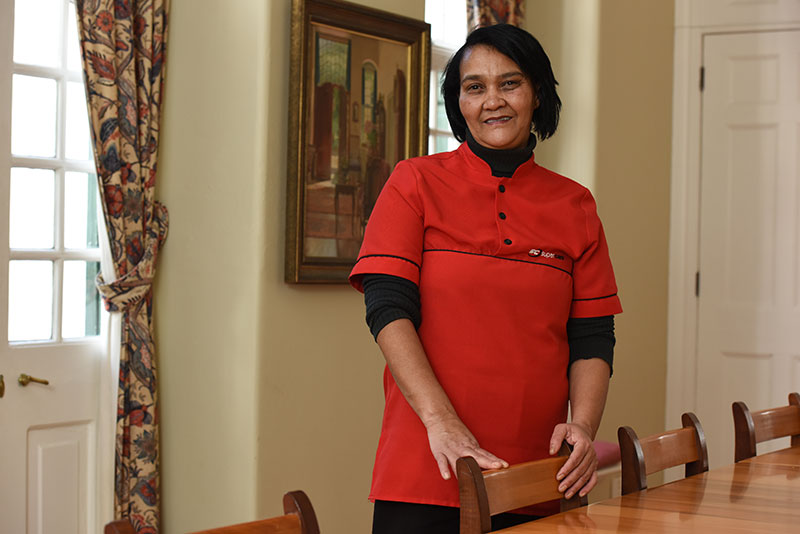 She moved to Cape Town for her secondary education, attending Belgravia High School in Athlone, and has called the city home ever since.
Before joining UCT, she worked at Jordan Footwear for 18 years and then at Nannucci Dry Cleaners for two. On 13 March 2000, she joined UCT as a cleaner, tasked with keeping the university a hygienic and comfortable place for fellow staff and students.
A second family
During her two decades on campus, Kannemeyer has witnessed and experienced the many changes that have taken place at UCT. One such change has been the insourcing of cleaning staff and campus security.
Her longevity at UCT has also meant that she's seen many people come and go, including three vice-chancellors and the university's first black and first woman chancellor, Graça Machel.
"Faces have changed as people have moved on to other opportunities, but the love, respect and kindness were always still present, even with the new people," she said.
People, old and new, are what Kannemeyer has enjoyed most about her time at the university – and particularly at CMD. One of her favourite memories is spending quality time with her colleagues and the lively conversations over tea or lunch – and on a Friday, usually over some fish and chips from a nearby takeaway in Observatory.
Kannemeyer said that naming all the people who have contributed positively to her time at UCT would fill whole pages but there were a few past and present CMD staff who needed special mention: Evan Zerf, Sadiq Behardien, Yusuf Omar, Gerda Kruger, Charmaine Dublin, Joan Park, Morgan Morris, Skye Grove, Christopher Mitchell, Aamirah Sonday, Sherry Solman, Lizette Hendricks, Helen Swingler, Kylie Hatton, Ebrahim Lakay, Jonathan Fritz and Fouzia Thesen.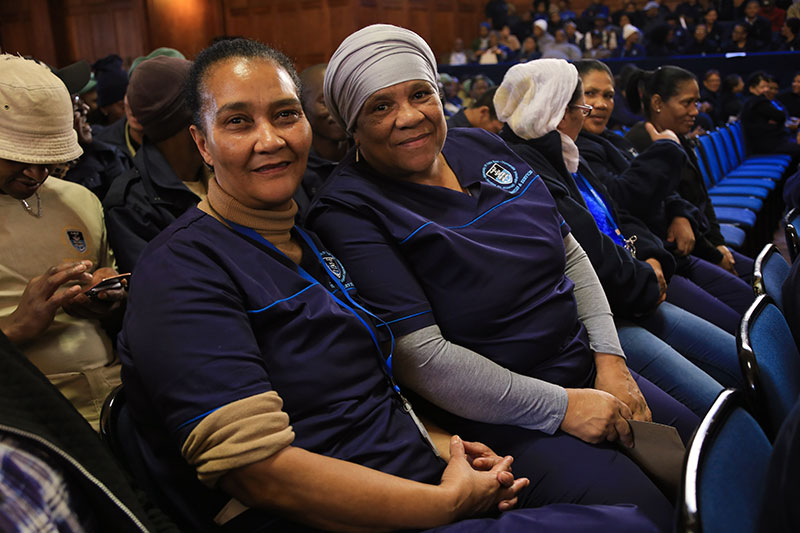 While there may have been some low points or the odd "difficult" person along the way, her time at CMD has been "filled with love and respect".
"I will miss ... UCT; they were my second family who took good care of me. I will miss their love, support and [kindness]," she added.
At ease
Kannemeyer's decision to retire slightly earlier than the compulsory age is due to the challenges she's had with her own health, particularly her feet, and that of her youngest son, Chad, who has a mental disability.
Caring for Chad while working a full-time job, which required her to start her day at 02:00 so she could catch the various taxis to make it to work on time, has been a struggle.
However, since she has been home in Portlands, Mitchells Plain, because of the lockdown, Chad's health has improved, and he is a lot calmer. This motivated her decision to retire so that she can continue looking after him and accompany him to hospital for treatment.
"Knowing that I will be home looking after my youngest son after he has been so sick, as well as taking charge over my [own] health, means I am at ease with retiring."
It also means she'll be spending a lot more time with her two other children, Fiona and Quinton, and her three grandchildren Erin, Stephan and Mikyle (who turned 11 on 2 November) – something she is looking forward to.
And as for some final words for the university, Kannemeyer said that UCT is "doing such an [incredible] job" but could add to this by providing transport for staff who travel long distances to get to work.
"That will be pretty amazing," she said.
---
This work is licensed under a Creative Commons Attribution-NoDerivatives 4.0 International License.
Please view the republishing articles page for more information.
---