At 19:30 on Thursday, 25 March 2021, the University of Cape Town's (UCT) leadership gathered in front of the Sarah Baartman Hall to commemorate one year of the COVID-19 lockdown and to acknowledge the effect the pandemic has had on the lives of UCT students and staff.
There was a sense of cautious optimism on upper campus on Thursday evening, a year on from the eve of the start of lockdown Level 5 in South Africa. Students milled around between recently reopened residences Fuller Hall and Smuts Hall, and UCT leadership greeted one another, tapping elbows in front of the floodlit façade of the Sarah Baartman Hall.
Flickering lights from 100 candles and a grouping of trees and plants, representing the spirits and bodies of those who have been affected by COVID-19, created a backdrop for the evening's activities. Twenty-one candles in black lanterns were placed along the edges of a blue ceremonial runner to symbolise and pay respect to the lives of UCT staff and students lost over the past year, but to also pay homage to those who have not only endured but worked tirelessly despite significant challenges, and held the institution, and each other, over the past year.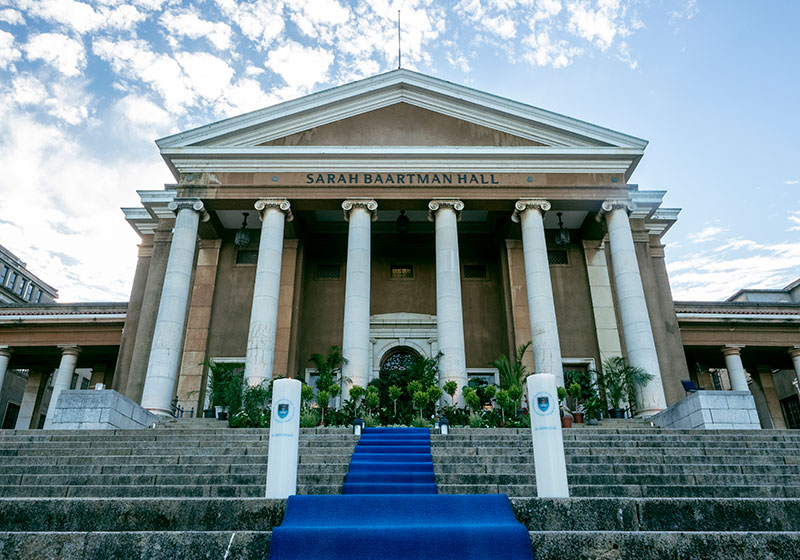 It was not only the dressing of the venue that held symbolic significance, but also the location of the vigil. As Vice-Chancellor Professor Mamokgethi Phakeng and then-chair of Council Sipho M Pityana emphasised in an open letter announcing the renaming of the building in 2018, the Sarah Baartman Hall itself is "a place of restoration, healing, growth and compassion".
Paying respect
Led by Professor Phakeng, members of the university's leadership filed onto the steps of the hall to the sounds of composer Philip Bliss's "It Is Well With My Soul". The hymn, played by cellist Nicola McLachlan, was written and composed as a testament to the power that faith has in helping us to overcome unpredictable and challenging times.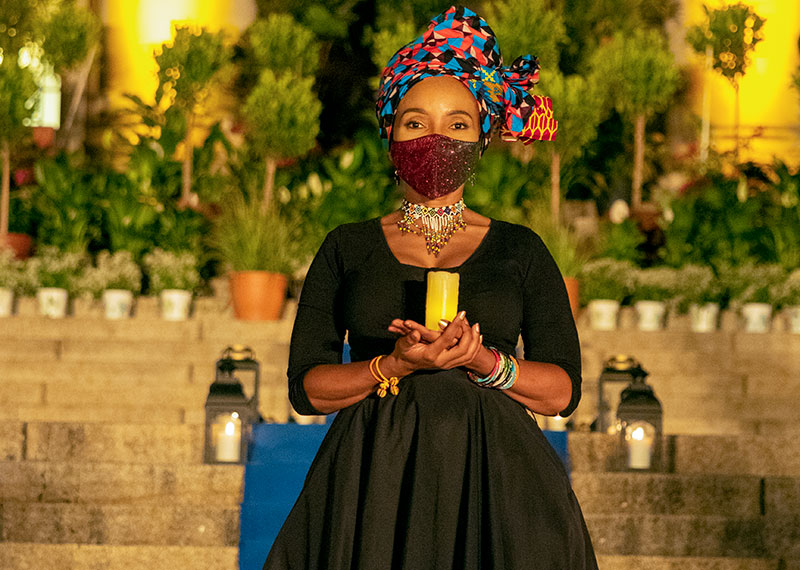 "As we look back, the people we have lost are like trees that have fallen, like lights that have gone off. We acknowledge all of those who served as a light in the times of darkness and provided shade when we needed it. Tonight we create this space as an opportunity to acknowledge what we have lost as a community, for us to commit ourselves to act as trees and as lights for one another," said Phakeng in her address.
Following a candle-lighting ceremony and a moment of silence, the vice-chancellor highlighted the significance of the event. "As a community, the pandemic has affected us a lot: our people, our colleagues, our friends. We are here to commemorate the lives that have been lost during this time and also to acknowledge those who have served us during the lockdown: healthcare workers at the front line, essential workers who took care of our campus, researchers who worked to understand the virus and develop a vaccine," she said.
Light among the darkness
Despite the challenges that the pandemic has brought, Phakeng noted that it has also provided an unmatched opportunity for growth. "It has forced us to be innovative; to talk about virtual communities of practice. It has challenged us to reimagine and rethink how we collaborate and how we do our work. We're no longer asking, 'Can it work?' We're asking, 'How can we make it work?' "
"This has pushed us to implement our online [and] blended-learning strategy at a much faster pace than we would ever have imagined. As much as fast-tracking this transition was stressful, we now have an online and blended-learning system that ensures we are able to support our students to succeed – and this will be valuable even after the pandemic."
---
This work is licensed under a Creative Commons Attribution-NoDerivatives 4.0 International License.
Please view the republishing articles page for more information.
---