Since the onset of the COVID-19 pandemic, with the mandatory use of face masks, there has been a massive increase in the number of disposable face masks entering South Africa's waste stream, while many still are left scattered around.
The University of Cape Town's (UCT) director of Environmental Sustainability, Manfred Braune, and the institution's environmental management committee are calling on the campus community and the broader public to discard their disposable face masks responsibly.
"Many of the face masks are littered across precious natural resources such as rivers, beaches and oceans, causing harm to our fauna and flora. [This includes] the elastic bands fixed to the face masks, which all kinds of creatures are getting caught up in," said Braune.
"While the requirement of mask-wearing is mandated, and there is significant fear of infection, there seems to be very little regard [for] the harmful environmental impact these disposable face masks [have] on our natural systems."
Reducing impact
Concerns about the harmful effects of disposable face masks on the environment are echoed in a recently published research paper by the Universidad Católica del Norte's Professor Martin Thiel, a collaborator of the FitzPatrick Institute of African Ornithology's director, Professor Peter Ryan.
The research paper looked at the high volumes of disposable face masks that were found on a beach in Chile during the lockdown period. Recommendations from the paper include providing sufficient signs and waste bins for the disposal of personal protective equipment (PPE), establishing general and strict waste disposal regulations, and improving enforcement. The authors recommend that educational campaigns be aimed at proper use and disposal of face masks, litter prevention, reduction of single-use waste, and enhanced pro-environmental behaviours.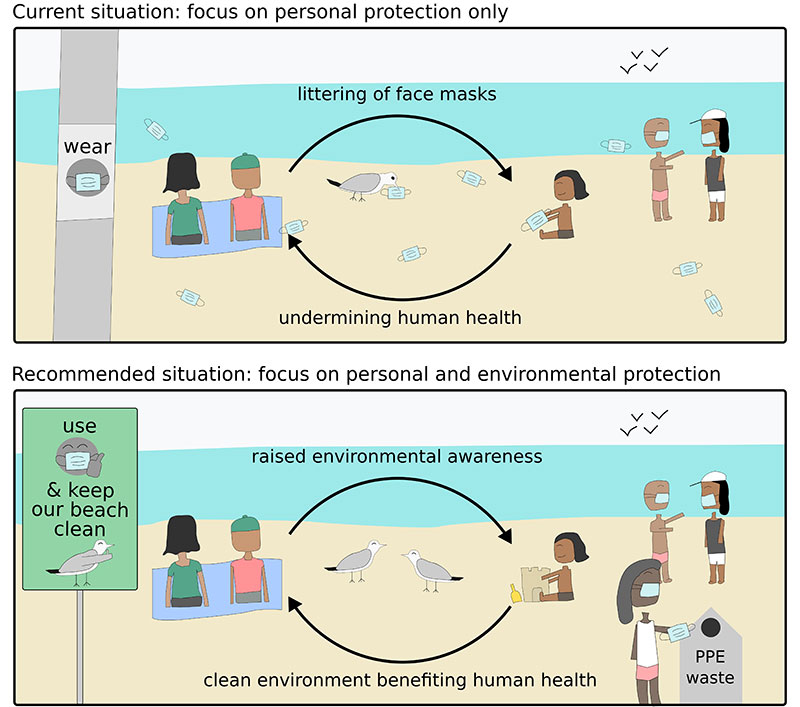 In addition to these campaigns, Braune has a few suggestions on how individuals can play their part in reducing the negative impact of disposable masks on the environment:
Only wear disposable face masks when you must. Otherwise, always wear a cloth face mask that can be washed and reused (this may be different for healthcare workers, who typically must wear what is prescribed for them – which may include disposable masks).
Cut the rubber band on both sides of a disposable mask before disposing of it.
Make sure the face masks end up in a dustbin, and nowhere else.
Where you can, safely pick up and dispose of any face masks that you find littering your environment.
Create awareness of these environmental issues related to masks among colleagues, friends and family.
Make a difference
Braune added that while it is hoped that face masks will soon be a thing of the past, action is needed now to reduce the harmful impact this additional litter is having on the environment.
He reiterated UCT's commitment to environmental sustainability and reminded the campus community about the university's recently installed bins.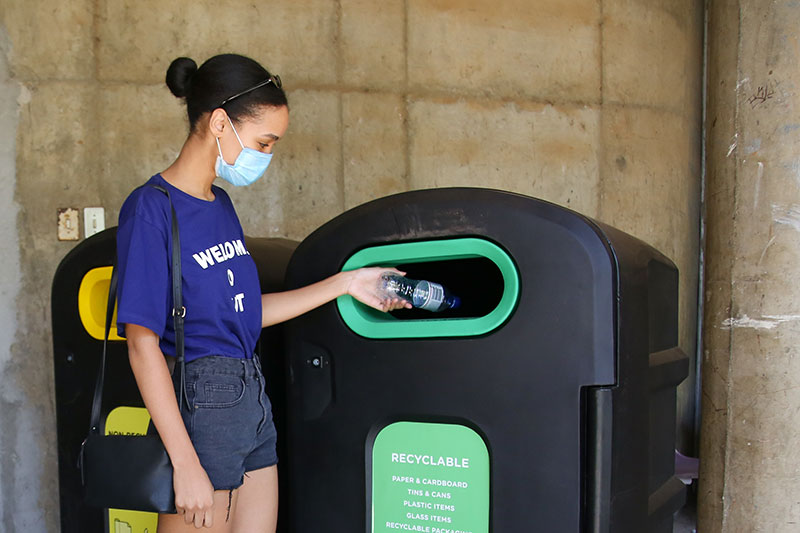 "UCT provides waste bins all across campus and in residences, and we ask the UCT community to act in unity – not only to protect ourselves from COVID-19, but also to protect our environment by using and responsibly disposing of face masks.
"Together, we can make a huge difference," said Braune.
---
This work is licensed under a Creative Commons Attribution-NoDerivatives 4.0 International License.
Please view the republishing articles page for more information.
---