After a year of noteworthy achievements, grit and determination, and dealing with the odd disappointment, the University of Cape Town (UCT) celebrated its sportspeople at the Sports Awards Dinner on 19 October.
The event, at Kelvin Grove Club in Newlands, saw representatives from at least 20 of the university's 40 sports clubs dressed up and ready to celebrate 2018's ups and downs with good food, wine and camaraderie.
"I think we often neglect to say how special [UCT Sport] is," said Brendon Fourie, outgoing chair of the Sports Union.
"This is the one university where everything at a code level is really run by students. It is the one university where that happens. No other university has that."
It was for this reason, he added, that the event was an opportunity to celebrate not only incredible performances on the sports field, but also the rigorous administration that goes into making it all happen.
"Thanks to UCT's student-centred sports governance, in many cases the very people who are applauded for the former are also responsible for the latter. Unsurprisingly, this has fostered a culture of unwavering participation and solid teamwork within the UCT sports community."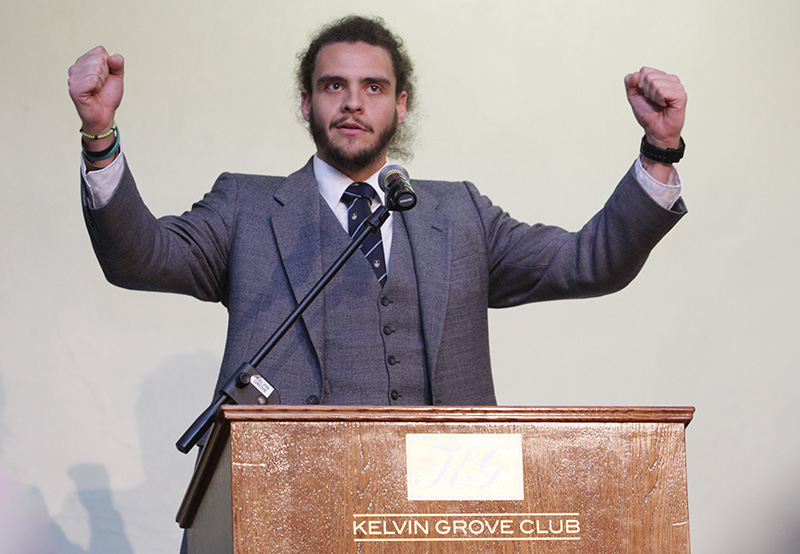 Honouring a legend
While students may be at the heart of the sporting culture at UCT, they are backed by dedicated and committed staff members, not least Peter Buckton, a legend and stalwart among the UCT Sport staff contingent, who was honoured at the dinner for his almost 48 years of service.
"He started here as a teenager and through determination and grit, working in a number of different departments and studying, he went from one position to another, until he became senior sports coordinator," said Dr Corinne Shaw, incoming chair of the Sports Council.
Buckton will retire at the end of the year.
Sportsperson of the Year
The high point of the evening was the presentation of the Jamison Cup for Sportsperson of the Year 2018, with UCT Athletics member and Paralympian Mpumelelo Mhlongo taking the honour for the fourth consecutive year.
The accolade comes after Mhlongo brought home one bronze, a number of silver and a host of gold medals from various national and international meets this year. Perhaps the pinnacle of his achievements for 2018 was winning both the 100m and long jump events at the World Para Athletics Grand Prix.
He was however not recognised only for his outstanding athletics abilities, but also for his charisma and empathy.
"Mpumi's phenomenal personality on and off the track makes him a great sportsman and team member," the Sports Union's Bronwyn White said when she announced Mhlongo's nomination.
Mhlongo was not present to accept his award, which was received on his behalf by his athletics teammate Oduor Ochieng.
The other four nominees for the title were Nicholas Notten (canoe polo), Martin Fryer (cycling), Nepo Serage (hockey) and Nicola Macleod (water polo).
Noteworthy awards
A host of other notable awards were conferred on worthy recipients, including:
The Lydia Hall Club of the Year Trophy:
Mountain & Ski (winner)
Cycling
Hockey
Coach of the Year:
Karate – Michael du Plessis (winner)
Basketball – Matthew Skade
Rowing – Lee-Ann Persse
The Turpin Cup for Service to Sport:
Bronwyn White – Fencing (winner)
Samantha Rule – Hockey
Brendon Fourie – Squash
Heidi Burger – Yachting
Sports Residence Champions: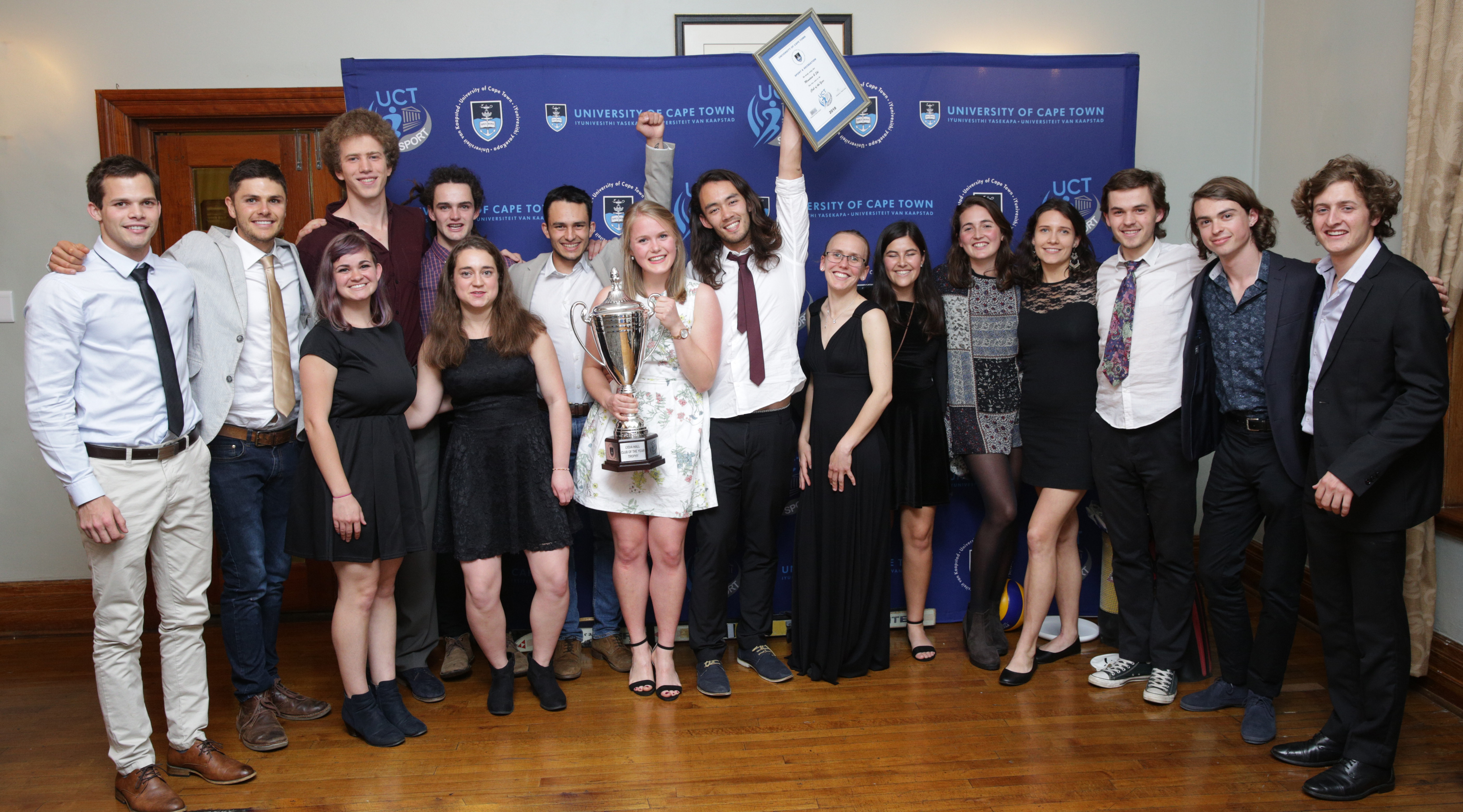 Transformation & Outreach Trophy:
Mountain & Ski (winner)
Cycling
Surfing
Best First-Year:
Nepo Serage – Hockey (winner)
Hayley Preen – Cycling
Khule Thokozani Bhopela – Basketball
Landstem Trophy for Outstanding Performance in a Specific Event:
1st Team BenGAL Tigers – Winning SA Ultimate Nationals (winner)
Mpumelelo Mhlongo – Overall 1st at the World Para Athletics Grand Prix
UCT 1st Men's Hockey Team winning USSA
UCT Yacht Club placing 3rd in Lipton Cup despite huge challenges
Butterworth Cup for Team of the Year:
Rugby – U20A Team (winner)
Basketball – 1st Ladies Team
Cricket – 1st Team
Rowing – Women's Squad
---
This work is licensed under a Creative Commons Attribution-NoDerivatives 4.0 International License.
Please view the republishing articles page for more information.
---