Freedom Gumedze (Department of Statistical Sciences) completed his second Comrades ultra marathon, an up-run, on 09 June having run the down run successfully last year. He crossed the line with an impressive time of 9 hrs 55 minutes earning the Robert Mtshali medal.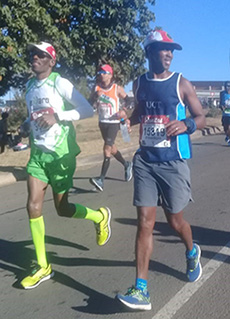 The Mtshali medal was introduced this year to honour the first unofficial Black runner in the race. Robert was one of 35 finishers in the down-run from Pietermaritzburg to Durban in the 1935 Comrades Marathon. His finishing time was 9 hours and 30 minutes.
Freedom also took his running shoes and athletic ability to the UK where on 07 July he ran the Leamington Spa Half Marathon in 1 hr 44 mins, 50 secs. Leamington Spa is a small town in Warwickshire, England close to Warwick University where Freedom has a Newton Advanced Fellowship that enables research collaboration.
Zarina Patel (School of Environmental and Geographical Sciences) completed her 100th parkrun at the Rondebosch Common in July. The race was run under a rainbow on a cold and damp morning. Her goal for her 100th run was to have her family with her and to clock sub-30. Since she hadn't achieved this time this year, this was an ambitious goal. "My son ran besides me, and put me through my paces, whilst fellow NGP member, Corrinne Shaw was my marker a few meters ahead of me". She finished with a happy 28minutes 40 seconds. Hooray.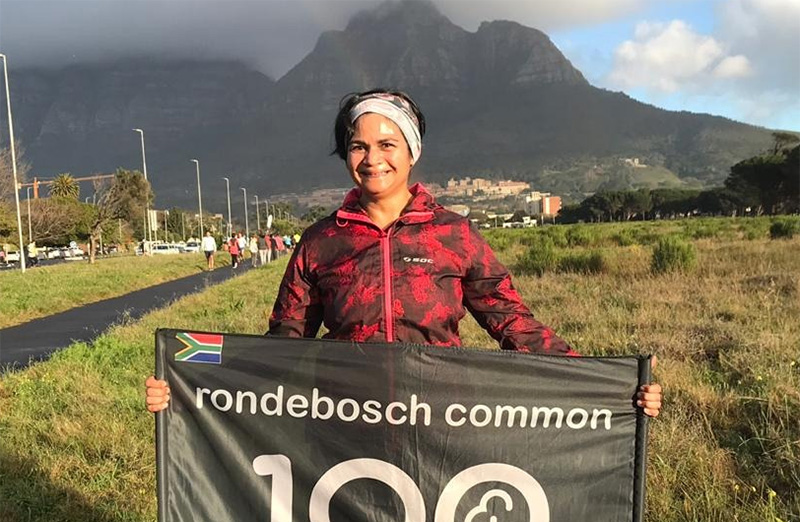 She reflects: "This is a significant milestone for me – as it marks a journey. I started parkrunning back in 2016 with my family, my husband Stephen and two children Xavier and Zara. I was not a runner, but, was motivated by the fact that the runs are so close to home; they provided the basis for shared family goals; and they got our weekends off on a good footing - having banked some 'muscle time'. We've all come a long way since we stated in 2016 and have run in parkruns all over the Western Cape, and even abroad. In addition, I've run with NGP colleagues in the early mornings at Mont Fleur and this has greatly helped with the process. With 100 runs in my legs, I think I now qualify as a runner!
---
This work is licensed under a Creative Commons Attribution-NoDerivatives 4.0 International License.
Please view the republishing articles page for more information.
---