Anwar Jardine works to build a new generation of scientists. He works with school-learners both to encourage interest in a sustainable future using green chemistry and to build the skills necessary to become first-rate scientists. He uses innovative methods to stimulate interest and uses gas to make citrus-flavoured ice cream!
Young scientists for a Green and Sustainable Future
One of UCT's strategic goals is to contribute to South Africa's development challenges. Scientists contribute by becoming inspiring role models. We encourage healthy competition by engaging with school teachers and students in our region and in this way put science at the service of building a more just, equitable and unified country.
From under the dark clouds hanging over Eskom as an energy provider, a ray of light shines from the Eskom Young Scientists Expo event (27-29 August, UCT Sports Centre). This is an annual regional highlight where the impact of social outreach and interventions in support of students and teachers can be witnessed. Students from all over South Africa are selected each year to compete in the Young Scientists International Science Fair (ISF).
It is important to engage with both privileged and disadvantaged schools at the same time in the same space. How can a learner realize how fortunate/unfortunate s/he is if they do not interact? Lecturers can help to nudge and nurture students in both resources limiting and resourceful environments in the right direction and towards an SDG (Sustainable Development Goal) goal.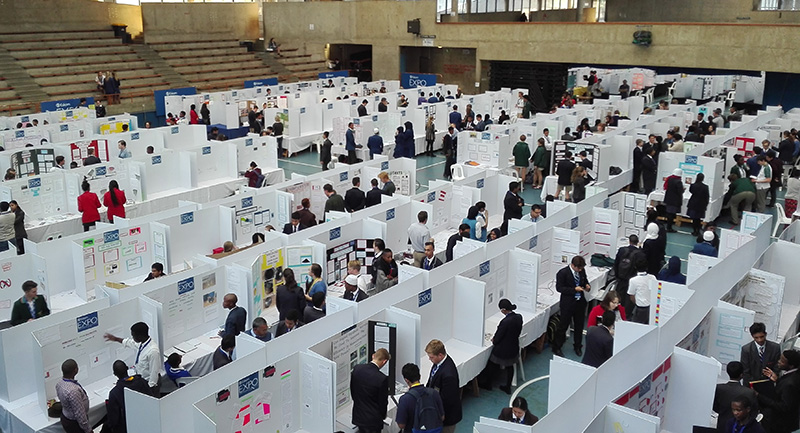 The importance of Gas – from Moon Landings to citrus flavoured creamy ice cream
On July 16, 1969, astronauts Neil Armstrong, Buzz Aldrin and Michael Collins lifted off from NASA's Kennedy Space Centre in Florida on a journey to the Moon and into history. Most NGPs may not have been fortunate to listen to the radio at the time while gazing at the moon, recalling the famous words; "One small step for Man, one giant leap for Mankind".
Fifty years later, we are talking about colonizing Mars. Indeed, another giant leap for the future of Mankind. So, what does smooth citrus flavoured creamy ice cream have to do with space travel? Well, it is all about the property of gases.
On the 25 June I hosted the Siyazakha-project Grade 11 students with help from my colleague Dr Jappie and my postgraduate students. The programme supports the teaching and learning of Mathematics, Physical Science and English, funded by the Zenex Foundation.
Students were given a hands-on experience in supercritical CO2 extraction of orange oil from the peel of sweet Valencia oranges. Supercritical CO2 is dry-ice under enough pressure to allow it to liquify. Carbon dioxide in its liquid form serves as a solvent that dissolves the essential oils in the peel, subsequent evaporation of CO2 leaves the orange oil extract which is used as a citrus flavour. By the way, the Mars atmosphere consists of 96% CO2.
Unlike the Martian atmosphere, planet earth's atmosphere consists of 78.09% nitrogen, 20.95% oxygen, 0.93% argon and only 0.04% carbon dioxide. Nitrogen is commercially extracted from air and then converted into nitrogen gas in its liquid form by cooling it below its boiling point. Liquid nitrogen has an extraordinarily low boiling point of -196 °C and is also great for instantly cooling a mixture of cream, milk and flavour into a smooth ice cream whilst stirring. The result was the smoothest ice cream I have ever tasted! Now that is cool.
Hydrogen together with oxygen provided the thrust to get the Apollo 11 off the ground and into orbit. The spacecraft was powered by a Saturn V rocket which stood 101.5 meters tall. It weighed 240 ton empty and 2767 ton loaded of which 85% was fuel. The evening ended with the 130 students enjoying the 8 litres of ice cream, they made themselves, while watching the video of the Apollo 11 launch.
---
This work is licensed under a Creative Commons Attribution-NoDerivatives 4.0 International License.
Please view the republishing articles page for more information.
---