Q&A Associate Professor Lis Lange
Deputy Vice-Chancellor: Teaching and Learning
Teachers really are on the front lines, engaging with students on a daily basis, sometimes receiving little appreciation for their efforts.
Teaching truly is a calling, isn't it? I am proud to say that many of our colleagues go above and beyond to help their students achieve success, so one of my highlights each year is the presentation of the Distinguished Teacher Award. Another wonderful platform for recognising the dedication of our teachers is the Vice-Chancellor's Inaugural Lecture Series – we celebrated six appointments to full professorship in 2019.
Eight new massive open online courses (MOOCs)
were launched at UCT in 2019.
More than these individual teachers, many of UCT's courses have been recognised for their excellence.
Absolutely. The Centre for Innovation in Learning and Teaching (CILT) launched eight new massive open online courses (MOOCs) in 2019, bringing the UCT total to 23. Of these, five appeared on Class Central's Top Free Online Courses of All Time, matching MIT and the University of Sheffield for most MOOCs listed. Another course highlight came from the Graduate School of Business, where the Executive MBA programme was named the best in Africa and rated in the top 50 worldwide – the first African programme to do so.
Social responsiveness underlies the academic project at UCT. How does your portfolio support this?
Various faculty initiatives address the complex social challenges in our country, and I am humbled by the real-life differences that they make. Our 2019 Engaged Scholarship Teaching and Learning Grants allowed staff members to develop courses that promote community-engaged teaching and learning. Dr June Bam-Hutchison (Centre for African Studies), for example, used the grant to work with the A/Xarra Restorative Justice Forum on a new undergraduate course; Associate Professor Una Kyriacos (Division of Nursing and Midwifery) facilitated an adult education course for rurally based ophthalmic nurses.
How is UCT promoting innovation in digital and online learning?
In 2019 we allocated 17 Teaching Innovation Grants to academics from CHED, Health Sciences, Humanities and Law to develop curricula or courses to improve student learning. The grants are used to design digital materials and open educational resources, which are becoming increasingly relevant in the Fourth Industrial Revolution. One of the projects is using virtual reality to lecture anatomy and physiology by immersing students in the human body in an interactive, virtual classroom.
The Formal Online Education Project is a five-year (2018–2022) initiative committed to improving access and reach. What progress has been made?
The first phase of the project, which is funded by the Vice-Chancellor's Strategic Fund, saw the selection of five undergraduate courses and two postgraduate programmes for development in blended and online teaching modes. Academics worked with CILT to enhance or design blended courses to promote student engagement and create innovative learning experiences. Four of the undergraduate courses: Statistics (Science); Writing Across Borders, and Empire and Modernities (Humanities); and Evidence Based Management (Commerce) launched in 2019. Towards a Decolonised Science in South Africa (Science) is in production. Two fully online postgraduate programmes were selected for development: the Postgraduate Diploma in Public Sector Accounting (Commerce), which launched in 2019; and the Postgraduate Diploma in Emergency Care (Health Sciences) planned for launch in 2021.
---
Distinguished Teacher Award
The 2018 Distinguished Teacher Award, the highest accolade awarded in recognition of teaching excellence at UCT, was presented to Associate Professor Jeff Murugan and his colleague Dr Anneliese Schauerte.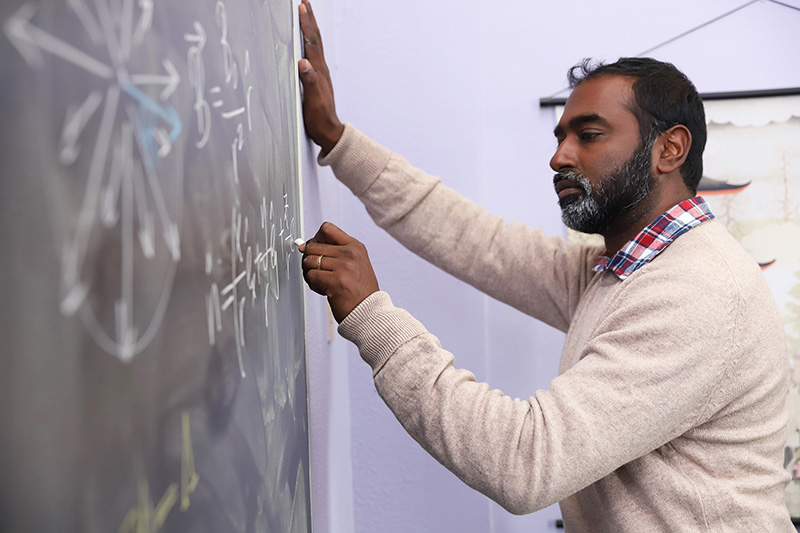 As a high school learner in KwaZulu-Natal, Associate Professor Jeff Murugan struggled to understand the point of mathematics, until two excellent teachers helped mould him into the mathematician and teacher he is today. Now deputy dean of the Faculty of Science and an associate professor in the Department of Mathematics and Applied Mathematics, Murugan also heads the Laboratory for Quantum Gravity and Strings.
Murugan said that Albert Einstein's words – "I have no special talent. I am only passionately curious." – have guided him throughout his teaching career.
"That's how I learn things, and that's how I like my students to learn things."
Read the article and watch the video.
---
When she embarked on her career as an academic, Dr Anneliese Schauerte loved the research aspect, but she was terrified of teaching initially. So, she gave herself six months to get to grips with "this teaching thing". That was 25 years ago.
Schauerte teaches a third-year pure maths course to maths majors, as well as a service course to second-year engineering students. Her success as a teacher, she said, comes from paying careful attention to where her students are in understanding the subject matter, where they want to be and how she can get them there.
"Teaching is difficult, and teaching maths is especially difficult. There are many challenges, and to get past them, I really put my heart into it."
Read the article and watch the video.
---
Inaugural lectures
Professor Ambroise Wonkam (13 March)
"Enabling genetic medicine"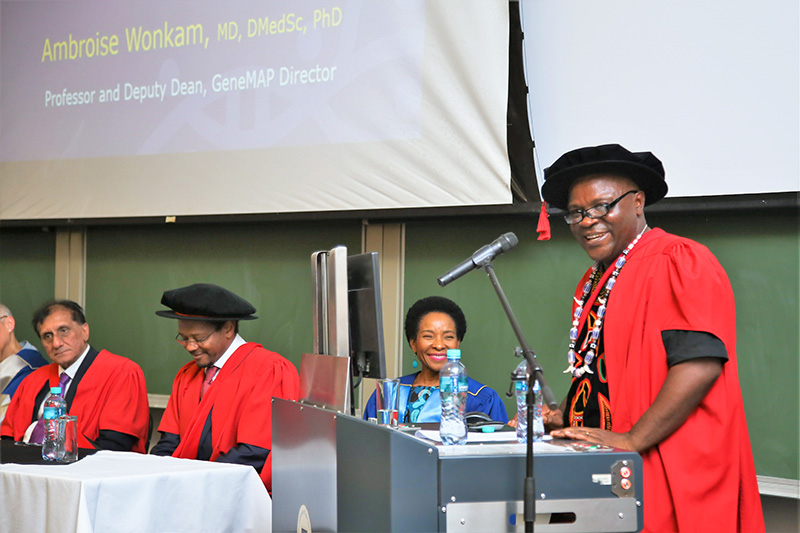 Read the article and watch the video.
---
Professor Shadreck Chirikure (3 May)
"Why does 'success' continue to elude contemporary Africa? Some insights from deep history and archaeology"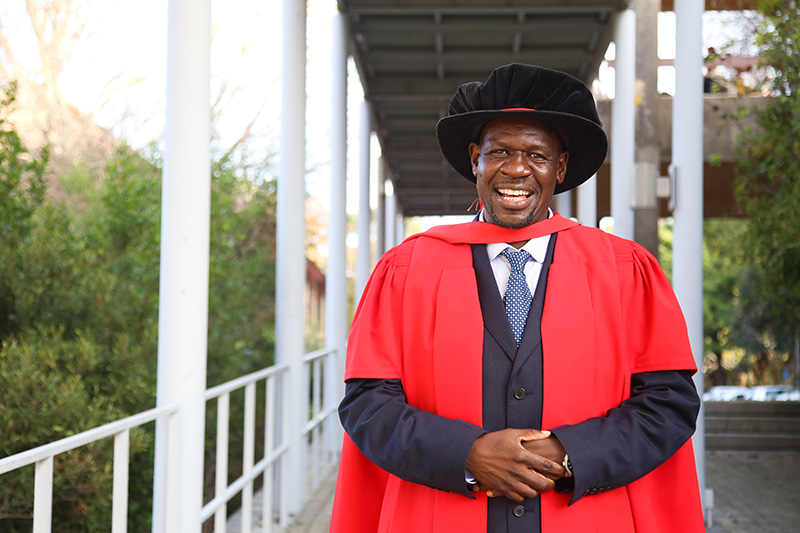 Read the article and watch the video.
---
Professor Adam Haupt (31 July)
"Remixing scholarship: Hip hop, the humanities and knowledge production"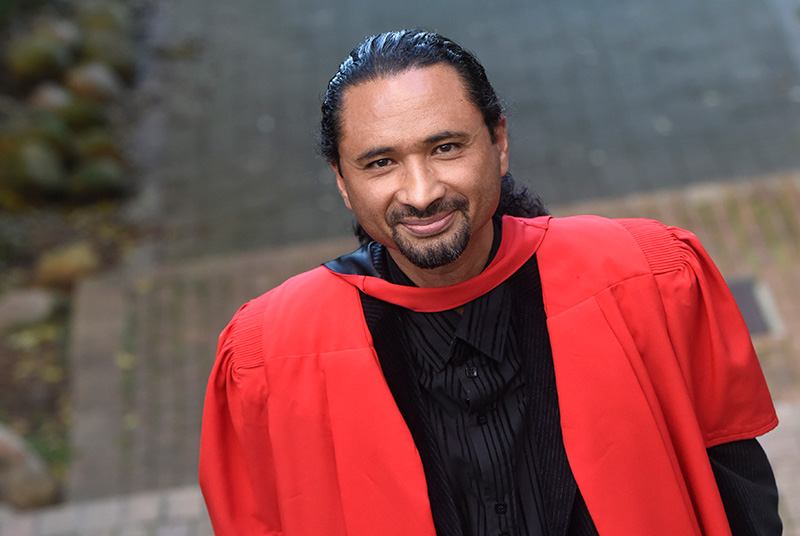 Read the article and watch the video.
---
Professor Rebecca Ackermann (14 August)
"The evolution of human diversity: The relative roles of chance, adaptation and ancient sex"
Read the article and watch the video.
---
Professor Collet Dandara (25 September)
"Pharmacogenomics and personalising medicines in African populations for quality health: Yet another story of playing catch-up"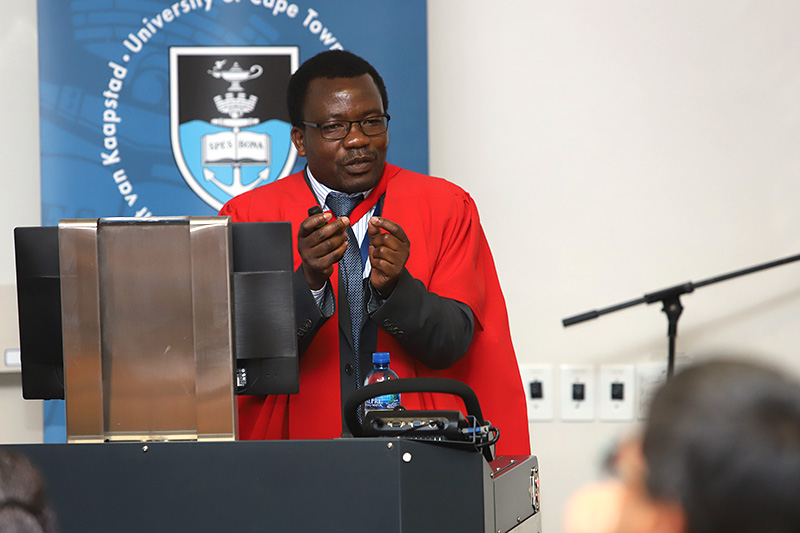 Read the article and watch the video.
---
Professor Edwin Muchapondwa (9 October)
"Nature resolves economic problems for humans: Must humans not reciprocate?"
Read the article and watch the video.
---
Collaborative maths symposium
Diagnostic Mathematics Information for Student Retention and Success (DMISRS) is a collaborative project bringing together mathematicians from across the country in an attempt to improve student performance in mathematics, which is fundamental to all science, technology, engineering and mathematics (STEM) programmes.
The project aims to analyse the curricula of first-year mathematics courses in higher education to establish how best to address students' needs through curriculum-integrated support initiatives, including blended learning.
On 8 and 9 July UCT's Centre for Educational Testing for Access and Placement (CETAP) hosted the second annual DMISRS symposium.
---
Teaching al fresco
What do you do when a booking glitch sees you and 180 students without a lecture venue? You set up class on the steps opposite the AC Jordan Building, as Carla Fourie did with her financial accounting students.
The students brought along their card packs – red, yellow and green – which allow them to flag problems in their understanding of Fourie's lectures.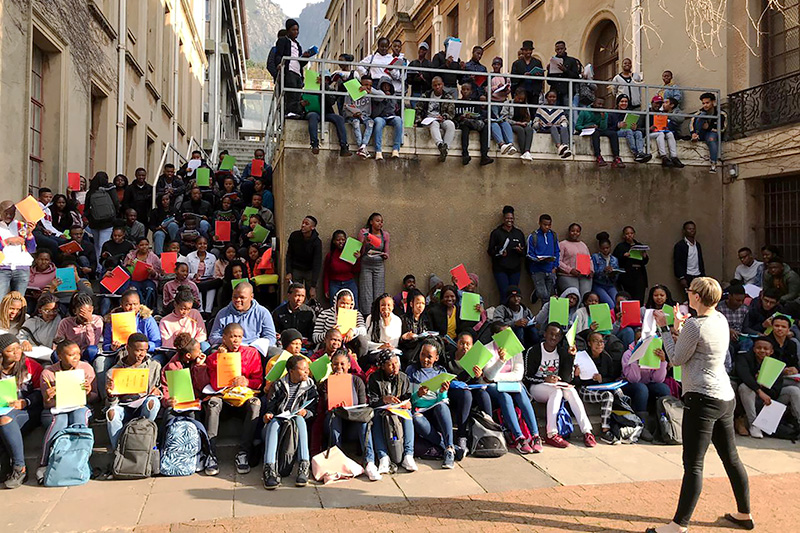 "If I'm teaching a new concept … I ask them to hold up their cards, and as I'm talking and explaining … I can quickly see who is grasping the concept.
With 21 years of teaching experience and the 2009 Distinguished Teacher Award to her credit, Fourie is used to improvising (she carries a mini whiteboard in her handbag). Some may have taken the glitch as a signal to cancel the class, but Fourie believed that her students deserved better.
"When we have load-shedding and when technology doesn't work, we tend to say, 'We can't do it. Let's cancel.' It's actually not okay."
---
'Living' lessons
Professor Mike Meadows has delivered the 09:00 first-year lecture on physical geography for the past 33 years. "I've never missed it. Even when I've taken a sabbatical, I've always timed it for the semester we didn't run the course," he recalled.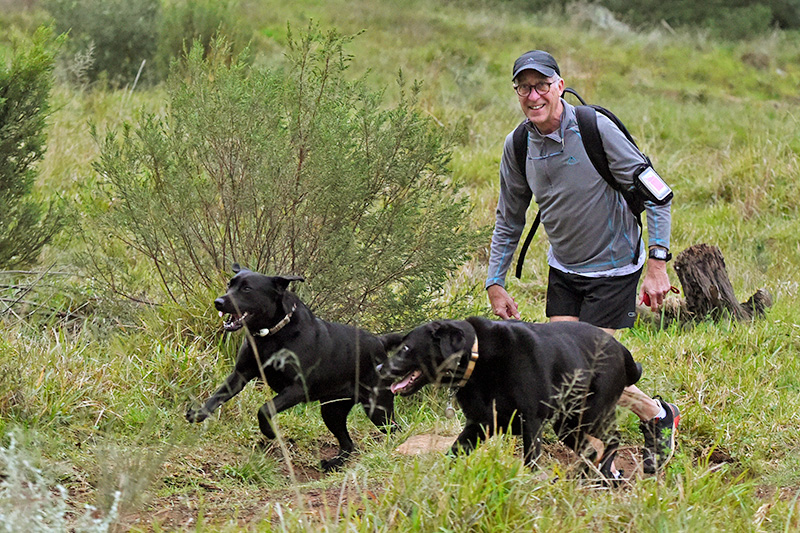 Meadows religiously took his students along the single track at the back of Table Mountain. It's a "living" lesson: it's one of the planet's oldest mountains, six times older than the Himalayas and five times older than the Rockies.
"The students love it and hate it all at once. Many have never been up before; many are unfit. I always take at least one of the dogs."
Meadows retired in December, but he has taken on the mantle of senior research scholar – part of a cohort of emeritus professors who act as mentors to UCT's next generation of scholars.
---
Delivering inclusivity
Based in the Centre for Higher Education Development (CHED), in just four years the CILT team have created 23 MOOCs that have reached over 280 000 self-motivated students across the globe.
Their 20th open-access course, Educating Deaf Children: Becoming an empowered teacher, addresses the educational needs of learners with disabilities by training teachers to respond to their individual requirements.
Educating Deaf Children is just one of four MOOCs commissioned by TEDI; the other three look at children with severe to profound intellectual disabilities, children with visual impairment, and disability inclusion and education.
"Working on this project, I learnt how incredibly valuable [MOOCs] are, how they … make education so accessible to so many different people." – Dr Jane Kelly, research officer from the Teacher Empowerment for Disability Inclusion (TEDI) project.
---
Top Free Online Courses of All Time
Based on tens of thousands of user reviews, five UCT massive open online courses (MOOCs) made it onto the Class Central list of the Top Free Online Courses of All Time, putting the university in joint first place alongside MIT and the University of Sheffield. This achievement is even more remarkable when considering that Class Central runs more than 13 000 MOOCs from around 1 000 universities worldwide.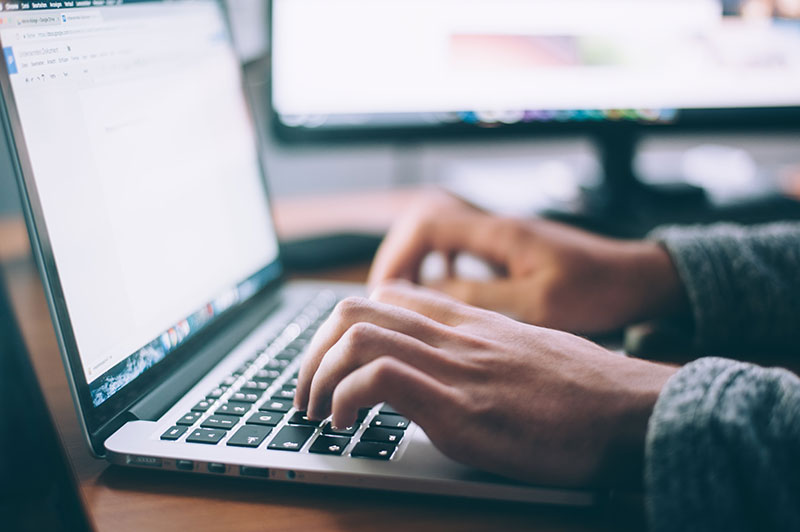 "This news is testament to the passion and expertise of our fabulous academics who have opened their teaching to a global audience and to the production teams who have designed such high quality online courses," said Sukaina Walji, online education project manager at CILT.
The UCT courses that made the list are: Medicine and the Arts: Humanising healthcare; What is a Mind?; Extinctions: Past and present; Education for All: Disability, diversity and inclusion; and Understanding Clinical Research: Behind the statistics.
---
GSB case-writing win
A team from UCT's Graduate School of Business won the international 25th CEEMAN and Emerald Case Writing Competition, beating 27 teams from 11 countries with their work on the marketing challenges faced by small- to medium-sized enterprises when taking their product global.
The case study, by Fran Heathcote and Professor Geoff Bick, examined the remarkable success story of South African entrepreneurs Johannes le Roux and Inus Smuts who, within two years of launching their non-alcoholic gin and tonic beverage, The Duchess, branched out internationally and won two awards.
"It is just such a great story … It is local and lekker
and it promotes South Africa in an extremely positive way."
---
Stella Clark Teachers' Award
Each year the Centre for Higher Education Development (CHED) invites students to nominate the high school teachers who helped them to achieve their dream of accessing tertiary education.
Thuli Shongwe, who teaches at Mandlesive Secondary School in Mpumalanga, was the recipient of the 2019 Stella Clark Teachers' Award. A mother, caregiver, mentor and pillar of strength is how second-year LLB student Sandiso Sifumba described his favourite high school English teacher.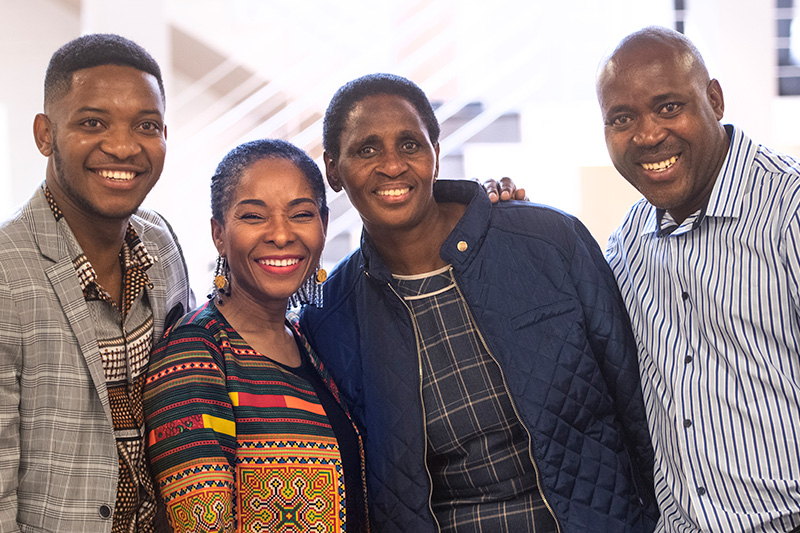 From left: Sandiso Sifumba, VC Prof Mamokgethi Phakeng, Thuli Shongwe and school principal Moses Mlombo.
Read the article and watch the video.
---
Teaching and learning in 2019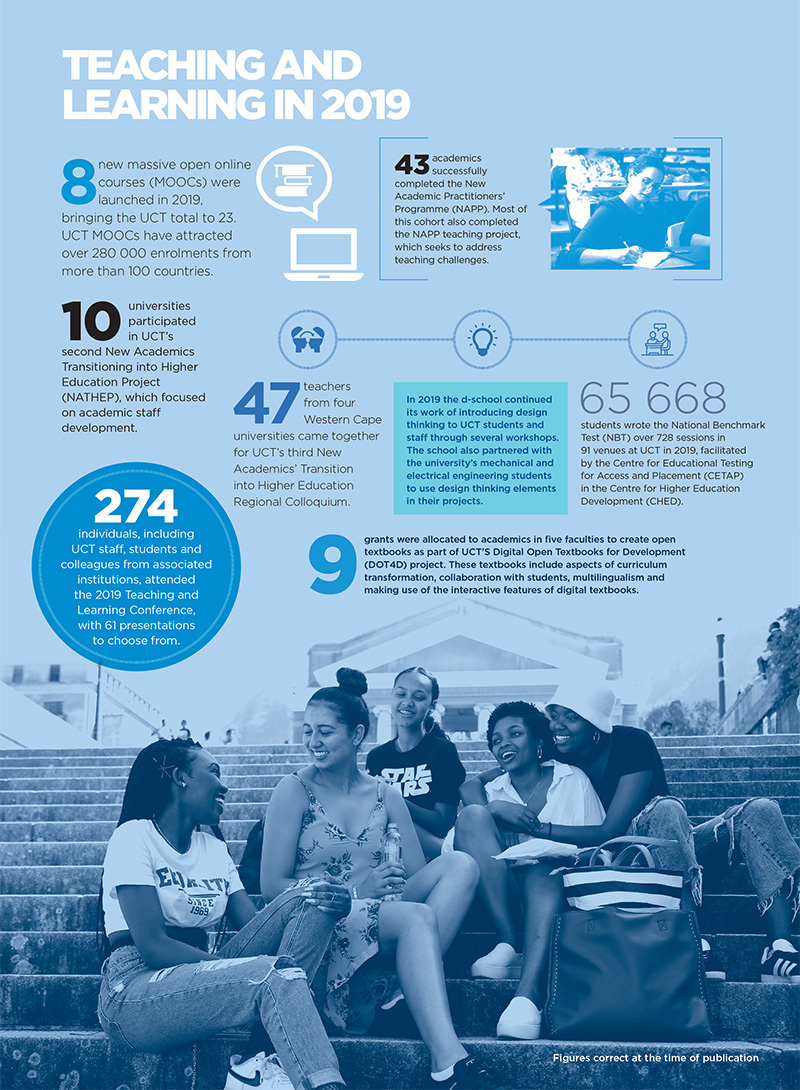 8 new massive open online courses (MOOCs) were launched in 2019, bringing the UCT total to 23. UCT MOOCs have attracted over 280 000 enrolments from more than 100 countries.
43 academics successfully completed the New Academic Practitioners' Programme (NAPP). Most of this cohort also completed the NAPP teaching project, which seeks to address teaching challenges.
10 universities participated in UCT's second New Academics Transitioning into Higher Education Project (NATHEP), which focused on academic staff development.
47 teachers from four Western Cape universities came together for UCT's third New Academics' Transition into Higher Education Regional Colloquium.
In 2019 the d-school continued its work of introducing design thinking to UCT students and staff through several workshops. The school also partnered with the university's mechanical and electrical engineering students to use design thinking elements in their projects.
65 668 students wrote the National Benchmark Test (NBT) over 728 sessions in 91 venues at UCT in 2019, facilitated by the Centre for Educational Testing for Access and Placement (CETAP) in the Centre for Higher Education Development (CHED).
9 grants were allocated to academics in five faculties to create open textbooks as part of UCT'S Digital Open Textbooks for Development (DOT4D) project. These textbooks include aspects of curriculum transformation, collaboration with students, multilingualism and making use of the interactive features of digital textbooks.
274 individuals, including UCT staff, students and colleagues from associated institutions, attended the 2019 Teaching and Learning Conference, with 61 presentations to choose from.
*Figures correct at the time of publication
---
This work is licensed under a Creative Commons Attribution-NoDerivatives 4.0 International License.
Please view the republishing articles page for more information.
---