As the continent's academic and research powerhouse, and with collaborations across the globe, the University of Cape Town (UCT) is uniquely positioned to contribute to world economic, environmental and social sustainability. So said Chancellor Dr Precious Moloi-Motsepe during her keynote address at the annual Heads of Mission breakfast, hosted by Vice-Chancellor Professor Mamokgethi Phakeng.
The event on Thursday, 13 February, was the chancellor's first official UCT engagement – Moloi-Motsepe joined the university on 1 January this year.
Fresh from the World Economic Forum in Davos, Switzerland, where climate change activist Greta Thunberg was the flag-bearer for youth, Moloi-Motsepe said Africa's future lay with the young who are "vocal, impatient and anxious and somehow feel let down by our generation".
UCT's challenge is to consider the role of higher education on a continent with the fastest growing youth population in an era of technological transformation, "at a moment in history where our industrial actions can spur disaster or a prosperous future".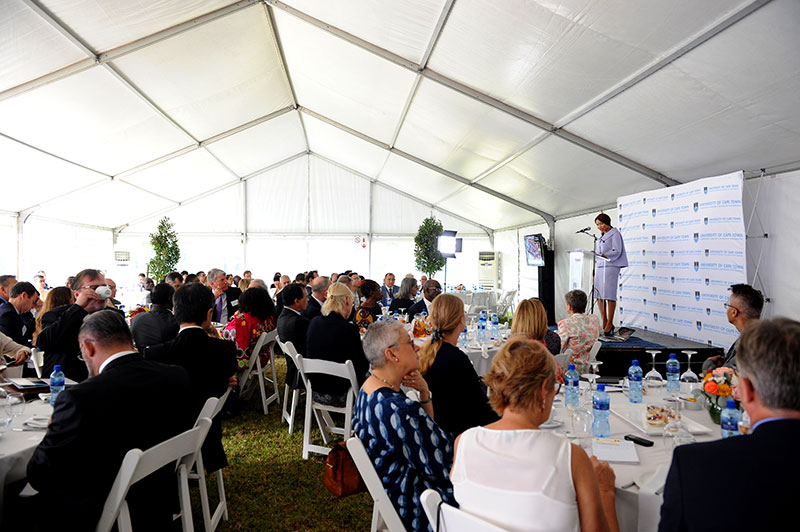 "One example I am passionate about is the clothing and manufacturing sector. We established African Fashion International to ensure that the local knowledge expertise can be brought into the fashion ecosystem and create more jobs in our country.
"For centuries, Africa's opportunity was seen solely in the extraction and export of resources, and it was precisely this need for mineralogy- and geology-related skills following the discovery of gold and diamonds that grew a once modest University of Cape Town into this leading African institution we see today."
She cited the US$2 trillion fashion industry as an example of where education and research could make a difference.
"Research and skills development around organic, biodegradable clothing is what the global fashion industry is searching for, and with that a possibility of reinvigorating local clothing manufacturing."
Winning student entrepreneurs
In highlighting economic sustainability, Moloi-Motsepe pointed to the many UCT student entrepreneurs and the university winning the 2019 Entrepreneurship Intervarsity.
"This is the expertise we need to guide us … If the work of the future is expected to change, we require African innovators who can thoughtfully acknowledge the impact of technological and scientific breakthroughs, especially in low-income countries."
She said that many of UCT's graduates were first-generation degree holders and, by nurturing their contributions, Africa would be able to realise its goals and leapfrog into the Fourth Industrial Revolution.
"We require African innovators who can thoughtfully acknowledge the impact of technological and scientific breakthroughs."
"These people know first-hand what needs to change in South Africa and they are committed to helping bring that change. As future academics and researchers, they will have the knowledge, resources and expertise to push beyond the boundaries of tradition and old thinking."
Practices of inclusion
Moloi-Motsepe said economic sustainability would depend heavily on practices of inclusion.
"To bring about equality we have to investigate the root causes and invest in a pipeline of diverse, young leaders in areas where their perspective has been lacking."
One example of this is the Vice-Chancellor's Advancing womxn awards, worth R22.5 million over the next five years. The first five grantees were announced last year.

Intra-university collaboration between different thought fields is vital to achieving social sustainability, which Moloi-Motsepe defined as "the survival and growth of community life".
"UCT's focus is on building leaders, not only in academia but in all sectors of society. In January UCT launched the Local Government Women's Leadership Development Programme through its Nelson Mandela School of Public Governance, in collaboration with other partners."
There are many other entities doing similarly important work at the university, from children's safety and rights to crime prevention and disability, she said.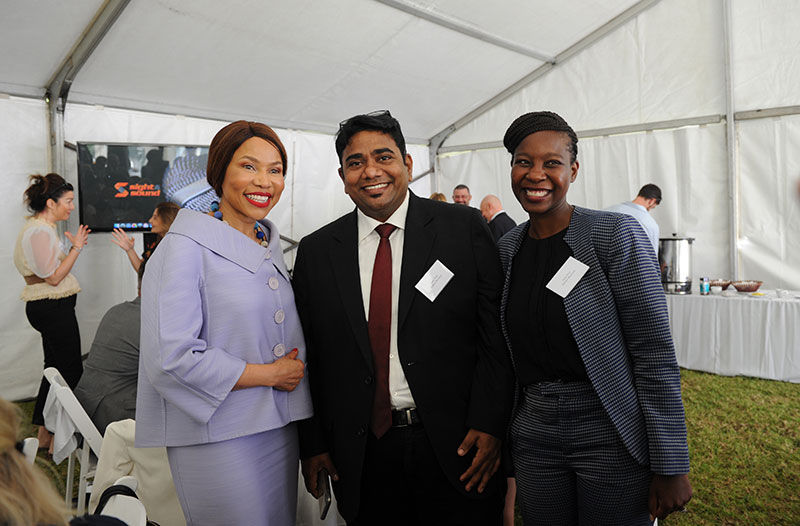 This extended to its own community where UCT is seeking to create a community that is inclusive and represents the country's demographic profile, and where "staff and students can feel a sense of belonging and be inspired to excellence".
Sustainable Development Goals
UCT is the only African member of the International Alliance of Research Universities (IARU), where the university works with 10 of the world's leading institutions. A strong emphasis is on sustainability issues, building ecologically literate communities, and a green campus.
These sustainability initiatives are "critically linked" to the United Nations Sustainable Development Goals (SDGs). Though most of the research has been dominated by the global north, emerging countries of the global south are also at risk of climate change, increasing poverty and inequality.
"UCT enables people in the global south, and Africa in particular, to share their own experiences, knowledge and thought leadership to find solutions to these challenges," said Moloi-Motsepe. "With just one decade left to achieve [these] ambitious SDGs, and the low level of progress around the world on some of the goals, it is clear there's a need for urgent change in our approaches to SDGs."
To this end, UCT co-founded the African Research Universities Alliance, which launched 12 centres of excellence aligned to the SDGs.
"With just one decade left to achieve [these] ambitious SDGs … it is clear there's a need for urgent change."
A major development is the International Summit on the SDGs in Africa 2020, which UCT will host at the Graduate School of Business in April this year. This summit is an invitation-only event for the continent's top 200 academics and university executives to identify critical levers that will accelerate the SDGs.
"A key aim is to mobilise collaborative activities across universities and enable researchers to increase both the pace and scale of efforts across the continent to achieve the 2030 agenda for sustainable development, bringing a strong global south approach," said Moloi-Motsepe.
Africa-based innovations
The role of Africa in the global landscape is changing, she added.
"We continue to have many needs, but we are also eager to create Africa-based solutions to our local problems and the problems we share with the world: interconnectedness and ubuntu. This is a vision I share with UCT, and I believe it is a vision shared by every one of you.
"By helping to empower UCT, we empower Africa and we provide opportunities to change the world."
UCT showcase
To end, UCT showcased the work of five researchers working in critical areas: head of Global Surgery, Associate Professor Salome Maswime; Professor Mark New, director of the ARUA Centre of Excellence in Climate Development, and Professor Murray Leibbrandt, director of the African Centre of Excellence for Inequalities Research on climate change and economic sustainability; Associate Professor Sudesh Sivarasu on Frugal Biodesign, which helps developing nations solve their healthcare problems; and Professor Sophie Oldfield, an urban and human geographer with a focus on cities in the global south, based at the African Centre for Cities.
---
This work is licensed under a Creative Commons Attribution-NoDerivatives 4.0 International License.
Please view the republishing articles page for more information.
---