Even before the COVID-19 schooling crisis, half a billion children around the globe were being taught in schools their governments had rated as failing. For a world in the teeth of climate change, poverty and disease and rapid technological advancement, the consequences of the education crisis are dire, said Vikas Pota.
Pota is the founder and chief executive officer of T4 Education, a digital media platform for educators to network, collaborate and share best practices. He was delivering the Vice-Chancellor Open Lecture on 27 July, hosted by the University of Cape Town's (UCT) vice-chancellor, Professor Mamokgethi Phakeng.
The heart of Pota's topic addressed the urgent need for great change – and great changemakers.
A world leader in education, Pota serves on several non-profit boards, including the Education Outcomes Fund, Queen Rania Teacher Academy, Educate Girls, and Teach for All. He is an honorary lecturer at the University College London, was a visiting practitioner at the Harvard Graduate School of Education and served as a senior policy fellow at the University of Cambridge's Centre for Science & Policy.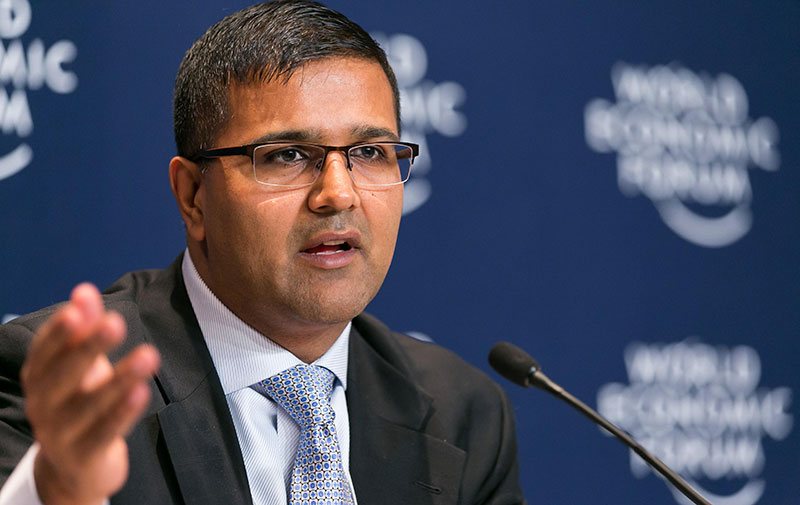 A World Economic Forum Young Global Leader and one of London's 1 000 most influential persons, Pota was recently named European Regional Honoree for the 2022 Young Presidents Organization Global Impact Award.
In her introduction, Professor Phakeng said that Pota's lecture topic and message aligned well with UCT's massive transformative purpose for Vision 2030.
"This is to disrupt unworkable systems and practices to unleash human potential to create a fair and just society."
Answer to all questions
But change must be driven by education, Pota said.
"I firmly believe that whatever the question, education is the answer."
With over 1.5 billion learners impacted by school and university closures during the pandemic, global education is emerging from the greatest crisis it has ever faced, he added.
"In times of such great change, the world's changemakers need to step forward and find their voice."
"Worryingly, even before the pandemic, the United Nations warned that progress was already too slow to achieve its Sustainable Development Goal 4 of quality education for all by 2030."
But he warned of the dangers of "falling down the rabbit hole" of a notion that everything is too difficult or insurmountable.
"That is simply not an option. The world quite evidently needs to change … In times of such great change, the world's changemakers need to step forward and find their voice. And this is underpinned by a commitment to education."
The world's major organisations and institutions had already rallied to this cause.
"We have seen organisations like the United Nations Educational, Scientific and Cultural Organization with the Organisation for Economic Co-operation and Development and others announce the Paris Declaration to tackle the educational crisis and inequalities exacerbated by the COVID-19 pandemic."
Importantly, he said, this includes a call to raise more revenue to increase education budgets through improved tax systems, innovative financing measures, and public and private cooperation.
"It also includes investing in key policy priorities for recovery and accelerated progress towards SDG 4," he continued. "They want governments to put their money where their mouths are. The World Bank, another great institution, the largest financier of education in the developing world, is urging governments to implement ambitious and aggressive learning recovery programmes, to get children back to school, recover lost learning, and accelerate progress by building better, more equitable and resilient education systems.
"Forget about waiting for authorities to make things happen. We can't afford to wait for politicians to bring the change."
The downside is that in two-thirds of low- and low-middle-income countries needing increased spending, most governments had cut their public education budgets after the onset of the pandemic.
"When it comes to the commitments of developed nations, often they have been found lacking. We need the world to pull together to solve the global education crisis ... And unless we do this and ensure universal quality education for all, we cannot skill the next generation to face the challenges of tomorrow."
To students and other young leaders, he said, "Forget about waiting for authorities to make things happen. We can't afford to wait for politicians to bring the change; we need to be the change we want to see in the world, as Gandhi said. Every one of you can make a significant impact for change if you are armed with the right tools. Fundamental to that is the passion to make a difference, the communication skills to bring about that difference, and to bring others with you."
Three lessons for changemakers
In this statement, there are three lessons for changemakers Pota had learnt while travelling and meeting world leaders. Great changemakers value three things, he said: teamwork, connecting the dots, and great storytelling.
"Learn how to form partnerships; learn how to contribute towards coalitions; learn how to build community."

The first key skill is learning how to work in teams, he said.
"Learn how to form partnerships; learn how to contribute towards coalitions; learn how to build community. We must find ways of building coalitions; building partnerships; building alliances; working in teams; and that, I think, is a 21st-century superpower."
The second lesson stems from a World Economic Forum meeting in Davos where founder Professor Klaus Schwab was asked by a young man from a Kenyan refugee camp how he could maximise the five-day forum.
Professor Schwab answered that the future belonged to people who could "stand back and connect the dots for other people".
"It's that navigation that is a really important skill set for us to learn as changemakers."
The third lesson came from former United States president Barrack Obama. Asked about the biggest leadership lesson he'd learnt in his term as president, Obama said, "policy no longer moves the needle".
It was a jaw-dropping moment for Pota.
The only thing that had ever changed, or moved the needle, Obama said, is "great storytelling".
To coalesce people around and convey urgent messages and actions, changemakers must think about how they communicate, said Pota.
"We need to be able to make sure that we can relate the big messages, the urgency, the opportunity, to those that we serve – and those we wish to take along with us in this change."
Pota ended his address with a challenge to young changemakers.
"Transformation won't come unless we are committed to the transformation of ourselves. Be the change you wish to see in the world. What is the cause that matters most to you? If you can answer that question, you're halfway there."
---
This work is licensed under a Creative Commons Attribution-NoDerivatives 4.0 International License.
Please view the republishing articles page for more information.
---