Scientists from the universities of Cape Town (UCT) and the Witwatersrand (Wits) have joined forces in a bid to identify critical knowledge needs to support South African efforts to prepare the country for changes in climate over the next decade.
UCT's African Climate and Development Initiative (ACDI), along with the Global Change Institute (GCI) at Wits, have been reviewing the country's past climate adaptation research efforts in order to help guide the scope of a national research agenda.
Their study was commissioned by the national Department of Environmental Affairs (DEA) and funded by the Deutsche Gesellschaft für Internationale Zusammenarbeit (GIZ). The Climate Systems Analysis Group (CSAG) at UCT is a key partner in the ACDI team.
The DEA's mandate was for the research team to review current adaptation efforts, identify gaps in the country's adaptation research agenda, understand the knowledge required to support South Africa's climate-change adaptation response, and to provide practical suggestions to enhance the uptake of future research. This information is to guide the national department in the assessment of its research and funding priorities over the next five to 10 years.
A multidisciplinary approach was used to guide the research, to deal with the complexity of the subject.
Katinka Lund Waagsaether, a researcher at the CSAG, noted that the team did not want to come up with only a list of research gaps, based on a desktop study. The researchers wanted to understand the barriers and enablers in the adaptation landscape, as well as formulate an approach for future studies.
Co-creating adaptation knowledge
This project, Waagsaether suggested, offers an example of how climate-change researchers can collaborate with relevant partners to collectively generate knowledge that matters.
"Academia has a lot to offer government and vice versa. Everyone has a lot to offer and a lot to learn in this process of co-creating knowledge."
"Academia has a lot to offer government and vice versa. Everyone has a lot to offer and a lot to learn in this process of co-creating knowledge," she said.
Roland Hunter, one of the ACDI scientists involved in the project, explained that the researchers started out by reflecting on how the country's adaptation agenda has evolved over recent decades.
"We wanted to know what has been done so far, and how much of it has been integrated into planning and implementation. We then focused on what knowledge is needed, by whom, for what and in what format."
The team analysed South Africa's Long Term Adaptation Scenarios (LTAS) Flagship Research Programme, one of the first initiatives launched in response to the country's National Climate Response White Paper in 2011. The LTAS programme entered the picture as the adaptation challenge became more prominent in both national and global discourse, providing information for South Africa's climate negotiators at the United Nations Framework Convention on Climate Change (UNFCCC) events. At the time, the LTAS also informed the country's adaptation policy and planning processes at both the national and provincial level.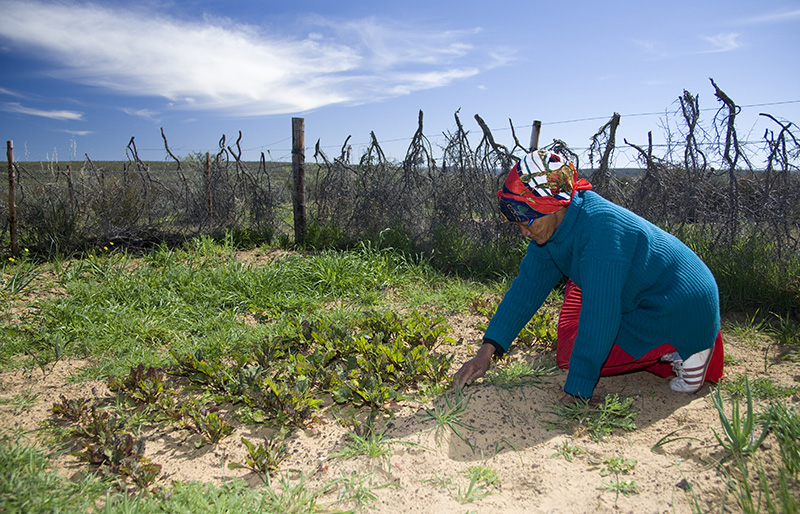 The first LTAS phase was mostly about capturing climate projections and impacts, the research indicated. In the second LTAS phase, macro-economic impacts and what adaptation will mean for the economy, for settlements, food security and disaster risk management were probed.
LTAS proved useful in aiding understanding of broad-scale climate risks and adaptation issues, and in informing climate response policies, yet it had some limitations worth learning from.
The team found that follow-up activities post the release of LTAS outputs, aimed at sharing LTAS findings and creating awareness around LTAS outputs, could have enhanced and broadened its usage.
While LTAS phase two made some attempts at systems-style thinking, LTAS outputs overall did not show sectoral interlinkages and alignments. The team thus found that there was a need to make the products work together to give the "complete picture".
Development and climate change
"It could also have put more emphasis on research around the 'softer' aspect of adaptation – the social stuff, digging deeper and beyond the biophysical impacts," Waagsaether noted.
Hunter stressed that climate-change adaptation needs offer many possible synergies with South Africa's development needs.
"Our research underlines [the fact] that development and climate change are intrinsically linked, and this connection should be kept in mind when planning future sustainable development.
"We now just have to make this happen, collectively."
On the upside, the study determined that South Africa has made good progress with adaptation research in recent years, with the LTAS contributing in many ways.
"South Africa's adaptation landscape is a rich tapestry, [and] the country has actually done a lot in this space," Waagsaether indicated.
But learning exchanges and the uptake of adaptation research have been inconsistent.
"South Africa's adaptation landscape is a rich tapestry, [and] the country has actually done a lot in this space."
"The adaptation space is very fragmented. Knowledge generation and learning exchanges are currently taking place in 'adaptation bubbles', or nodes of knowledge and sharing that often involve the same people.
"It is time to pop these bubbles and involve more people in this [adaptation] space that affects us all," she said.
So if South Africa has the necessary information available to implement much-needed adaptation responses, the research team suggested it is perhaps now timely to reflect on the reason why this existing knowledge is not being absorbed more widely.
There is also a need to ensure that the knowledge on adaptation that has been generated is systematically curated.
Based on their analysis, they proposed reflecting more critically on South Africa's adaptation research landscape before plunging into another LTAS or similar process.
Reconfiguring knowledge
It remains crucial to plan adaptation research agendas within the context of how knowledge is generated and used. This means that more research that is practitioner-led rather than science-led is required. It is also time to rethink and reconfigure South Africa's knowledge and learning systems for climate-change adaptation, they said.
The team also wants to see a greater effort made to ensure that the complexity of real-world adaptation is addressed.
They suggest an inclusive knowledge commons that can help draw in and distribute knowledge from all sectors of society.
"This is not necessarily a physical space or an online platform, but a dynamic system with many components and users," Waagsaether said.
The GCI's Professor Coleen Vogel noted that this will mean creating spaces and active opportunities where adaptation knowledge and experience from business and local government, as well as local and indigenous communities, are given the same consideration in decision-making as scientific knowledge.
According to the research team, there is merit in further investigation of the role of the political economy in adaptation efforts, and in the policy and science environments shaping energy and water policies.
The study findings further indicated that South Africa needs more inter- and transdisciplinary research, as well as a better understanding of the economics of adaptation and the interaction between economic sectors, among other things.
There is also a need to consider the potential trade-offs and points of conflict between proposed responses to climate change and the country's current socio-economic transformation and development priorities, such as the National Development Plan.
---
This work is licensed under a Creative Commons Attribution-NoDerivatives 4.0 International License.
Please view the republishing articles page for more information.
---