100% rebate for dropping a course by 5 June
02 June 2020 | DVC A/PROF LIS LANGE
UCT's response to COVID-19
Campus communications
2022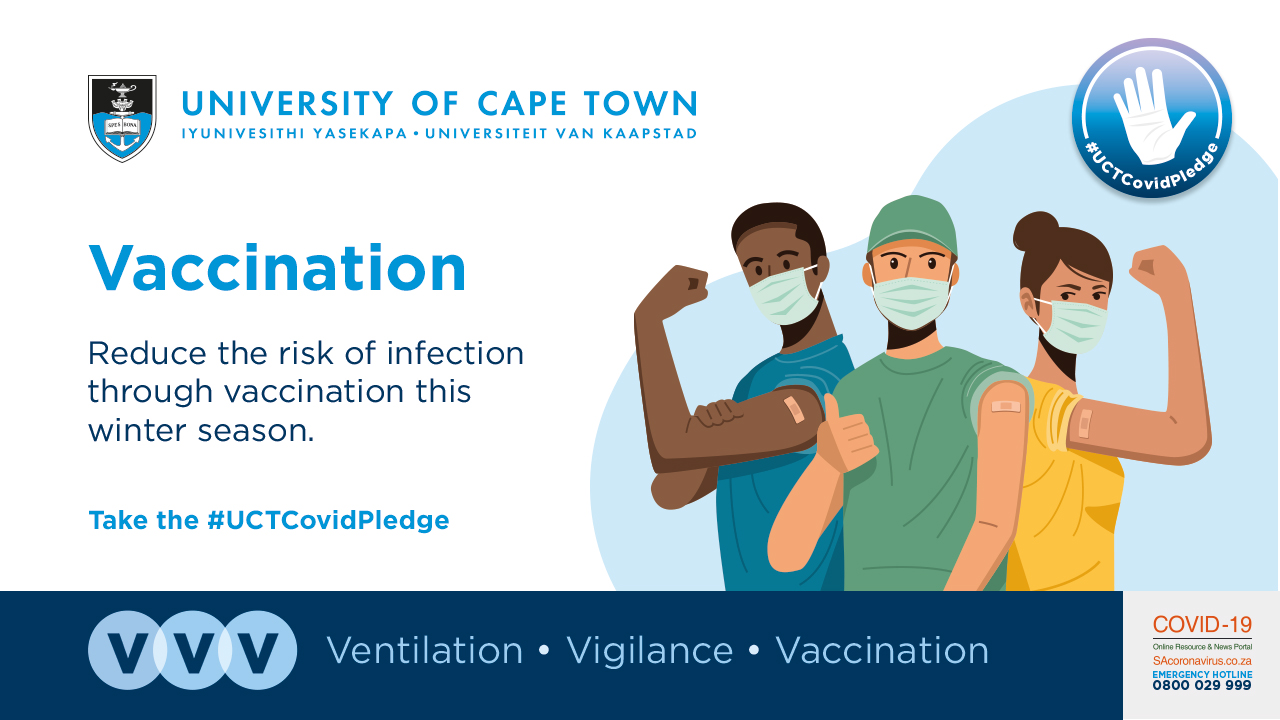 Frequently asked questions
Global Citizen Asks: Are COVID-19 Vaccines Safe & Effective?
UCT's Institute of Infectious Disease and Molecular Medicine (IDM) collaborated with Global Citizen, speaking to trusted experts to dispel vaccine misinformation.
---

If you have further questions about the COVID-19 vaccine check out the FAQ produced by the Desmond Tutu Health Foundation (DTHF). The DTHF has developed a dedicated chat function where you can ask your vaccine-related questions on the bottom right hand corner of the website.
IDM YouTube channel | IDM website

UCT Community of Hope Vaccination Centre
The University of Cape Town in partnership with the Western Cape Government (WCG) have reinforced our commitment to bringing hope to the residents of the Mother City with the launch of the world‑class Community of Hope Vaccination Centre that opened its doors on Monday, 30 August 2021.
The site is located on Main Road in Mowbray – in the Forest Hill Residence – and access is from Broad Street. The site is open every Monday to Friday from 08:00 to 15:00 and on Saturday from 09:00 to 13:00. Please allow time for attending to COVID-19 protocols and arrive as early as possible at the vaccination centre.
---
In an email to the UCT community, Vice-Chancellor Professor Mamokgethi Phakeng said:
"COVID-19, caused by the virus SARS-CoV-2, is a rapidly changing epidemic. [...] Information [...] will be updated as and when new information becomes available."
We are continuing to monitor the situation and we will be updating the UCT community regularly – as and when there are further updates. If you are concerned or need more information, students can contact the Student Wellness Service on 021 650 5620 or 021 650 1271 (after hours), while staff can contact 021 650 5685.